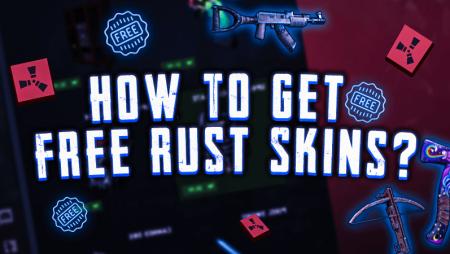 Rust skins are great but who likes spending tons of cash on them. Besides, not every one of us Rust fans has a whole lot of money to spend on Rust skins. Here's the thing, you don't really need to spend tons of money for Rust skins. Here is everything you need to know about how to get free Rust skins.
Disclaimer
Before we head on over to all the ways that you can use to get some free Rust skins, there is one thing that you should keep in mind. It is that there is no such thing as a free Rust skin.
When we say that there is no such thing as a free Rust skin, we are not implying that you will always need to spend some money to get a Rust skin. Rather, what we actually mean is that you will at least have to do something in return if you want some Rust skins.
Rust Skin Drops
The great thing about Rust is that you can get free Rust skins by playing the game. This is great for players who love to play Rust but don't have tons of cash to spend on Rust skins. This is also one of the more enjoyable methods for getting Rust skins.
While it seems great that you can get Rust skins just by playing the game, there is a catch. Firstly, you will need to make sure that the skin drops are enabled on the particular server you are about to connect to. Some servers have this feature disabled. So no matter how long you play, you won't be receiving any skins.
The other thing that you should keep in mind is that these skin drops are completely random. This means that you will have no control over what skin you get and you will have to accept whatever you get. However, it is not that bad as all you are doing for it is just playing the game.
Rust Twitch Drops
What if we were to tell you that you can get some Rust skins just by watching a Twitch stream. Yup, that's right, if you watch certain streams on Twitch that have the Rust skin drop system enabled, you may receive a Rust skin for free. These streams are usually for large Rust events.
To get a free Rust skin by watching a Rust skin drop enabled stream, all you have to do is link your Steam account to your Twitch account and use that account to watch the Twitch stream. So start watching and wait for the drops. However, the chances of you getting a drop are completely random.
Free Rust Skin Websites
You can easily find thousands of websites on the internet where you can earn some free Rust skins. To earn those free Rust skins, you will be required to complete some simple and easy tasks. The tasks may include things like staying AFK in a particular game for a while or completing a few surveys.
The websites work either by rewarding you with some credits after the completion of a task or by directly rewarding you with some Rust skins after you have completed a certain amount of tasks. If you receive credits, you will be able to redeem them with some Rust skins available on the website.
Free Rust skins are great. However, as we have already mentioned, nothing is free. You will either need to play the game or complete some tasks to earn some Rust skins. Try out some of the methods explained above and enjoy your free Rust skins.