There are so many options for buying and selling CSGO skins. Making a choice can be stressful. You might be interested in the Bitskins platform, but is it one of the better sites? Well, we are here to help you with precisely that. Keep on reading to learn more about all the pros and cons of the site.

This Bitskins review was updated in 2023.



Here is a list of some of the best and worst of what Bitskins has to offer:
Pros
The prices at the Bitskins platform are decent and quite competitive compared to other third-party marketplaces.
A price checker feature is available at Bitskins that helps users in gauging the worth of an in-game item.
A clean and well-designed site.
The site also covers in-game items for other games, including Dota 2 and TF2.
There are several secure cash transfer options available on the platform.
One of the largest libraries of CSGO skins out there.
Cons
Cashouts can be slow at times.
Bad news for people that want to sell their CSGO skins because the site commission is relatively high (10%).
About Bitskins
Bitskins is amongst the pioneers of online marketplaces for CSGO skins. The site launched back in 2015, and it is one of the first platforms to allow users to either buy CSGO skins or sell their unwanted CSGO skins for instant cash.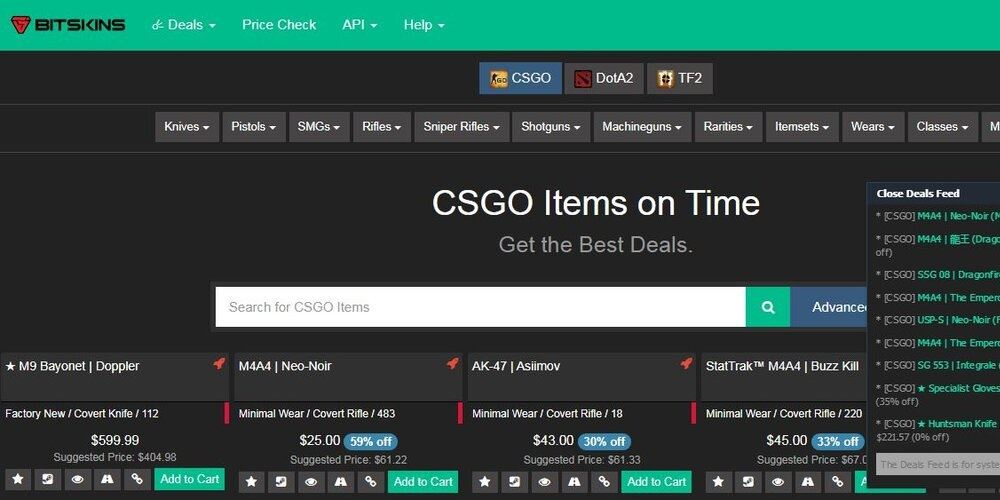 Our Bitskins Review
Bitskins is the first CSGO skin marketplace that allows users to purchase and sell CSGO skins for real cash that they can send and receive through regular cash transfer methods, like Visa and Mastercard. Now, they also offer items for Team Fortress 2 and Dota 2.
We tried their services ourselves to ensure that the platform is worth considering. The website has a stunning design, blending dark and green hues excellently. Plus, we have to commend the UI, which gives users all the detail they could ask for.
The best feature of this site is the price checker that allows users to scan the item's history on the market and make an informed decision about whether it is the right time to buy and what price is ideal.
The only downside to this site is that the platform has a 10% commission fee, which is higher than most other CSGO skin marketplaces. To conclude this Bitskins review, we consider it a decent option for gamers who want to sell their CSGO skins for cash or buy some. However, there are better options for users who want nothing but the best.
Bitskins Key Features
A huge inventory with great prices.
An aesthetic design with an intuitive UI.
Offers items for TF2 and DOTA as well.
Has a built-in price-checker.
Responsive support.
Secure payment through outlets like Visa and Mastercard.
Longest serving CSGO skin website out there.
10% commission.
Claim Bitskins Free Bonus
Go to Bitskins using our link.
Register an account.
Enjoy your free bonus!
Bitskins Summary
| Our rating | 4.0 |
| --- | --- |
| Usability | Easy to use |
| Languages | 1 |
| Years established | 2015 |
| Official website | Bitskins.com |
Bitskins Alternatives
Frequently Asked Questions
✔️What is Bitskins?
Bitskins is one of the first CSGO skin marketplaces that launched in 2015. The platform allows users to sell or purchase CSGO, Dota 2, and TF2 items.
✔️Is Bitskins Legit?
Yes, Bitskins is legit. It is of the first CSGO skin marketplaces and is one of the biggest names in the industry. We found no issues related to its legitimacy.
✔️Is Bitskins Trustworthy?
The Bitskins platform is trustworthy. We tried the service to be sure and had an excellent experience.
✔️Did Anyone at Bitskins Get Scammed?
Bitskins is a fair, secure, and safe service. We looked at hundreds of reviews and did not find any legitimate scam accusations.