Just in case you weren't aware, CSGO skins are pretty much a legit currency within the world of gaming. Players can buy, trade and sell these coins as if they were stocks and shares. However, it can be an arduous task to decide where is best to get the best deals when trading CSGO skins. Well, what about CS Money?

This CS.Money review was updated on September 2022.



Here is a list of some of the best and worst of what CS.Money has to offer:
Pros
Super fast trading thanks to the use of bots
Service is intuitive and easy to use
Secure and reliable
Decent prices across the board
Cons
24/7 customer support can sometimes be slow
CS.Money Summary
| Overall rank | #1 out of 24 |
| --- | --- |
| Our rating | 5.0 |
| Usability | Very easy to use |
| Languages | 19 |
| Years established | 2016 |
| Trading fee | 7% |
| Games available | CSGO, DOTA2 |
| Official website | CS.Money |
About CS.Money
CS.Money is a highly rated CSGO skin trading website that allows its users to make skin trades with highly sophisticated bots. CS.Money also includes a large selection of CSGO skins that players can buy directly with cash. The bots allow the skin trading process to be quick and efficient.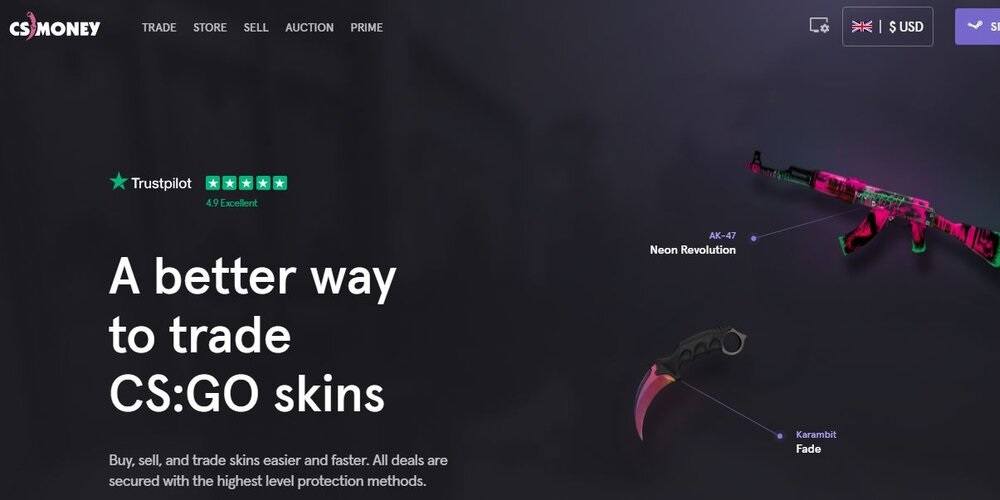 Our CS.Money Review
From what we have seen from CS.Money, we were quite surprised at how much value could be garnered from trades here. We tested the services and found that, not only was the service simple to use and as quick as they suggested, but also thanks to the lower commissions and deals on the website. We found that for most items and weapon skins especially, we were saving a bundle.
We also did some digging around to see if the service was reliable and while we didn't find a lot of user reviews, the ones we did find put us at ease. We also used the service to test the payment system and we had absolutely no issues here. We received our item and can confirm that CS.Money isn't just one big, elaborate front.
The only downside that we found was that the 24/7 service, while constantly available, is very slow. We can only assume that it is understaffed or the 24/7 claim is a little bit overstated. It takes upwards of an hour to hear a response back but considering some websites only offer set hours, this is still a fairly good result.
We would also mention that this website doesn't offer any promotions which we found a little disappointing but the consistently low price range of items does a lot to make up for this.
Overall, we would recommend CS.Money if you are looking for a simple to understand trading service which offers decent deals and allows you to trade fast as you aren't relying on other people.
CS.Money Key Features
Not only offers CSGO trading but also stocks DOTA2 items.
Incredible customer service. Very polite and knowledgeable staff who will respond to your queries in as little as 5 mins.
Customer service for CS.Money is 24/7.
Padlock encryption and added security features make trading with CS.Money a safe and secure process.
Skin cards and search engine interface are intuitive and easy to use.
Premium members service available for added discounts.
Bot trading technology makes the process quicker than most CSGO trading alternatives.
Claim CS.Money Free Bonus
Go to CS.Money using our link.
Register an account.
Enjoy your free bonus!
CS.Money Alternatives
Frequently Asked Questions
✔️What is CS.Money?
CS Money is an automated trading website that allows you to offer your own CSGO skins in return for other skins on the website or receive real cash for your skins.
✔️Is CS.Money Legit?
Yes, CS Money is a legit business that has been around since 2016. The company has a series of user reviews online and has a positive rating on Trustpilot. So we would say that CS Money is legit.
✔️Is CS.Money Trustworthy?
Yes, CS Money is trustworthy. They do exactly what they say on their website. They offer a secure trading service, they offer the prices that they list on the site and they payout real cash for your hard-earned skins.
✔️Did Anyone at CS.Money Get Scammed?
Not that we can tell. The user reviews that we found were generally favourable and when we tested the service, we had absolutely no issues receiving our skins. So we can confirm that CS Money is not a scam