There are so many websites that deal exclusively in gaming skins, and for good reason too. It's a multi-million dollar industry. However, with all these options, comes a hard choice as to which website to spend your time using. Well, with that in mind, here is our review for CSGOexo.

This CSGOExo review was updated on November 2022.



Here is a list of some of the best and worst of what CSGOExo has to offer:
Pros
Fair prices
A decent search feature
Great incentives such as discounts and giveaways
Quick bot trading
Cons
UI needs some work
Can only trade using skins, no actual currency
Very new on the scene
CSGOExo Summary
| Overall rank | #11 out of 24 |
| --- | --- |
| Our rating | 3.5 |
| Usability | Confusing |
| Languages | 1 |
| Years established | 2020 |
| Trading fee | 7% |
| Games available | CSGO |
| Official website | CSGOExo.com |
About CSGOExo
CSGOExo is a straightforward online CSGO skin trading platform that incorporates trading bots. CSGOExo is also one of the more recent platforms launching in 2020. At CSGOExo users can expect a bare-bones and effective bot trading service, which allows them to trade in unwanted skins for skins that they like.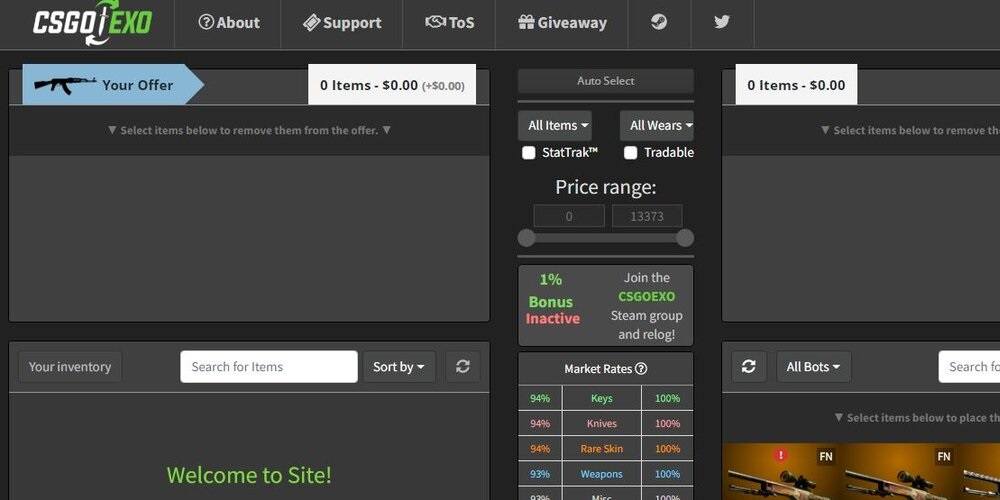 Our CSGOExo Review
CSGO Exo may be one of the new kids on the block, only launching in 2020, but that doesn't mean that these guys don't have lots going for them. Firstly, they have an excellent inventory full of options, all priced very well to compete with the big names within the industry. Plus, they have excellent incentives to bring in new clientele. CSGO Exo offers daily giveaways allowing users to get their hands on valuable CSGO skins just for being a paid customer. Plus, you can earn a 1% discount for adding CSGOExo into your Steam username.
Then with regards to the website, while the UI is far from perfect, there are some good points. The search feature is simple and easy to use. Allowing you to find whatever you are specifically looking for. You can sign into Steam seamlessly through the website. Then to add to this, the 6% commission fee is competitive considering how new and fresh this website is.
On the other hand, the website is a little slap-dash in terms of presentation. The profile of the website isn't fully established yet so it's hard to gauge the overall user opinion for the website. Plus, perhaps the worst of all, the website only accepts and pays out CSGO skins, meaning you can't make real cash, just skins. However, if you can get past this, there is still a lot of fun and enjoyment to be found when using this website.
CSGOExo Key Features
A large inventory of CSGO items.
Prices that are always lower than their Steam counterparts.
Easy sign in through Steam feature.
Safe and secure payment methods.
Easy to use search feature.
Not trading makes trades easy and fast.
Giveaway and discount incentives.
The commission fee is 7%.
Claim CSGOExo Free Bonus
Go to CSGOExo using our link.
Register an account.
Enjoy your free bonus!
CSGOExo Alternatives
Frequently Asked Questions
✔️What is CSGOExo?
CSGO Exo is a CSGO exclusive trading website where you can get your hands on some of the best skins out there.
✔️Is CSGOExo Legit?
Yes, this website is 100% legit. It may be a very new business but as you can see through the transparent about us page and the ample user reviews, this webpage is completely above board.
✔️Is CSGOExo Trustworthy?
Yes, this website is very trustworthy. We understand that this website is still building its reputation but we can fight their corner. We used the service, we had a positive experience and this seems to be the overall trend at CSGO Exo.
✔️Did Anyone at CSGOExo Get Scammed?
We haven't found any evidence of this. The user reviews are generally positive about this new site and quite frankly, it's refreshing to see.