Back in the day, there was less awareness regarding the money making potential of CSGO skins. However, in the present day and the movement of block chain, it seems everyone and their mother knows. This means that it can be tricky to find a good source of CSGO skins, let alone free ones. Well, might we suggest that you check out CSGOPoints.

This CSGOPoints review was updated on November 2022.



Here is a list of some of the best and worst of what CSGOPoints has to offer:
Pros
CSGO friendly design
Fair prices for individual skins
Fast cashout
Lots of tasks to complete
Smart design and UI
Cons
Support is lacking
Payout options come up short compared to other sites
Rather new website
Tasks aren't all that varied
CSGOPoints Summary
| Overall rank | #9 out of 12 |
| --- | --- |
| Our rating | 4.0 |
| Usability | Standard |
| Languages | 1 |
| Year established | 2015 |
| Official website | CSGOPoints.com |
About CSGOPoints
Launching back in 2015, CSGOPoints is one of the oldest online platforms to allow users to earn CSGO skins for completing some online tasks. After completing sufficient online tasks and earning enough credits to withdraw a skin, users can choose their skin and make the withdrawal. It is also a well-known platform.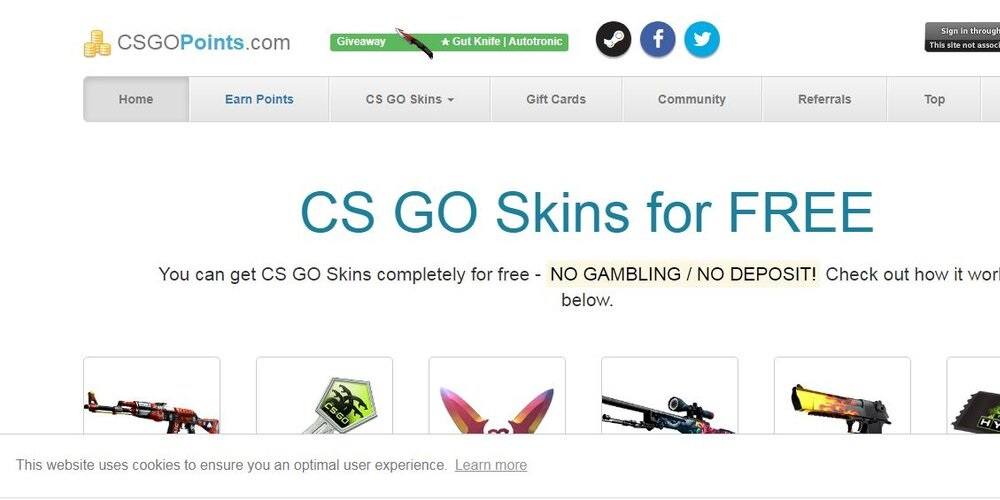 Our CSGOPoints Review
When you see a website of this nature pop up out of the blue, you can't help but be sceptical. Mostly because the freshness and the lack of reputation has a potential to see you duped for your time and money. However, when it comes to CSGOPoints, this never seemed like a potential issue. This website presents itself with a simple and easy to follow web design, with a UI that allows users to pick the skins they want, the tasks they want to complete and engage with the community with ease.
The website is geared towards CSGO players and therefore, if you want to work toward a specific skin, or simply want to get paid in Steam credit, this is entirely possible and what's more, you get paid fast when you decide to cash out. The prices for each skin are rather generous and the tasks on offer are in decent supply so you can always keep busy.
The downsides of this website are that, while there is some support, it's underwhelming and terribly slow. Then as for the tasks on hand, it's mostly simple surveys, so it can get rather repetitive and boring after a while. However, thanks to the levity that the CSGO format will bring for players of this title, we would say that these issues are easily overlooked and you should absolutely check this one out.
CSGOPoints Key Features
An Idle Task website made with CSGO enthusiasts in mind.
A simple, clean design.
Ability to also cash out for gift cards.
Can buy skins directly with points.
A fair amount of tasks, all categorised and well described.
A referral system incentive.
Daily giveaways.
Claim CSGOPoints Free Bonus
Go to CSGOPoints using our link.
Register an account.
Enjoy your free bonus!
CSGOPoints Alternatives
Frequently Asked Questions
✔️What is CSGOPoints?
CSGO Points is a CSGO friendly idle task website that allows its users to complete simple tasks, granting them site currency to spend on skins, or cash out for credit elsewhere.
✔️Is CSGOPoints Legit?
Yes, CSGO Points is legit. While it may be a new name in the industry, they certainly are growing fast and have a positive Trustpilot rating to prove it.
✔️Is CSGOPoints Trustworthy?
You bet they are. We used to service and bought a skin with our rewards. We had no hassle and most importantly, no hidden fees to contend with.
✔️Did Anyone at CSGOPoints Get Scammed?
Not that we could dig up online. The user reviews speak to the contrary and overall, the user base seem very happy with this new CSGO setup.