Do you have a huge collection of CSGO skins after playing the popular FPS title for a number of years? Well, here's the good news, you could be sitting on a gold mine. CSGO skins can be worth hundreds and thousands of dollars. So you will need to know where to claim your riches. So with that in mind, lets check out CSGOSelly.

This CSGOSelly review was updated on October 2022.



Here is a list of some of the best and worst of what CSGOSelly has to offer:
Pros
Free cash incentive
Great payment and cash out options
No commission fee and fair prices
Responsive and helpful support network
Large user base making trades easy to make
Cons
Very new website, only began trading in 2021
Cash out process is very slow
No trade bots
CSGOSelly Summary
| Overall rank | #10 out of 24 |
| --- | --- |
| Our rating | 3.8 |
| Usability | Very easy to use |
| Languages | 1 |
| Years established | 2021 |
| Trading fee | 8% |
| Games available | CSGO |
| Official website | CSGOSelly.com |
About CSGOSelly
CSGOSelly is an online platform for selling CSGO skins. The primary feature of the CSGOSelly platform is that it allows users to sell their CSGO skins for cash that they can withdraw. At CSGOSelly, users have access to a large selection of options to make withdrawals in, including cryptocurrencies.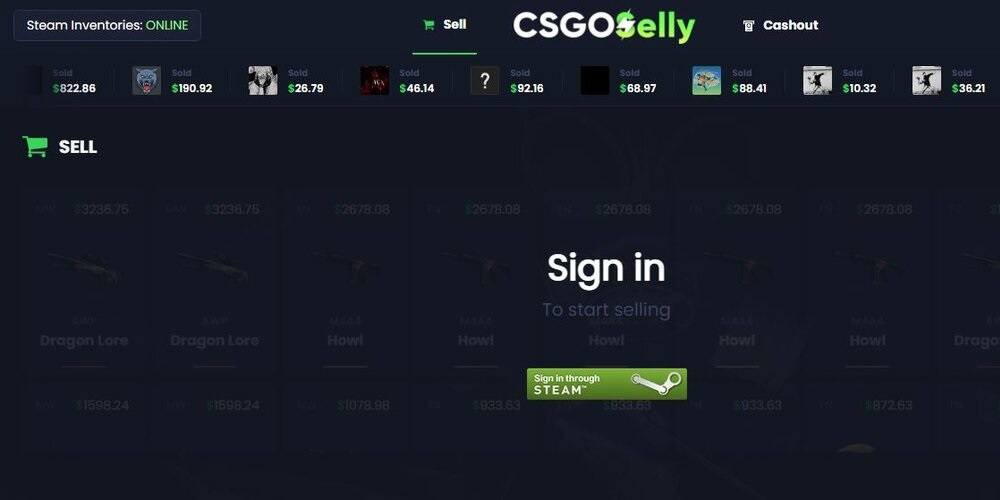 Our CSGOSelly Review
We are kind of on the fence with CSGOselly. It does a lot of things that we can commend but equally, some of the processes are lack lustre and need improving. On a positive note, the website offers payment and cash out options that will suit just about every preference. You can use PayPal, you can receive cryptocurrency. Whatever you want, it's probably there. Plus, we were happy to see that this website offers an extensive inventory thanks to the dedicated user base it has. There is no bot options here so trades can be a little slower but it's usually quicker than other websites on the market.
Then as for the commission, we were blown away by the fact that this website doesn't charge any commission at all. Making this one of the cheapest places to list your items to gain maximum value for your skins. Plus, all new customers can claim a free 0.50$ for their wallet just for using the service, which is a nice incentive. Then if anything ever goes wrong, don't panic. As there is a great, responsive support team that can solve your problems fast.
However, the service is lacking in some areas. Firstly, the cash out process is very slow. Sometimes taking days at a time. Plus, CSGOselly's web design still needs a lot of work to compete with the big boys in the market. Then of course, the website only began trading in 2021, so it is still building its reputation. However, if you can look past this, there is a lot this website has to offer.
CSGOSelly Key Features
Easy Steam login process.
A wide variety of payment options including cryptocurrency.
Great value.
24/7 support service.
Simple listing process.
Respectable user base.
Simple cashout process.
Claim CSGOSelly Free Bonus
Go to CSGOSelly using our link.
Register an account.
Enjoy your free bonus!
CSGOSelly Alternatives
Frequently Asked Questions
✔️What is CSGOSelly?
CSGOSelly is a CSGO skin trading marketplace where users can post trade deals on the site for other players to accept.
✔️Is CSGOSelly Legit?
Yes, CSGOSelly is a legit service. Despite the new nature of this business, they already have a strong customer base and a great Trustpilot rating.
✔️Is CSGOSelly Trustworthy?
Yes, the user reviews are all very positive regarding this website. Plus, we used the webpage and can only say good things about the process.
✔️Did Anyone at CSGOSelly Get Scammed?
Not that we can see. The website has glowing reviews from just about anyone who has took the time to write a review.