CSGO is an FPS juggernaut, right up there with the likes of Call of Duty, Battlefield, and many more. However, what this game offers that many others do not, is a bustling economy for CSGO skins. However, you'll need to know where to trade these items if you are interested in trading CSGO skins. We looked at CSGOTraders and reviewed it to help you figure out whether it is a potential option for you.

This CSGOTraders review was updated in 2023.



Here is a list of some of the best and worst of what CSGOTraders has to offer:
Pros
The commission kept by the platform on each trade is on the lower side compared to other CSGO skin trading platforms.
CSGOTraders has a large user base, which keeps the site stocked up with trade offers.
The signup process is quick and easy. Signing up through Steam takes only about two or three clicks to complete.
Cons
The design and UI of the website need some work. The font size and style, plus the color scheme, feel odd.
The site does not offer a live chat support feature.
About CSGOTraders
Launching recently in 2021, CSGOTraders is amongst the newest online trading platforms for CSGO skins. Users of the site can post trade offers for CSGO skins. Other users that like the trade offer can connect with them and proceed with the trade.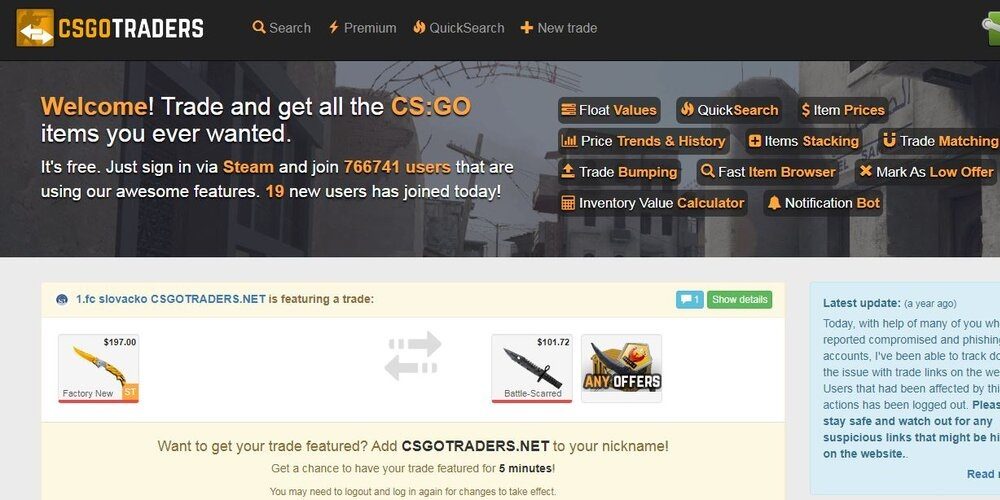 Our CSGOTraders Review
Once we looked into the platform, it was clear that it has multiple positives. One of those positives about CSGOTraders is that it allows users to trade with others by listing custom offers, which potential traders can accept if they like the offer. It's a comprehensive service delivered in a simple format with a clean and easy-to-use web design. The search filters are also super helpful. It makes finding specific items a piece of cake.
We also appreciated the competitive market fee/commission. It's not the best, but it's certainly on the lower side. Plus, we like the fact that CSGOTraders has a large user base. The large user base helps keep the site stocked with multiple offers for users to choose from and trade.
However, we did find some issues. Firstly, we found the support network lacking. There is no live chat support feature, which is almost essential at platforms like this, where items worth hundreds or even thousands of dollars get traded regularly. Another area where we would like to see some improvements is the design. The design feels odd, with a weird font size and style. The theme of the CSGOTraders website is also not that appealing.
Concluding this CSGOTraders review, we feel there are better options, but if you are willing to overlook some issues, you might find a bargain on this site.
CSGOTraders Key Features
The website offers a trading service where users can list trade offers for others to accept.
Competitive commission fees.
Simple but effective UI and web design.
A large list of trade offers thanks to the massive user base.
In-game item deposit options: CSGO P2P.
In-game item withdrawal options: CSGO P2P.
Claim CSGOTraders Free Bonus
Go to CSGOTraders using our link.
Register an account.
Enjoy your free bonus!
CSGOTraders Summary
| Our rating | 3.0 |
| --- | --- |
| Usability | Standard |
| Languages | 1 |
| Years established | 2014 |
| Official website | ShadowPayCSGOTraders.net |
CSGOTraders Alternatives
Frequently Asked Questions
✔️What is CSGOTraders?
CSGOTraders is an online trading platform for CSGO skins. Users of the platform can list trade offers for others that like the trade offers to accept.
✔️Is CSGOTraders Legit?
Yes, CSGOTraders is a legitimate business. The platform has built quite a large customer base. We found no issues that would compromise the legitimacy of the site.
✔️Is CSGOTraders Trustworthy?
Yes, CSGOTraders is trustworthy. We used the service and tried trading some CSGO skins. We found several great trade offers and continued with the trading process without any issues.
✔️Did Anyone at CSGOTraders Get Scammed?
They are doing everything in their power to stop scammers. While bad actors try to use the platform to scam others, CSGOTraders has not received any credible scam accusations against them.