Life is full of menial tasks, things that are tedious, boring and usually, they have no real benefit to you other than the fact that you won't have to do them again for a while. Well, what if you could get paid for doing these mindless tasks and get more disposable income to spend on the things you love. Well, you need to check out Gain.gg.

This Gain.gg review was updated on November 2022.



Here is a list of some of the best and worst of what Gain.gg has to offer:
Pros
Gorgeous design and killer UI
Fast support
Fast payouts
Variety of tasks and payment options
Great incentives
A real community feel
Cons
A live chat support team would not go amiss.
Gain.gg Summary
| Overall rank | #8 out of 12 |
| --- | --- |
| Our rating | 3.8 |
| Usability | Standard |
| Languages | 1 |
| Year established | 2018 |
| Official website | Gain.gg |
About Gain.gg
Gain.gg is a website that allows its users to earn cryptocurrencies like Bitcoin and Ethereum, gift cards, and even CSGO skins. All these rewards can be earned by completing some easy and simple online tasks. At Gain.gg, there are no limits to how many tasks a user can complete.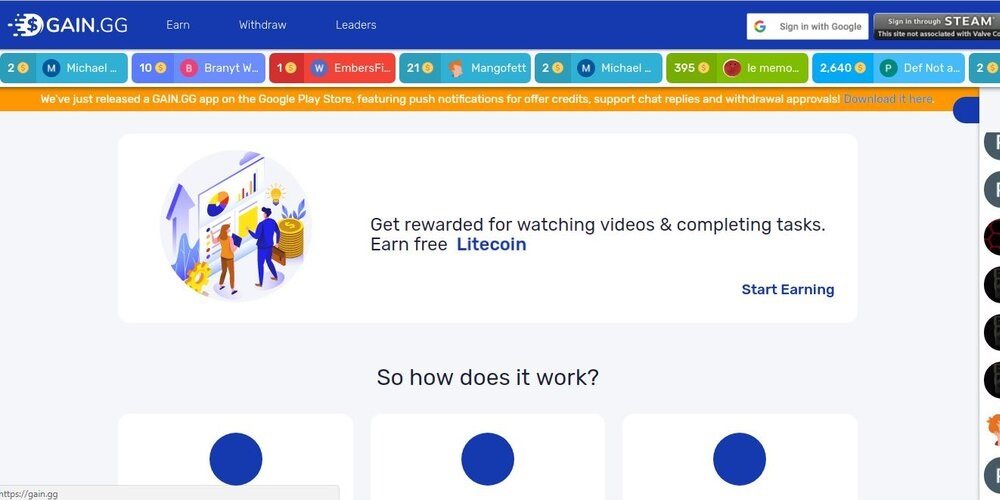 Our Gain.gg Review
There are a lot of websites, especially in the last year, that have sprung up in the idle task industry, intent on taking over the space. However, it's the brands like Gain.gg who have blazed the trail for these newcomers and continue to set the standard. This company founded in 2018 has one of the best web designs on offer out there. They have clear categorised offers from loads of respected third parties, they have great incentives and deals for users to take advantage of, and they have a intuitive UI, making it easy to navigate around.
The website also has a dedicated app, meaning that it couldn't be more convenient for users to make money doing simple tasks. Speaking of which, we loved the variety of the tasks too, meaning that even though the tasks don't set the world ablaze, you never risk letting yourself get bored. Then when it's time to cash out, you can do so fast and in just about any online currency you like, including Bitcoin and Dogecoin.
The website also has a dedicated live chat for members to chat, making it more of a hub than a website and the support system is fast, guaranteeing you a response within 24 hours. The only negative we could propose is that the live chat could have been repurposed for the support team but overall, this is one of the best idle task websites around and one you should definitely check out.
Gain.gg Key Features
A fun and fresh UI and layout.
Lots of varied tasks from respected third parties.
Great incentives and leaderboards.
A solid user base.
A wide selection of payment options.
A dedicated app.
Claim Gain.gg Free Bonus
Go to Gain.gg using our link.
Register an account.
Enjoy your free bonus!
Gain.gg Alternatives
Frequently Asked Questions
✔️What is Gain.gg?
Gain.GG is a well respected idle task website that allows users to earn real cash in return for completing simple tasks like surveys or watching videos for example.
✔️Is Gain.gg Legit?
Gain.GG is a legit business that has been around since 2018. In that time, the service has built a user base of over 200K active users.
✔️Is Gain.gg Trustworthy?
Yes it is, we tried the service and not only did we have a good time. We got our rewards in double quick time.
✔️Did Anyone at Gain.gg Get Scammed?
We certainly don't think so. The user reviews speak rather highly of the service and overall, the website is a community driven project with user experience right at the heart of it's design.