Do you know the great thing about games? Once you finish one or get tired of one, there are hundreds of other ones that can take their place. It's a revolving door of content but what if you could get paid to consistently walk through this door? Well, that's exactly what GameHag offers with its interesting service.

This GameHag review was updated on November 2022.



Here is a list of some of the best and worst of what GameHag has to offer:
Pros
Unique, gamer friendly setup
Outstanding web design
Helpful and responsive support
Great game selection and generous rewards
Plenty of payment options and fast payouts
Loads of incentives
Cons
There is potential to make more elsewhere
All tasks are quite a large time commitment
GameHag Summary
| Overall rank | #7 out of 12 |
| --- | --- |
| Our rating | 4.0 |
| Usability | Standard |
| Languages | 1 |
| Year established | 2016 |
| Official website | GameHag.com |
About GameHag
GameHag is an online platform that allows users to earn rewards for completing some online tasks. Users can also earn rewards for playing games. With no limits to how many tasks one user can complete, players can withdraw their rewards through several methods, including CSGO skins.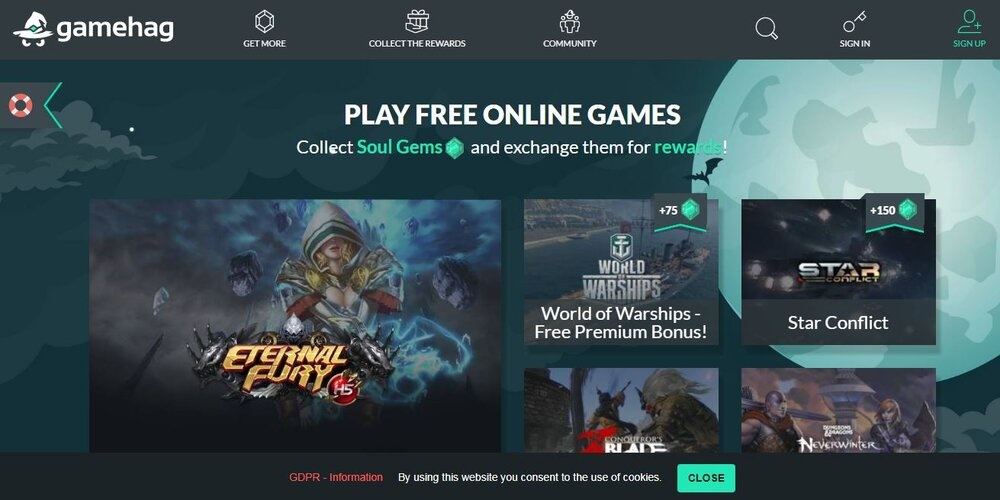 Our GameHag Review
If you have a USP that allows you to play games and make money, you can make it look clean and corporate like most websites. However, there is the option to lean into the idea wholeheartedly, which is exactly what Game Hag does. The website has a fantastic UI and design and allows you to play games, on a website that pays you to play games and equally, plays like a game in itself. The website sends you on quests and allows you to make Soul Gems, which is the Game Hag currency. In short, it's a lot of fun.
Then, much like a good game, the website offers the user several incentives, rewards and other motivations to keep playing and earning. You can participate in contests, sign up for giveaways and compete on the official leaderboard. Again, a whole lot of fun. Plus, the way to earn, playing the games listed, is great because all the titles on offer are popular, globally recognised franchises. So it couldn't be a better setup for any gamer out there.
The games are beautifully categorized, the support system is incredible and overall, we really struggled to find anything negative to say about this website. The only thing that we would say is that due to these tasks being major time commitments, it will only suit a certain type of person and some may have the potential to earn more on standard survey sites.
GameHag Key Features
A setup that allows you to play games to make real cash.
A design and UI that mimics a gameplay loop, complete with quests and rewards.
A VIP/ premium membership.
Contests, giveaways, loot boxes and leaderboards.
A wide selection of excellent, very popular games.
24/7 support.
Great community features.
Great UI and game categorization.
Claim GameHag Free Bonus
Go to GameHag using our link.
Register an account.
Enjoy your free bonus!
GameHag Alternatives
Frequently Asked Questions
✔️What is GameHag?
Game Hag is a unique idle task website that offers players the chance to earn money just by sinking time into some of the most beloved games out there.
✔️Is GameHag Legit?
Yes it is, they are a trusted company that have been around for some time. They work directly with some big hitters in the industry and they operate with complete transparency.
✔️Is GameHag Trustworthy?
Yes, Game Hag is a trustworthy site. Users will see this if they take the time to look at the Trustpilot review for this website.
✔️Did Anyone at GameHag Get Scammed?
We couldn't find any evidence to support this. The user reviews are mainly positive and users love the general approach this website takes.