Are you bored with all your old CSGO skins? Well, why not open custom CSGO cases for a chance to win some new and exciting skins? Hellcase seems like a decent option for that, but is it good enough for you? We tested their services and reviewed the site to help you figure out precisely that.

This Hellcase review was updated in 2023.



Here is a list of some of the best and worst of what Hellcase has to offer:
Pros
Hellcase also offers custom cases for Dota 2 skins.
Users can change the language of the Hellcase website, choosing from 13 different language options.
The platform rewards its users with daily free bonuses and regular giveaways.
The Hellcase website has interactive sounds that make it feel more like a game than a website.
Other activities, like Case Battles, Upgrade, and Mixxer, are also offered.
The platform has regular events with new and unique offers and promotions.
Cons
The platform does not have a live chat support feature.
About Hellcase
Hellcase is a case-opening platform that launched back in 2016. While initially, it was only for CSGO cases, now Dota 2 cases have also been added. Users at the Hellcase platform are offered an extensive library of custom CSGO and Dota 2 cases, which they can purchase with real cash and then open to win new skins.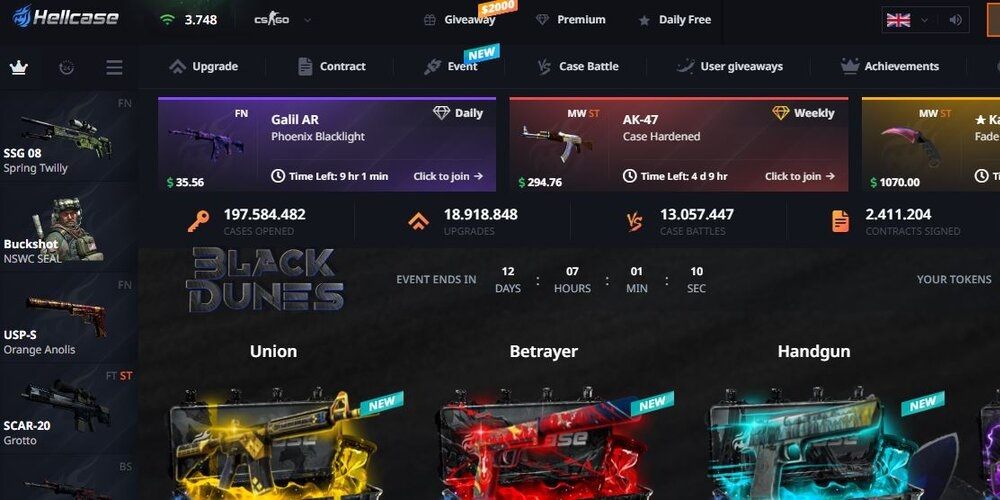 Our Hellcase Review
Hellcase is a feature-rich platform. Firstly the website doesn't only offer custom cases for CSGO. Custom cases for Dota 2 are also available. Many gamers play both games, which makes Hellcase one of the best options for them. Users can change the cases from CSGO to Dota 2 with one click.
We tried the website ourselves, and we had a pleasant experience. Navigating through the Hellcase website felt like navigating through an in-game menu because of all the interactive animations and sounds.
We also opened a few CSGO and Dota 2 cases, and we can confirm that the platform is one hundred percent safe and secure. We experienced no issues while transferring the skins we won to our Steam inventories. The site also offers secure payment options, including several popular crypto deposit options like Bitcoin, Ethereum, and more.
If you are looking for a case-opening platform for Dota 2, the Hellcase platform is definitely worth a try. However, when strictly speaking of CSGO case opening sites, we feel you can find better options.
Hellcase Key Features
The gambling features at Hellcase include Case Opening, Case Battles, Upgrade, Mixer, and Item Contracts.
Hellcase has over 2,800 reviews on Trustpilot with a solid 4.3-star rating.
Deposit methods include Visa, MasterCard, UnionPay, Discover, G2A Pay, Apple Pay, Google Pay, Shadow Pay, and PayPal.
Crypto payment methods include Bitcoin, Ethereum, Litecoin, Bitcoin Cash, and Tether.
In-game item deposit methods include CSGO P2P, CSGO Skins, Dota 2 Items, and Skinpay.
Withdrawal methods include CSGO Skins, CSGO P2P, Dota 2 Items, and Game Keys.
Claim Hellcase Free Bonus
Go to Hellcase using our link.
Register an account.
Enjoy your free bonus!
Hellcase Summary
| Our rating | 3.8 |
| --- | --- |
| Usability | Easy to use |
| Languages | 12 |
| Year established | 2016 |
| Gambling licence | None |
| Official website | Hellcase.com |
Hellcase Alternatives
Frequently Asked Questions
✔️What is Hellcase?
Hellcase is an online case-opening platform that offers custom cases for CSGO and DOTA 2. Other activities like Upgrade and Case Battles are also available at the site.
✔️Is Hellcase Legit?
Hellcase is 100% legit. To ensure that, we tried their services ourselves, and everything worked great. We found no issues related to the legitimacy of the site.
✔️Is Hellcase Trustworthy?
Hellcase has over 2,800 reviews on Trustpilot. We tried opening some cases at the site, and we can conclude that Hellcase is a trustworthy platform.
✔️Did Anyone at Hellcase Get Scammed?
There are a ton of user reviews for Hellcase. We looked at hundreds of them and found no legit scam accusations against the site.
Hellcase Details
China
India
Iran
Israel
Japan
Lithuania
North Korea