The CSGO skin market is one that has only grown with each passing year since the boom in 2016. Skins are a commodity as good as having wads of cash in your pocket and as a result. They make a really solid investment. However, what if we told you that you could line your pockets through only investing your time and effort? Well, you might need to visit HowlyCoin.

This HowlyCoin review was updated on November 2022.



Here is a list of some of the best and worst of what HowlyCoin has to offer:
Pros
Nice web design
Intuitive UI
Multiple payment options
Easy deposit
Loads of incentives and free rewards
Cons
Support is lacking
Typos on the website
Withdrawal times are very slow
HowlyCoin Summary
| Overall rank | #10 out of 12 |
| --- | --- |
| Our rating | 3.8 |
| Usability | Standard |
| Languages | 1 |
| Year established | 2020 |
| Official website | HowlyCoin.com |
About HowlyCoin
When it comes to websites where users can earn free CSGO skins by completing simple online tasks, HowlyCoin is one of the more recent ones. Launching in 2020, HowlyCoin is still providing its users with a play-to-earn type service at much better rates than other platforms available on the internet.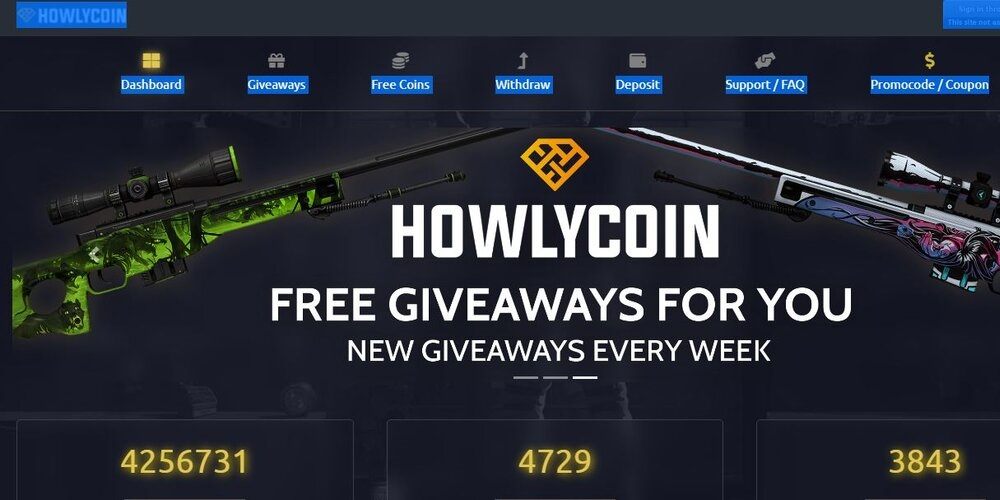 Our HowlyCoin Review
Honestly, we would love to be kind to this website and say that it is one to keep on your radar, but we have seen fresher, more green websites do better than this one. Though that isn't to say that it has nothing to offer. First, they have a good design that allows for easy navigation. This means that you'll be able to look through their incentives, participate in their giveaways and claim free coins. Not to mention, peruse the wealth of tasks.
These tasks are decent in terms of variety and offer generous rewards across the board. Plus, once you make enough virtual cash, you'll be able to cash out in the form of gift cards, CSGO skins or you can even cash out on PayPal which isn't something that all websites of this nature can boast.
The downsides of the website are that the user base is very shallow. The payout times are slow (up to 24 hours). The support system is far from perfect and we also noticed that the website even has some typos in their promotional material which doesn't fill a new customer with confidence. Overall, it's not one of the better websites out there but for some, this may be an untapped market where gold could be struck, so go check it out at the very least.
HowlyCoin Key Features
A dark and aesthetic design.
A simple and easy to follow UI.
Great incentives, giveaways and offers.
Multiple payout options, including the likes of PayPal.
A variety of tasks to complete.
A good volume of tasks.
Claim HowlyCoin Free Bonus
Go to HowlyCoin using our link.
Register an account.
Enjoy your free bonus!
HowlyCoin Alternatives
Frequently Asked Questions
✔️What is HowlyCoin?
HowlyCoin is a website where users can complete a handful of simple tasks and in return, the user will receive virtual currency which they can use to make real cash.
✔️Is HowlyCoin Legit?
Yes, the website despite it's shallow user base has been around since 2020 and while it doesn't market itself all that well, it is a transparent business.
✔️Is HowlyCoin Trustworthy?
Don't be fooled by the typos, the website is the tea deal. We used the service, completed some tasks and we got our rewards for our efforts within the allotted withdrawal period
✔️Did Anyone at HowlyCoin Get Scammed?
While some users have reported that they weren't impressed with aspects of the website and service, we were unable to find any evidence that anyone was ever scammed by HowlyCoin.