So you are looking to buy some CSGO skins from ItemHerald, but aren't so sure if it's the right platform for you. To help you make your decision, we tired and test ItemHerald by yourselves so you know what to expect when using it. To learn more about the ItemHerald platform, keep on reading.

This ItemHerald review was updated on November 2022.



Here is a list of some of the best and worst of what ItemHerald has to offer:
Pros
At ItemHerald, user data is encrypted and safe with the help of the SSL encryption protocol implemented on their website.
The registration process at ItemHerald is quick and easy, and it hardly takes a few clicks to complete.
ItemHerald allows withdrawals to be made using Bitcoin.
Users can view the ItemHerald website in three different currencies, which makes it easier for users to accurately assess the value of items.
Usually, there is a large number of items listed for sale at ItemHerald, which means there are tons of options for buyers.
Cons
There are not a lot of deposit or withdrawal options.
About ItemHerald
ItemHerald is an online marketplace for CSGO items, Team Fortress 2 items, and Dota 2 items. However, it is primarily a marketplace for CSGO items. The platform was launched around three years ago in 2019. At any time of day, you can find hundreds of items listed for sale at ItemHerald.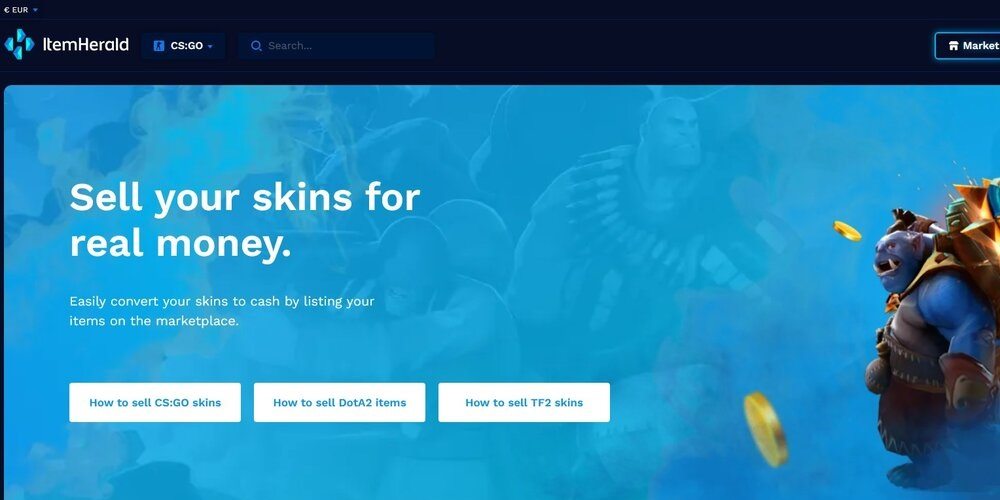 Our ItemHerald Review
After using the ItemHerald website for several hours ourselves, we found that the website was just like any other marketplace for CSGO items. There aren't many quirks or unique features. It is just a normal website where people can come and sell some of their CSGO, Dota 2, or Team Fortress 2 items for real money or buy some items for these games.
However, the simplicity of ItemHerald is exactly what makes it such a great platform. It is also why we really like the ItemHerald platform. It solely focuses on providing one of the best marketplace experiences for people that want to buy some CSGO, Dota 2, or Team Fortress 2 items. And it manages to do that quite well, with its secure P2P feature and easy-to-navigate website.
There aren't many things on the ItemHerald website that would overwhelm a user. It is probably why the ItemHerald website gets thousands of average monthly views and hundreds of items listed for sale. As far as our ItemHerald review is concerned, we liked it a lot. Concluding this ItemHerald review, ItemHerald is certainly a great online marketplace for anyone looking to buy or sell some Steam items.
ItemHerald Key Features
Games/Activities: P2P Market.
ItemHerald has a ton of great reviews on different places on the internet.
Deposit Methods: WebMoney and UnionPay.
Crypto Payment Methods: Bitcoin, Ethereum, Litecoin, and Ripple XRP.
Other Deposit Methods: CSGO Items, Dota 2 Items, and Team Fortress 2 Items.
Withdrawal Methods: CSGO Items, Dota 2 Items, Team Fortress 2 Items, Bitcoin, and SEPA.
Claim ItemHerald Free Bonus
Go to ItemHerald using our link.
Register an account.
Enjoy your free bonus!
ItemHerald Alternatives
Frequently Asked Questions
✔️What is ItemHerald?
ItemHerald is an online marketplace primarily for CSGO items, but users can also sell or purchase items for Dota 2 and Team Fortress 2.
✔️Is ItemHerald Legit?
ItemHerald has been operational for over three years since its launch in 2019 and has shown no signs of nonlegitimacy. It is one hundred percent legitimate.
✔️Is ItemHerald Trustworthy?
On ItemHerald, you can easily find items worth hundreds of dollars. It means that people trust the platform with their expensive items as it is a trustworthy platform.
✔️Did Anyone at ItemHerald Get Scammed?
Of the hundreds of people that use ItemHerald regularly, there has not been a single credible scam accusation against the ItemHerald platform.