So you are looking to buy some CSGO skins from ItemHerald, but aren't sure if it's worth your time. To help you with that, we tried and tested the site and created a review. To learn more about the ItemHerald platform, keep on reading.

This ItemHerald review was updated in 2023.



Here is a list of some of the best and worst of what ItemHerald has to offer:
Pros
The registration process at ItemHerald is quick and easy, and it hardly takes a few clicks to complete.
Withdrawal options at the site also include Bitcoin.
Users can change the website's display currency, choosing from three currency options.
Users can find an extensive list of in-game items listed for sale at ItemHerald.
Several rare in-game items can also be found on the ItemHerald platform.
Cons
There are not a lot of deposit or withdrawal options.
ItemHerald does not offer live chat support.
About ItemHerald
ItemHerald is an online marketplace where users can buy items for games like Team Fortress 2, CSGO, and Dota 2. Users can also list their in-game for sale and then wait for buys to purchase them with cash. It has been around for over three years, launching back in 2019.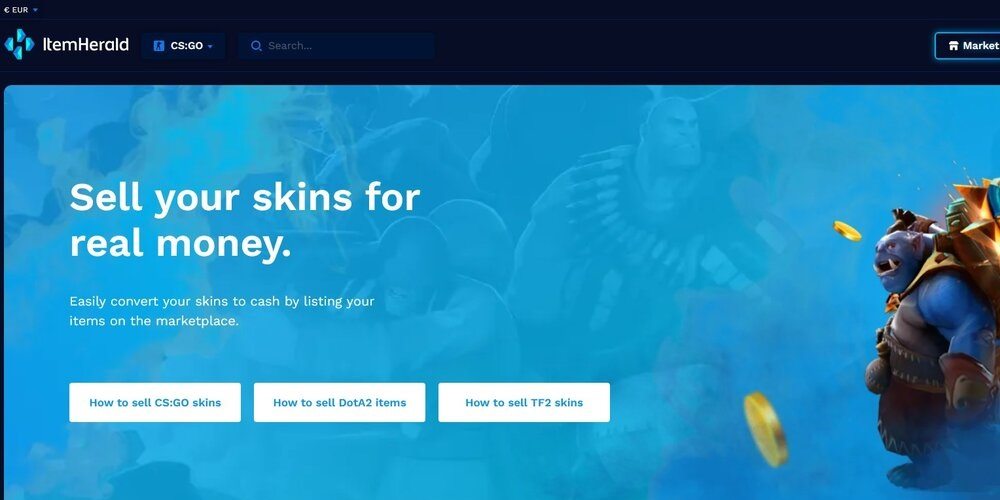 Our ItemHerald Review
We used ItemHerald and found that the website was just like any other marketplace for CSGO items. There aren't many quirks or unique features. It is a simple online marketplace where people can buy in-game items for CSGO, Dota 2, or Team Fortress 2. Users can also sell their items for real cash. Just like any other marketplace, ItemHerald uses a P2P trading system for all in-game item transactions.
Fortunately, ItemHerald has no security issues. We bought several items from the site and got decent deals. We also had no problems in the payment process or transferring our in-game items to our Steam inventories. The site accepts payments through several cryptos, including Bitcoin, Litecoin, and Ripple XRP.
However, that's where the plus points end and the downsides start. Firstly, the support network needs an overhaul. ItemHerald should at least provide live chat support. Another issue is the deposit and withdrawal options. There aren't a lot of them. The worst part is that only two options are available for withdrawals besides in-game items.
Concluding this ItemHerald review, it is an OK option for anyone looking for a marketplace for in-game items. However, we strongly feel that there are better options with a lot more features to offer.
ItemHerald Key Features
Games/Activities: P2P Market.
ItemHerald has a ton of great reviews on different places on the internet.
Deposit Methods: WebMoney and UnionPay.
Crypto Payment Methods: Bitcoin, Ethereum, Litecoin, and Ripple XRP.
Other Deposit Methods: In-Game items.
Withdrawal Methods: In-Game Items, Bitcoin, and SEPA.
Claim ItemHerald Free Bonus
Go to ItemHerald using our link.
Register an account.
Enjoy your free bonus!
ItemHerald Summary
| Our rating | 3.0 |
| --- | --- |
| Usability | Standard |
| Languages | 1 |
| Year established | 2019 |
| Official website | ItemHerald.com |
ItemHerald Alternatives
Frequently Asked Questions
✔️What is ItemHerald?
ItemHerald is an online marketplace primarily for CSGO items, but users can also sell or purchase items for Dota 2 and Team Fortress 2.
✔️Is ItemHerald Legit?
We used ItemHerald and found that everything worked great. ItemHearld delivers on its promises and is one hundred percent legitimate.
✔️Is ItemHerald Trustworthy?
We bought several items from ItemHerald and experienced safe and secure transactions. We can confirm that it is a trustworthy platform.
✔️Did Anyone at ItemHerald Get Scammed?
Of the hundreds of user reviews we looked at, we were not able to find a single credible scam accusation against the ItemHerald platform.