Are you fed up with your boring inventory of old Rust skins? Well, you always have the option to trade them in for newer skins at platforms like iTradeGG. But why would you want to use that site? Why not other sites? We tested the platform and reviewed it to help you figure out precisely that. Keep reading this iTradeGG review to learn more about all the exciting features that it has to offer.

This iTradeGG review was updated in] 2023.



Here is a list of some of the best and worst of what iTradeGG has to offer:
Pros
The iTradeGG platform has one of the largest selections of Rust skins when it comes to Rust skin trading platforms.
It also has a fast and easy registration process. It takes users only a few clicks to sign up.
The overall design and color scheme of the iTradeGG website has a gamer theme.
The FAQ section on the website is extensive, covering nearly all questions anyone might have.
The iTradeGG website is very responsive and easy to navigate through.
Cons
The support system needs some work.
About iTradeGG
Launching recently in 2021, iTradeGG is one of the newer online skin trading platforms for Rust skins. Users can use the platform to trade in all their unwanted Rust skins for new skins that they want. Users can also join the iTradeGG Steam group for a potential daily $0.2 reward.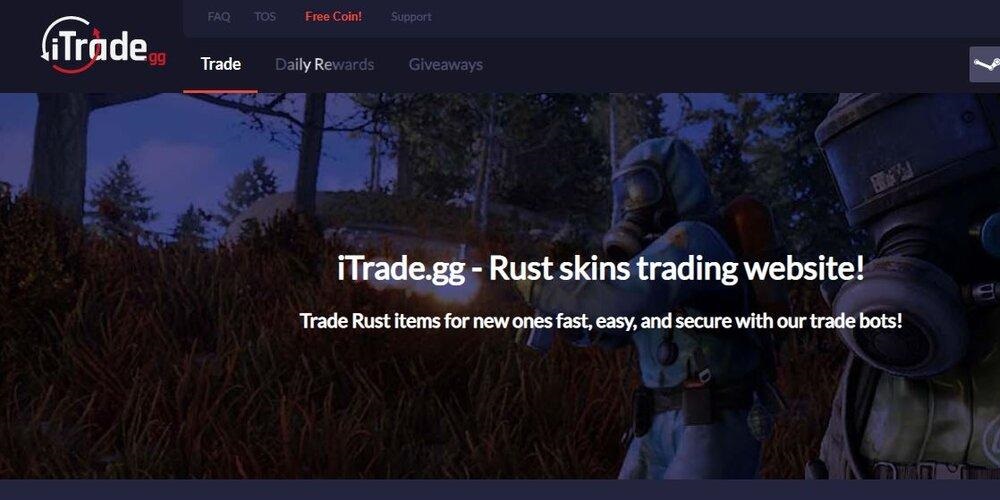 Our iTradeGG Review
One thing is for sure, iTradeGG is doing most things right, which is why it has blown up in popularity in such a short time. We tried it ourselves, and the website felt responsive and easy to navigate. We experienced little to no lag while switching to different pages.
Moving on to the meat and potatoes of iTradeGG, which is Rust skins, the platform also has a large inventory of Rust skins. However, you might have some trouble finding high-tier skins. That might be an issue for some people, but it is more than made up for the daily $0.2 reward you can potentially get for joining the iTradeGG Steam group. It may not seem like much, but regularly accumulating it can get you some serious cash after some time.
iTrade doesn't lack in the security department either. It provides secure transactions and is completely trustworthy. Concluding this iTradeGG review, it is one of the best Rust skin trading platforms out there right now.
 iTradeGG Key Features
iTradeGG is for skin trading only.
The site has an excellent 4.7-star rating on Trustpilot.
The commission for Rust Items is roughly 5%.
Users can make deposits only with Rust skins on the iTradeGG platform.
Users can make withdrawals only with Rust skins on the platform.
Claim iTradeGG Free Bonus
Go to iTradeGG using our link.
Register an account.
Enjoy your free bonus!
iTradeGG Summary
| Our rating | 4.5 |
| --- | --- |
| Usability | Easy to use |
| Languages | 2 |
| Year established | 2021 |
| Official website | iTrade.GG |
iTradeGG Alternatives
Frequently Asked Questions
✔️What is iTradeGG?
iTradeGG is a recently launched online skin trading platform for Rust skins, where people can trade in some of their Rust skins in return for newer ones.
✔️Is iTradeGG Legit?
iTradeGG meets all the legitimacy standards. We used the platform ourselves, and everything worked great. We can confirm that it is a legit platform.
✔️Is iTradeGG Trustworthy?
We made several trades using iTradeGG. We had no trouble transferring Rust skins to or from the site. We can conclude that it is one hundred percent trustworthy.
✔️Did Anyone at iTradeGG Get Scammed?
There is no evidence to support this. We looked at multiple user reviews and found only positive comments, with zero verifiable scam accusations.