CSGO skins offer a great way of accessorizing your in-game character. Also, if you have some CSGO skins you no longer need in your inventory, they can help you generate some money. You can sell your CSGO skins for real cash at platforms like LootBear, or buy some if that interests you more. However, is LootBear worth your time? Keep on reading to find out.

This LootBear review was updated in 2023.



Here is a list of some of the best and worst of what LootBear has to offer:
Pros
LootBear provides a secure service with plenty of added protection from scammers.
The platform offers fast withdrawals compared to the competition.
It offers a unique renting feature where users can rent skins for themselves or rent their own skins to other users.
A wide range of items is available at LootBear in terms of pricing.
LootBear has an extensive inventory for both buying in-game items and renting them.
The site offers live chat support.
Cons
There aren't a lot of withdrawal options available at LootBear. The only available option is PayPal.
About LootBear
LootBear is an online marketplace for CSGO skins where users can buy CSGO skins or sell them using real cash. The platform doesn't only allow users to sell or buy CSGO skins. Users can also rent skins for themselves or rent their skins to other users for cash.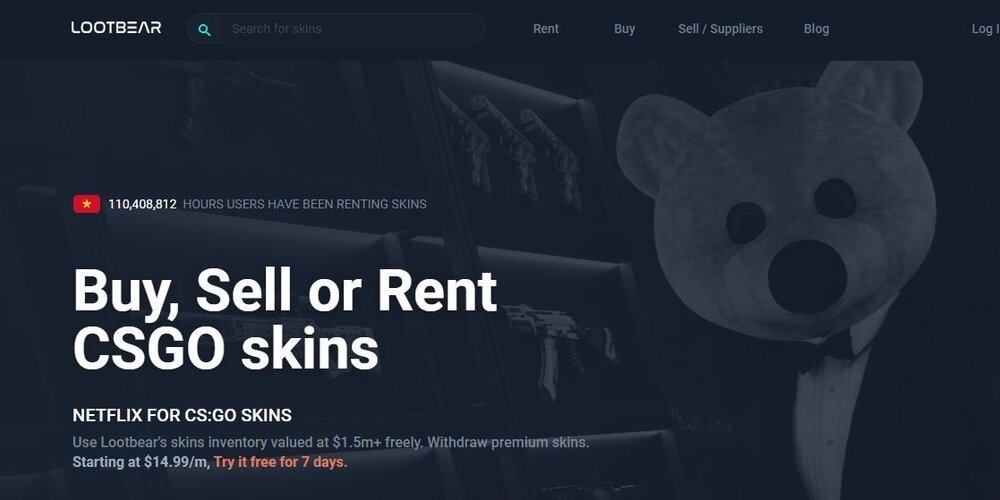 Our LootBear Review
One of the stand-out features of LootBear is that users can rent CSGO skins from the site. We haven't seen this feature available on any other platform. The website uses a unique system that allows players to swap skins, rent them from other players for a certain period and then return them when they are done using them.
It's an incredible idea, and it has been implemented quite well. The best part is that LootBear uses a smart risk-assessing AI and offers skin insurance to traders, so their value gets safeguarded. With that said, there is a chance that you may end up losing the skin you rent. However, you will get compensated with the full price of the skin.
On top of that, LootBear also has a buy-and-sell marketplace for users to trade their skins. Since the site is so popular, you can find an extensive list of active offers for renting CSGO skins and buying them with cash. For anyone who needs assistance, the site also offers incredible customer support.
Concluding this LootBear review, it is a decent option for gamers that want to buy or sell CSGO skins. However, there are several issues with the site, which is why we feel there are better options.
LootBear Key Features
A skin trial service to test the product.
A skin rental service.
A huge inventory and large user base.
Simple cash withdrawals.
Skin insurance is offered.
Built-in live chat customer support.
Claim LootBear Free Bonus
Go to LootBear using our link.
Register an account.
Enjoy your free bonus!
LootBear Summary
| Our rating | 3.8 |
| --- | --- |
| Usability | Easy to use |
| Languages | 2 |
| Years established | 2018 |
| Official website | LootBear.com |
LootBear Alternatives
Frequently Asked Questions
✔️What is LootBear?
Lootbear is a CSGO trading, selling, and rental platform where you can sell your CSGO skins to earn real cash, buy them, or rent them from other gamers.
✔️Is LootBear Legit?
Yes, Lootbear is legit. They have a large user base and a very transparent operation. We tried the site and found that everything worked great.
✔️Is LootBear Trustworthy?
Yes. We tried renting some skins ourselves, and the process was quite safe. We can confirm that LootBear is a trustworthy platform.
✔️Did Anyone at LootBear Get Scammed?
Some users may not honor the conditions of the rental agreement. However, Lootbear always makes sure you get compensated. The platform itself has not scammed anyone, and we looked at hundreds of user reviews to verify that.