CSGO skins may just be colorful little designs for your knife, gun and other assets within the CSGO series, but they happen to hold a lot of real world value. These skins can rack up thousands of dollars, all for just playing the game. So with that in mind, we should take a look at a potential trading site option, LootBear.

This LootBear review was updated on November 2022.



Here is a list of some of the best and worst of what LootBear has to offer:
Pros
Secure service with plenty of added protection from scammers
Fast withdrawals
Great inventory
Fantastic rental service and trial service
Intuitive UI and web design
Live chat support
Cons
Only able to withdraw real cash through PayPal
Only supports CSGO trading
Due to the nature of renting, sometimes you may lose your skins (although you will be paid)
LootBear Summary
| Overall rank | #5 out of 24 |
| --- | --- |
| Our rating | 4.0 |
| Usability | Very easy to use |
| Languages | 2 |
| Years established | 2018 |
| Trading fee | 8% |
| Games available | CSGo |
| Official website | LootBear.com |
About LootBear
LootBear is an online marketplace for CSGO skins with a unique feature that makes it stand out from all other online marketplaces. LootBear not only allows users to sell or buy CSGO skins, but they can also rent skins for themselves or rent their own skins to other users for cash.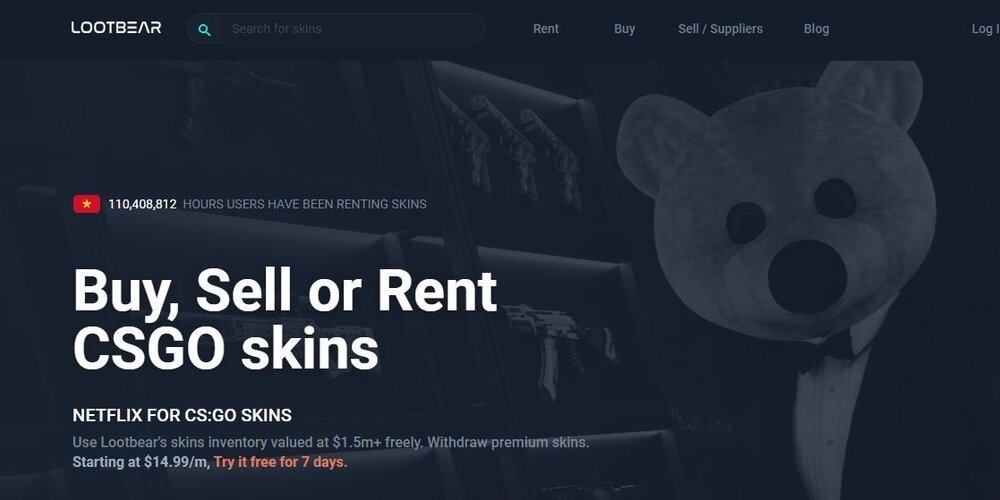 Our LootBear Review
CSGO skin websites as a whole are very predictable. They either allow you to trade, to buy or to sell. It's all very straightforward. However, what if you were able to rent out your skins as a way to generate revenue to buy new skins. Well, that is exactly the service that Lootbear offers. This website uses a unique system that allows players to swap skins, rent them from other players for a certain period and then return them when they are done. It's an incredible idea and it's well executed with safeguarding in place, smart risk assessing AI and skin insurance offered to traders.
Not only this, the service also has a buy and sell marketplace for users to trade their skins. They don't employ the use of bots but the sheer volume of content to peruse more than makes up for that. Then to further praise this site, they offer an incredible customer support service which is implemented into the web design and allows you to speak to helpful representatives in real-time.
The only downside to this page is that it only allows you to withdraw real cash with the use of Paypal. Plus, the webpage only allows for CSGO trading, which will agitate the DOTA, TF2 and RUST fans out there. However, these are small complaints regarding a truly unique and special service.
LootBear Key Features
A skin trial service to test the product.
A skin rental service.
A huge inventory and large user base.
Simple cash withdrawals.
Skin insurance offered.
Built in live chat customer support.
Claim LootBear Free Bonus
Go to LootBear using our link.
Register an account.
Enjoy your free bonus!
LootBear Alternatives
Frequently Asked Questions
✔️What is LootBear?
Lootbear is a CSGO trading, selling and rental platform where you can sell skins to earn real cash, or simply borrow them to other players.
✔️Is LootBear Legit?
Yes, Lootbear is legit. They have a huge customer base, a very transparent operation and they have been in the CSGO trading business for quite some time.
✔️Is LootBear Trustworthy?
Yes, Lootbear is very trustworthy. They have tonnes of added protection implemented into their services. Plus, they have a high Trustpilot rating.
✔️Did Anyone at LootBear Get Scammed?
Lootbear themselves? No, not at all. However, some users may not honor the conditions of the rental agreement. In which case other users are 'scamming you'. However, Lootbear always make sure you are compensated.