If you are familiar with the wonderful world of CSGO skin trading, then you will know that there is a tonne of real cash to be made in this industry. However, you will equally be aware of the many choices on offer to the customer. Choosing a website to trade on can be confusing and overwhelming, but hopefully with our help, things will be a little easier. In this guide we take a look at the popular site, LootFarm.

This LootFarm review was updated on February 2023.



Here is a list of some of the best and worst of what LootFarm has to offer:
Pros
Cashback feature is a real money saver
Multiple game support
Fast trading thanks to bots
Large inventory
Well-designed and intuitive UI
Cons
Vague commission fees
Prices don't always match or best Steam listings
Support network is lacking
About LootFarm
LootFarm is an online trading platform for in-game items for several games, including Team Fortress2, CSGO, Dota 2, H1Z1, and Rust. Users of the LootFarm platform can trade in their unwanted skins for skins that they want. At LootFarm, users have access to a large selection of skins to choose from.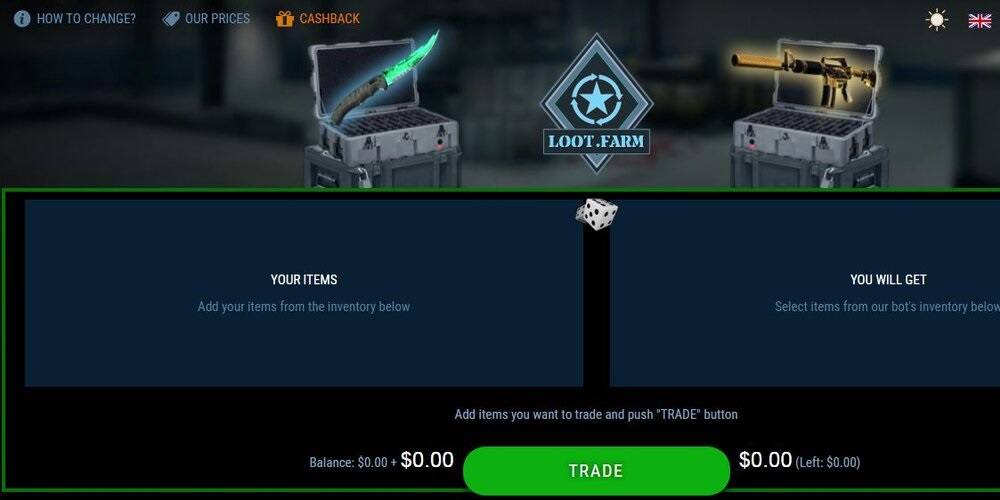 Our LootFarm Review
There are so many things that Loot Farm do right to set themselves apart from the competition. In terms of their inventory, we can't fault them for their extensive lineup of premium skins. These are easy to find thanks to a smooth and well designed UI and search feature and, for the most part, these items are priced fairly.
We also love the cashback feature. All those who use the service will have a one in ten chance of getting one percent of their purchase back. Then for every one in one hundred purchases, you may get a 5% cashback sum. It doesn't seem like much but it can really add up if you use the service regularly.
Other positives are the accessibility features like added language options and the multiple games that are supported. However, on the flipside, the service is a little vague about their commission fee and judge it by item, meaning that you don't really know the full price of the item until you reach the end of the transaction. Plus, the support system is a little dated as a company of this statute should really have a live chat service. However, as a whole, this is a service that we would recommend quite highly.
Loot Farm Key Features
Quick bot trading that doesn't rely on other users.
Easy Steam login feature.
Offers items for games like DOTA2, RUST, TF2 and more.
Plenty of secure payment options and easy cash out process.
A trusted service with over 35 million trades made.
A great cashback incentive (1%) which occurs one in ten trades. Plus a 1% of receiving 5% cashback.
Varied but fair prices.
Commission fee of 0-10% depending on product sold.
Claim LootFarm Free Bonus
Go to LootFarm using our link.
Register an account.
Enjoy your free bonus!
LootFarm Summary
| Our rating | 3.5 |
| --- | --- |
| Usability | Standard |
| Languages | 7 |
| Years established | 2017 |
| Official website | Loot.farm |
LootFarm Alternatives
Frequently Asked Questions
✔️What is LootFarm?
Loot farm is a long established trading website that allows you to trade and purchase CSGO skins fast with the help of AI bots.
✔️Is LootFarm Legit?
Yes, Loot Farm is a legit service. This website was established in 2016 and has served millions of customers, with a grand total of deals exceeding 35 million.
✔️Is LootFarm Trustworthy?
Yes, Loot Farm is a trustworthy service. The service has a huge customer base and has a strong Trustpilot rating to support this
✔️Did Anyone at LootFarm Get Scammed?
Not that we know of. We certainly weren't when we tried out the service and the user reviews all speak of similar positive experiences.