Here is our in-depth RustScrap review, which we created after analyzing the RustScrap platform with the help of our extensive review process. We take into account all important aspects like usability, security, and legitimacy. To uncover all the pros and cons of the RustScrap platform, keep on reading.

This RustScrap review was updated on October 2022.



Here is a list of some of the best and worst of what RustScrap has to offer:
Pros
The RustScrap platform has a provably fair system.
The FAQ section of the RustScrap platform is very extensive covering all important questions that anyone could have in mind.
The platform allows players to make deposits with cryptocurrencies as well.
A live chat feature is available on the RustScrap website that players can use to chat with each other.
The collection of cases available at RustScrap is amongst the best.
The login process with steam takes only two clicks to complete.
Cons
The overall design of the website for the RustScrap platform is not that great when compared to other platforms.
About RustScrap
RustScrap is an online case opening platform for Rust skins, where players have access to several cases that they can open to win Rust skins. It has some of the best cases out there. There is also a wide price range of cases that cater to the needs of almost everyone.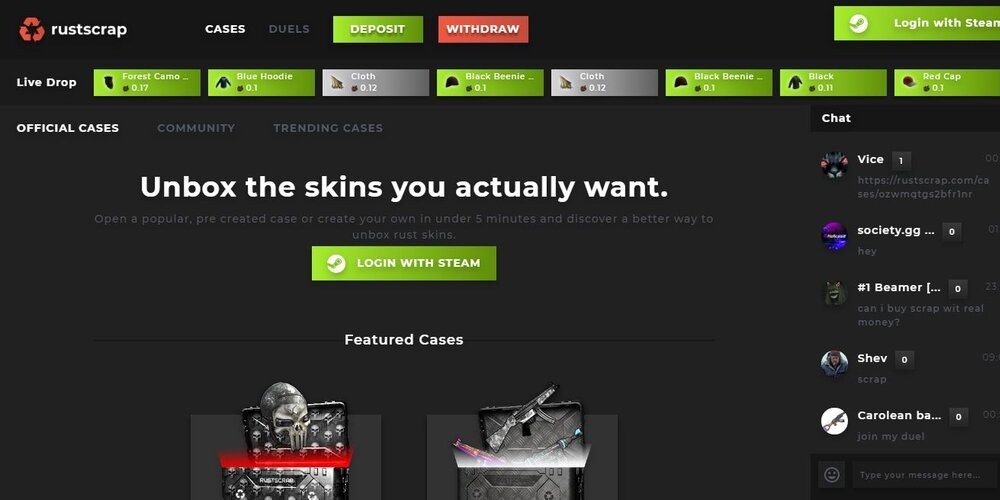 Our RustScrap Review
RustScrap has done a lot of things right when it comes to Rust skin gambling websites. The Platform is loaded with features like the SSL encryption protocol, a live chat feature, a provably fair system, and an extensive FAQ section covering all possible questions. These are just a few of the features we observed while using the platform ourselves. It seems that the RustScrap platform has everything it needs to become one of the best platforms for Rust skin gambling.
While all those features sound great, what sets RustScrap apart from other platforms is its case opening feature. There is just one other game besides case openings, but the extensive library of cases more than makes up for that. There is a wide range of prices for cases on RustScrap. Concluding this RustScrap review, it is a great platform for anyone looking for some Rust skin cases to open.
RustScrap Key Features
At RustScrap players have access to Case Openings and Duels.
Several great reviews for RustScrap can be found in different places on the internet.
Deposit methods include Visa, MasterCard, and Apple Pay.
Crypto payment methods include Bitcoin, Ethereum, and Litecoin.
Players can also make deposits with Rust skins.
Players can make withdrawals with Rust skins.
Claim RustScrap Free Bonus
Go to RustScrap using our link.
Register an account.
Enjoy your free bonus!
RustScrap Alternatives
Frequently Asked Questions
✔️What is RustScrap?
RustScrap is a case-opening website for Rust skins. There is a wide selection of cases that players can choose from at the RustScrap platform
✔️Is RustScrap Legit?
Along with a provably fair system for the games and the implementation of all necessary security measures, RustScrap is a one hundred percent legitimate platform.
✔️Is RustScrap Trustworthy?
The RustScrap platform is completely trustworthy as an SSL encryption protocol is implemented on their website, which keeps all the data entered by users secure.
✔️Did Anyone at RustScrap Get Scammed?
We were not able to find a single person or that would be accusing the RustScrap platform of scam, nor were there any legitimate cases of scams.