There are so many different CSGO retailers in the space, each with their own incentives, cool features and 'unbeatable prices'. All of these websites make huge claims but not all of them can back them up, which can make choosing a trading side a daunting task. So that is where we come in. Today we take a look at ShadowPay.

This ShadowPay review was updated on November 2022.



Here is a list of some of the best and worst of what ShadowPay has to offer:
Pros
Outstanding customer support
Decent prices overall
A variety of payment options and no hidden fees
A great website design and intuitive UI
A large inventory of CSGO and DOTA2 items
Cons
Slow website load times
Very high commission fee
No bot trading
ShadowPay Summary
| Overall rank | #16 out of 24 |
| --- | --- |
| Our rating | 3.0 |
| Usability | Very easy to use |
| Languages | 4 |
| Years established | 2017 |
| Trading fee | 10% |
| Games available | CSGO, Dota 2 |
| Official website | ShadowPay.com |
About ShadowPay
ShadowPay is an online marketplace for CSGO skins and Dota 2 items where users can buy and sell their in-game items and skins using the peer to peer (P2P) item trading method. ShadowPay also has one of the largest selection of deposit and withdrawal method options, including in-game items.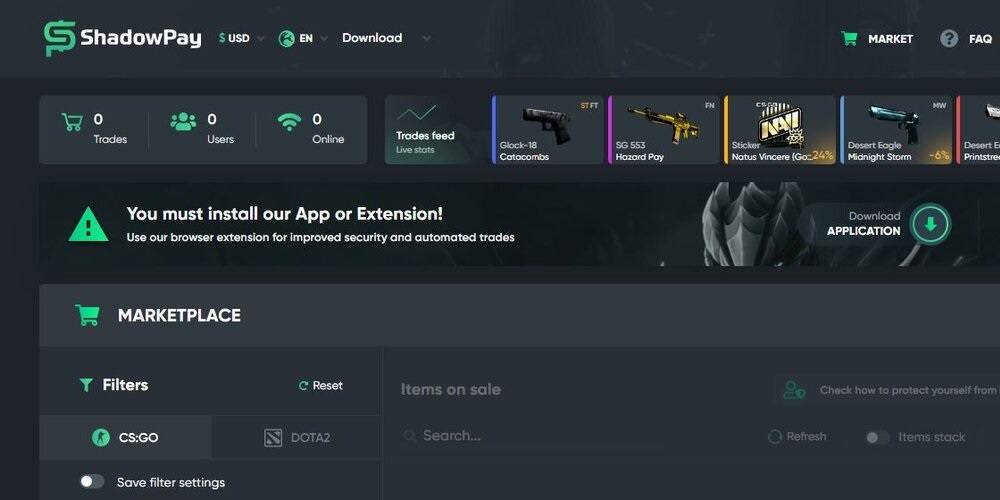 Our ShadowPay Review
While we aren't going to go out of our way and fight ShadowPay's corner, we have to say that this service has a number of great features that could sway more than a few. On the positive side, you can see as soon as you enter the website that the design is clean and aesthetically pleasing. Not to mention that the UI is so simple and easy to use. Our favorite aspect of this was the outstanding filter options that allow you to find the exact item that you are looking for in seconds flat.
Then building on that, we were also impressed with the lack of hidden fees when we got to check out and the variety of payment options that we were presented with. This was much appreciated and we always felt secure in making each purchase as there is a 24/7 support service that is very helpful and surprisingly responsive. Despite this not being a live chat service, you can still expect a response within about 30 minutes which is pretty rapid.
The downsides of this service though are the slow load times on the site, the lack of bot trading options that can make trading a slower process. Plus, the big one here is the extortionate 10% commission fee. This will make it much harder to find a deal that gives the customer real value. However, it's far from impossible. So if you can look past these issues, we would say certainly give ShadowPay a try.
ShadowPay Key Features
A Fast and well stocked CSGO marketplace.
Also stocks DOTA2 items.
A clean design, clear item cards and a simple to use search system.
A clear factory wear indicator.
24/7 support.
No hidden fees.
A variety of payment options, including cryptocurrency.
10% commission fee.
Claim ShadowPay Free Bonus
Go to ShadowPay using our link.
Register an account.
Enjoy your free bonus!
ShadowPay Alternatives
Frequently Asked Questions
✔️What is ShadowPay?
ShadowPay is a CSGO and DOTA2 item trading marketplace that allows you to post items for sale and buy items from other players.
✔️Is ShadowPay Legit?
Yes, Shadowpay is a legit business. They have been around for quite a while and run their operation in a transparent way with no hidden fees.
✔️Is ShadowPay Trustworthy?
Yes, Shadowpay is trustworthy, we used the service and we found no reason to doubt the validity of this site. Plus, the high Trustpilot rating speaks for itself.
✔️Did Anyone at ShadowPay Get Scammed?
We certainly weren't and that seems to be the case across the board. All of the user reviews tend to be favourable, with the negative reviews mainly focusing on the high commission fee.