There are thousands of online platforms where users can buy and sell their CSGO skins. Picking out the ones worth using is not easy. Is SkinBaron one of the better ones? Well, that's precisely what we will try to answer with this SkinBaron review. Keep on reading to learn more about the platform.

This SkinBaron review was updated in 2023.



Here is a list of some of the best and worst of what SkinBaron has to offer:
Pros
SkinBaron has a massive library of CSGO skins.
Users can view the website in six different languages.
The prices at SkinBaron are super competitive compared to other CSGO skin marketplaces.
Users can view the website in ten different currencies.
A lot of deposit options are available on the platform.
Cons
For users that wish to cash out their CSGO skins, there is a big commission fee on the SkinBaron platform.
The site does not have a live chat support feature.
About SkinBaron
SkinBaron is a German online marketplace for in-game items of CSGO. At SkinBaron, users are allowed to purchase skins and other in-game items like CSGO gloves from an extensive inventory. Players can also sell their items for cash they can withdraw.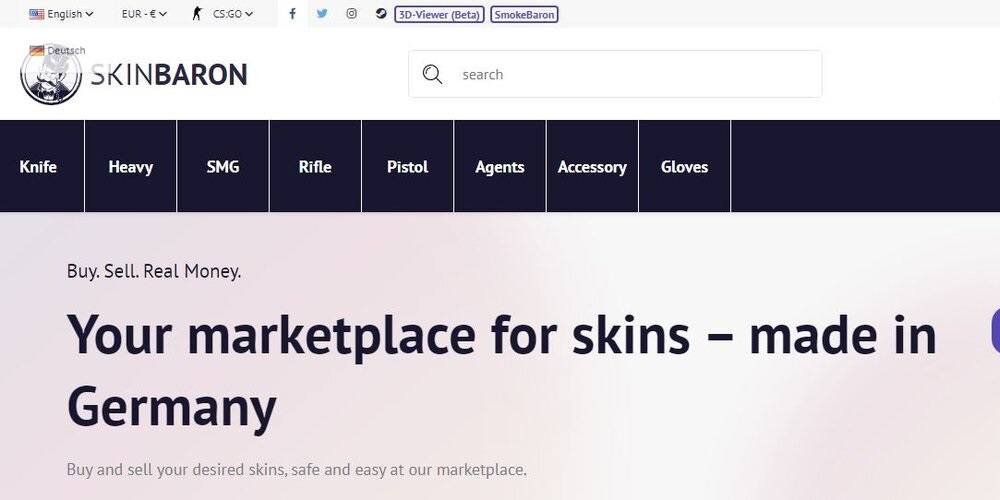 Our SkinBaron Review
The SkinBaron website has a simple and clean format that is easy to navigate. The search feature is superb, all the items are categorized, and the featured items section highlights the great deals on the site.
While it is almost a guarantee that the prices at SkinBaron will be lower than those you will find on Steam, the prices are low even compared to other CSGO skin marketplaces.
One of the great things about SkinBaron is that it offers an item wear meter to help users get a better idea about the worth of an item before they make the purchase. Plus, the game has a variety of secure payment methods.
We used their services ourselves, and we can verify that the platform is legitimate and trustworthy. Concluding this review, SkinBaron is one of the top platforms for anyone looking to buy some CSGO skins or sell them for real cash.
Skin Baron Key Features
A huge inventory, full of great CSGO skins.
Very clean and clear UI with well-designed item cards.
Great accessibility and language options.
A clear navigation system and search feature.
Easy Steam login feature.
Multiple payment options, including Klarna and Crypto.
A great item wear meter.
Commission fee of 7%.
Claim SkinBaron Free Bonus
Go to SkinBaron using our link.
Register an account.
Enjoy your free bonus!
SkinBaron Summary
| Our rating | 5.0 |
| --- | --- |
| Usability | Very easy to use |
| Languages | 5 |
| Years established | 2016 |
| Official website | SkinBaron.de |
TLDR
SkinBaron Alternatives
Frequently Asked Questions
✔️What is SkinBaron?
Skin Baron is an online marketplace for CSGO skins. Users of the platform can buy some CSGO skins or sell their CSGO skins for real cash.
✔️Is SkinBaron Legit?
Yes, Skin Baron is a legitimate German business that has been around for quite some time and has acquired quite a reputation within the CSGO trading community.
✔️Is SkinBaron Trustworthy?
Yes, Skin Baron is trustworthy. We tested the service and received our in-game items using the secure payment channel.
✔️Did Anyone at SkinBaron Get Scammed?
We didn't see any evidence to support this. The user reviews are mixed, but the main pressure point was the commission fee, not the overall trustworthiness of the website.