So you just found out about SkinBid but are confused about whether you should start using it for selling some of your CSGO skins or not. To help you resolve this confusion, we test SkinBid by ourselves letting you know all its pros and cons. Keep on reading to learn more.

This SkinBid review was updated on November 2022.



Here is a list of some of the best and worst of what SkinBid has to offer:
Pros
Along with the general P2P market feature that all online marketplaces have, SkinBid also has a unique auctions feature where buyers can place bids on CSGO items.
You can find some of the rarest CSGO items listed for sale on the SkinBid website.
SkinBid employs an SSL encryption protocol which helps in keeping user data secure.
The sign-up process at SkinBid using Steam takes only two or three clicks to complete.
Cons
There are no crypto deposit or withdrawal options available at SkinBid.
There is no live chat support feature available at SkinBid.
Customer support is not as effective as on other platforms.
About SkinBid
SkinBid is an online marketplace primarily for CSGO items. It is also one of the more recently launched online marketplaces for CSGO items, launching only about a year ago in 2021. At SkinBid, users have access to a P2P market for buying and selling CSGO items and an auction feature.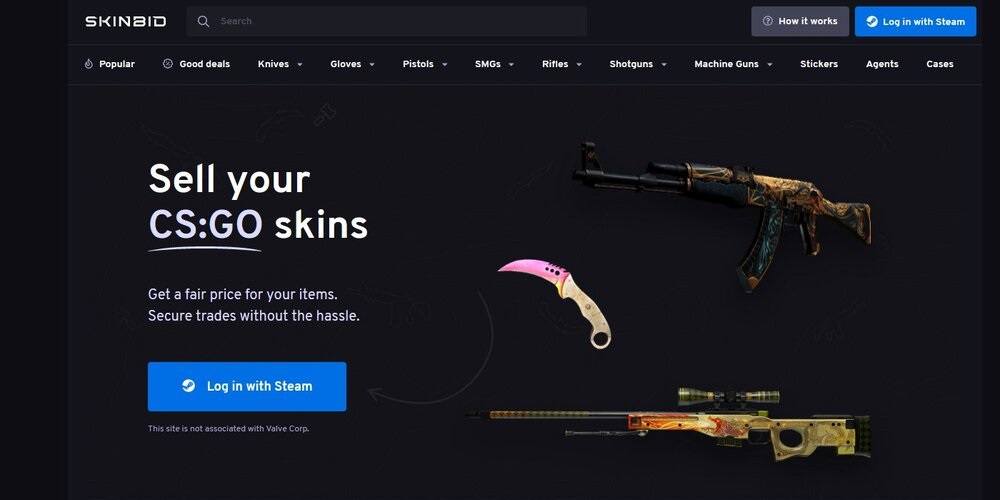 Our SkinBid Review
SkinBid is a recently launched online marketplace for CSGO skins that launched less than a year ago in 2021. Despite that, it has managed to acquire average monthly visits of over one hundred thousand visits, reaching nearly three hundred thousand in some months. It also has an impressive rating on Trustpilot of 4.2 stars. All this suggests that the platform is doing most things right. We tried out the platform for ourselves and used the website extensively for several hours. We also found that the website is great in a lot of ways. As far as our SkinBid review is concerned, we really like it.
The great features of the SkinBid platform include an easy-to-navigate website, well-organized sections for different types of CSGO items, and a unique Auctions feature that allows users to place bids on several CSGO items. Along with all that, the website is also super secure because of its SSL encryption protocol. The SkinBid platform also has some of the rarest CSGO items, like the Dragon Lore skin for the AWP sniper rifle. Concluding this SkinBid review, it is one of the best platforms for people looking to buy some of the rarest CSGO items out there.
SkinBid Key Features
Games/Activities: P2P Market and Auctions.
SkinBid has a great rating of 4.2 stars on Trustpilot.
Deposit Methods: Visa, MasterCard, and Maestro.
Other Deposit Methods: CSGO Items.
Withdrawal Methods: CSGO Items and Bank Transfer.
Claim SkinBid Free Bonus
Go to SkinBid using our link.
Register an account.
Enjoy your free bonus!
SkinBid Alternatives
Frequently Asked Questions
✔️What is SkinBid?
Skinbid is an online marketplace primarily for CSGO items. At SkinBid, users can take part in auctions or sell or purchase CSGO items through the P2P Market.
✔️Is SkinBid Legit?
Skinbid operates under Skinbid ApS, which is a registered company. This, along with other acquired licenses, makes Skinbid one hundred percent legitimate.
✔️Is SkinBid Trustworthy?
There are items worth thousands of dollars listed for sale at Skinbid, with an average total value of over half a million. This suggests that Skinbid is completely trustworthy.
✔️Did Anyone at SkinBid Get Scammed?
While it is a recently launched platform, there have been a total of zero legitimate scam accusations against the Skinbid platform.