Many gamers are interested in buying and selling premium CSGO skins. If you are also interested in that, you need to know about the best online marketplaces for in-game items. Well, one option you could try is Skinport. But is it the best option for you? To help you figure that out, we tested and reviewed the platform. Keep reading to learn more about all the features that the site offers.

This Skinport review was updated in 2023.



Here is a list of some of the best and worst of what Skinport has to offer:
Pros
Users can change the language of the Skinport website, choosing from 13 different language options.
The platform has a massive library of in-game items for users that want to buy them with real cash.
The site library has some of the rarest in-game items, with several options worth thousands of dollars.
Skinport offers items for multiple games, including CSGO, Dota2, and more.
The website offers an extensive filter and search option, which allows players to find precisely what they are looking for.
Cons
The selling fees are a bit on the higher side for lower trades (12%).
About Skinport
Skinport is an online marketplace for skins and other in-game items. The site offers an extensive library of in-game items and skins for several games, including CSGO, Rust, Dota 2, and Team Fortress 2. Users can also sell their items at the site.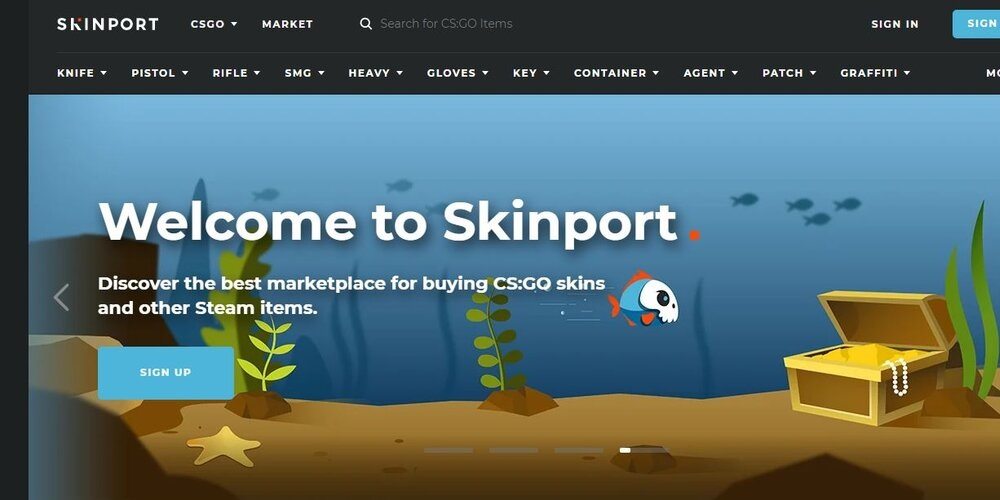 Our Skinport Review
If you are looking for online marketplaces that you can wholeheartedly trust, Skinport should be on that list. This website has been around since the CSGO skin market boom and offers a secure service. If you are a buyer, it's one of the few places you can get a real bargain.
One of the best aspects of Skinport is the design. The website looks brilliant. The item cards are detailed and of high quality. The UI and navigation are outstanding, and using this website couldn't be easier. Also, the support system was surprisingly responsive and very helpful. The support agents are knowledgeable and very polite. However, customer support is only available via email.
Buyers will love Skinport as it offers 0% commission purchases. The price you see on the listings is the actual fee you will pay, which is a refreshing change compared to sites with hidden fees.
However, there are downsides. For one, this website has a commission of 12% for sellers. In other words, you lose more than a tenth of your skin's value when selling them for cash. While that commission is for lower trades and can get lower to 5% for bigger trades, it still isn't ideal.
Concluding this Skinport review, the platform is worth a try. However, the site isn't for everyone, especially gamers that want to sell their in-game items. We feel that there are several better options.
Skinport Key Features
An incredibly slick and modern layout.
Great item cards with detailed item info.
Seamless and intuitive UI.
The platform offers items for other games like Team Fortress 2, Dota 2, and Rust.
The listings are easy to find and well-categorized.
Responsive support system.
The site offers decent prices across the board.
The site has a 0% commission for buyers and a 12% commission for sellers.
Claim Skinport Free Bonus
Go to Skinport using our link.
Register an account.
Enjoy your free bonus!
Skinport Summary
| Our rating | 3.8 |
| --- | --- |
| Usability | Standard |
| Languages | 11 |
| Years established | 2018 |
| Official website | Skinport.com |
Skinport Alternatives
Frequently Asked Questions
✔️What is Skinport?
Skinport is an online marketplace for in-game items for games like CSGO, Dota 2, Team Fortress 2, and Rust. Users can buy items for those games or post listings for their in-game items.
✔️Is Skinport Legit?
Yes, Skinport is legit. We used their services, and everything worked great. We found no issues related to the site's legitimacy.
✔️Is Skinport Trustworthy?
Skinport is one hundred percent trustworthy. We used the website to be sure and had a great experience.
✔️Did Anyone at Skinport Get Scammed?
We looked at hundreds of user reviews, and the only negative reviews we saw were related to the long cashout time. We did not find any credible scam accusations.