CSGO within the world of gaming is a mammoth title. It's been around for years, cementing itself as a Esports staple, offering excellent gaming and even moving with the times, offering its own battle royale version, for example. However, despite all of the excellent game design, many gamers are much more interested in the trading, buying and selling of premium CSGO skins. However, to do this effectively and make tonnes of real cash, you need to know where to trade. Well, one option you could try, is Skinport.

This Skinport review was updated on November 2022.



Here is a list of some of the best and worst of what Skinport has to offer:
Pros
Responsive support
Zero buyers commissions
Incredible site design
Established site (2018)
Huge marketplace with tonnes of buyers and listings
Cons
High selling fee for lower trades (12%)
Not a great site for sellers looking to maximise profits
Cashouts can take a while
Skinport Summary
| Overall rank | #15 out of 24 |
| --- | --- |
| Our rating | 3.3 |
| Usability | Standard |
| Languages | 11 |
| Years established | 2018 |
| Trading fee | 12% |
| Games available | CSGo, Dota 2, Rust, Team Fortress 2 |
| Official website | Skinport.com |
About Skinport
Skinport is one of the most reviewed and highest-rated online marketplaces for skins and other in-game items. At Skinport, users have access to an extensive library of in-game items and skins for CSGO, Rust, Dota 2, and Team Fortress 2. Users can also sell items that they don't want.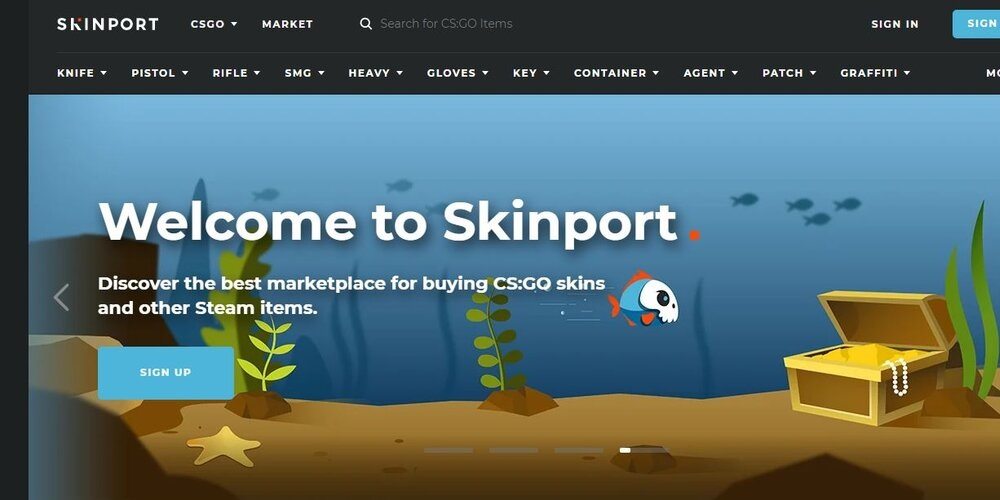 Our Skinport Review
If you are looking for a website that you can wholeheartedly trust, Skinport is a fine option. This website has been around since the CSGO skin market boom and offers a service that is secure, easy to use and if you are a buyer, it's a place you can get a real bargain. One of the best aspects of this website is the design. The website looks brilliant, the item cards are so detailed, the UI and navigation is outstanding and overall, using this website couldn't be easier for beginner and veteran traders alike.
We also found that the support system, while only an FAQ section and email form, was surprisingly responsive and very helpful. The agents on hand are knowledgeable and very polite, making dealing with an issue a stress free occasion. Buyers will also love that the website offers 0% commission purchases, so the fee that you see on the marketplace is the actual fee you will pay, which is a refreshing change when compared to sites with hidden fees.
The only downside of this website is that the sellers commission is 12%. Meaning that you lose more than a tenth of your skins value. This can lower to 5% for bigger trades but it still isn't ideal. However, for the security and the wealth of buyers this site offers, you are paying for the service in a way. Overall, it won't be a site for everyone but for some, this site will fit like a glove.
Skinport Key Features
An incredibly slick, dark layout.
Great item cards with clear item wear and details.
Seamless, intuitive UI.
Offers content for other games like TF2, DOTA and Rust.
Items are easy to find and well categorized.
Responsive support system.
Decent prices across the board.
0% commission for buyers, 12% commission for sellers.
Claim Skinport Free Bonus
Go to Skinport using our link.
Register an account.
Enjoy your free bonus!
Skinport Alternatives
Frequently Asked Questions
✔️What is Skinport?
Skinport is a CSGO buy and sell marketplace that allows users to post listings, which other users can choose to agree to, leading to a successful transaction.
✔️Is Skinport Legit?
Yes, Skinport has been around since 2018 and in this time, has grown into one of the biggest names in the space.
✔️Is Skinport Trustworthy?
Skinport is one of the most trusted names in the space. User reviews and the Trustpilot rating are a testament to that. We also used the website to be sure and had a great experience.
✔️Did Anyone at Skinport Get Scammed?
Not at all. The only negative reviews we seen related to the long cashout time. The actual service is one of the most secure around.