Are you bored with all the CSGO skins you have acquired over the years? Well, you may be in for a big payday. You can cash out your CSGO skins for real cash at skin-cash-out platforms. However, choosing the right place can be a bit difficult. Why not check out Skins.Cash. We tested their services and reviewed the site to help you decide if the platform is worth your time. Keep reading to learn more.

This Skins.Cash review was updated in 2023.



Here is a list of some of the best and worst of what Skins.Cash has to offer:
Pros
The platform offers competitive prices for users' skins and other in-game items compared to other sites that provide a similar service.
The site has a responsive live chat support feature. Agents typically respond within minutes, sometimes even seconds.
Users can also sell skins for other games, including Dota 2 and Team Fortress 2.
The site offers several payment options, including all popular ones like Bank Wire and Visa.
Skins.Cash also allows users to make withdrawals using Cryptos like Bitcoin, Ethereum, Litecoin, and Tether.
The platform offers regular giveaways for paying customers.
Cons
The minimum withdrawal amount is relatively on the higher side.
About Skins.Cash
Skins.Cash is an online skin-cash-out platform where users can sell their in-game items for real cash. The games supported at the site include CSGO, Dota 2, Team Fortress 2, and Rust. Once you sell the skins, you can withdraw the cash using options like Visa or Bitcoin.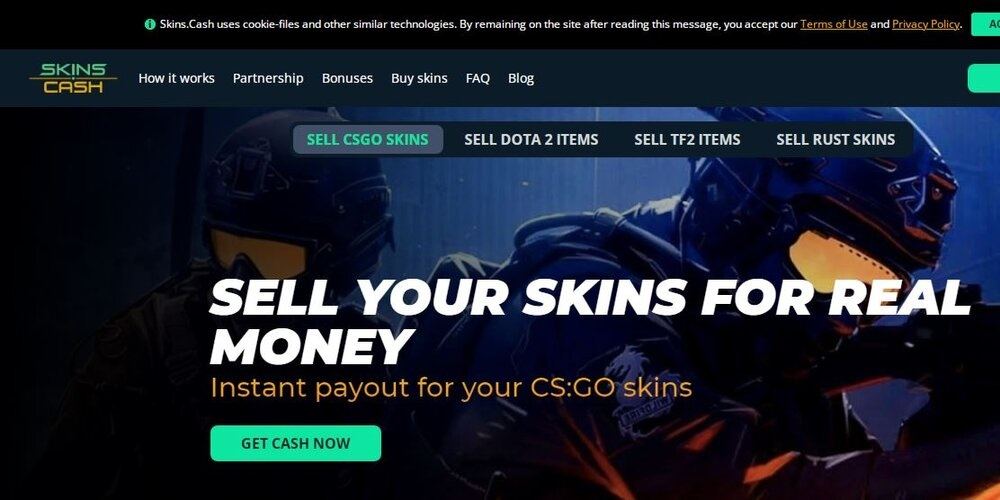 Our Skins.Cash Review
If you are looking for a smooth trading process, then Skins.Cash is right up your alley. To start selling your skins, you just have to list the skins you want to sell, the website will give you a quote, and just like that, you will have made real cash for your in-game skins.
The quotes from Skins.Cash are generally quite favorable, and you will often get close to the market value. The best part is that you can do all that without waiting days, weeks, or months for someone to buy your listing.
The Skins.Cash website is also excellently designed, allowing beginners and veteran traders to trade without issues. The UI is intuitive, the aesthetic is pleasing, and the website has little to no lag. One of the best things about the platform is that it offers regular giveaways for using its services. Plus, here's the real gem, there are no commission fees, meaning you can get great value from each deal.
However, we did find several issues. For example, the minimum withdrawal limit is quite large. Users will have to rack up a pretty sizable wallet before they are allowed to make a withdrawal. Concluding this review, it is an OK platform and worth a try. But we feel there are better options.
Skins.Cash Key Features
Skins.Cash offers skin-cash-out services for CSGO, Dota 2, Team Fortress 2, and Rust.
Skins.Cash has over 9,000 reviews with an excellent 4.4-star rating on Trustpilot.
Deposit methods include CSGO skins, Dota 2 skins, Team Fortress 2 skins, and Rust skins.
Withdrawal methods include Bitcoin, Ethereum, Litecoin, Tether, Tron, Bank Wire, Visa, and Payoneer.
Claim Skins.Cash Free Bonus
Go to Skins.Cash using our link.
Register an account.
Enjoy your free bonus!
Skins.Cash Summary
| Our rating | 3.0 |
| --- | --- |
| Usability | Confusing |
| Languages | 11 |
| Years established | 2016 |
| Official website | Skins.cash |
Skins.Cash Alternatives
Frequently Asked Questions
✔️What is Skins.Cash?
Skins.Cash is a skin-cash-out website where you can get real cash for your CSGO, Dota 2, Team Fortress 2, and Rust skins.
✔️Is Skins.Cash Legit?
Yes, Skins.Cash is a legitimate business. We tried selling some skins ourselves. We got a decent price and faced no issues while making withdrawals.
✔️Is Skins.Cash Trustworthy?
The site is 100% trustworthy. Not only did we test the service and have no problems, but many people are also in the same boat, which is apparent through the positive Trustpilot rating.
✔️Did Anyone at Skins.Cash Get Scammed?
We checked online to see if we could find any evidence of this. Thankfully, our search only revealed great reviews. We found zero legit scam accusations.