Just found out about SkinsMonkey but can't decide if you should start using it for skin trading. To help you make an informed decision, here is our extensive and detailed SkinsMonkey review. Continue reading to find out more about all the features that SkinsMonkey has to offer.

This SkinsMonkey review was updated on September 2022.



Here is a list of some of the best and worst of what SkinsMonkey has to offer:
Pros
The overall design of the website is great.
The color scheme used at the Skins Monkey website does not feel strenuous to the eyes.
The signup process for the SkinsMonkey website is amongst the fastest.
The deposit and withdrawal process is amongst the fastest at SkinsMonkey.
The FAQ section is extensive and covers nearly all questions that anyone could have.
Despite being launched recently, SkinsMonkey has acquired the trust of several thousand players, providing them with quality service.
Cons
There is not a large selection of skins to choose from at SkinsMonkey.
There is only one deposit method which is Rust Skins.
About SkinsMonkey
SkinsMonkey is an online skin trading platform where players can trade in their unwanted skins for some skins that they want. At the moment the only deposit method available is Rust skins. On the other hand, withdrawals can be made with Rust skins, CSGO skins, and CSGO keys.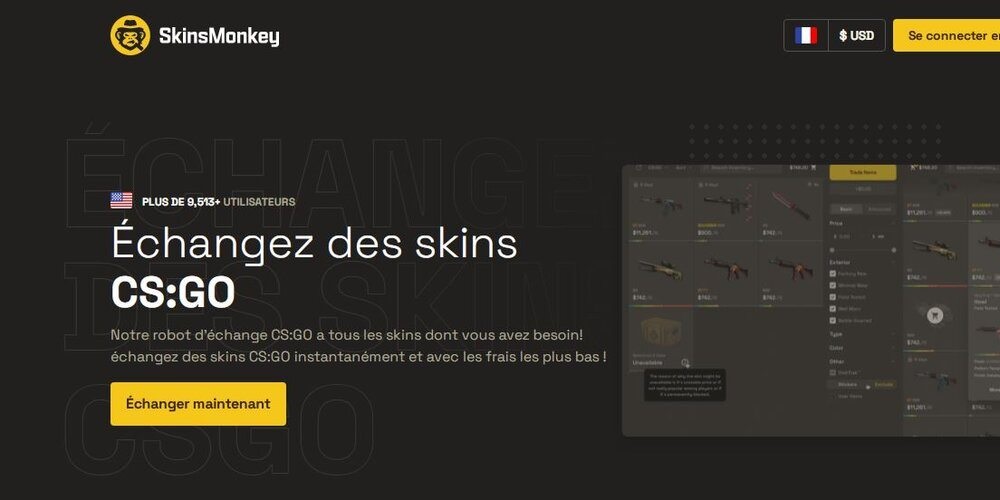 Our SkinsMonkey Review
simple google search will lead you to tens of thousands of skin trading platforms. This makes it very difficult for new websites to compete. The SkinsMonkey platform also launched recently in 2021. However, it was a bit of a surprise seeing the platform already managing to acquire over eight thousand registered accounts with several thousand successfully completed trades.
As we dove deeper into the platform to gather more information about it, the reason for its growth in such a short time was clear. The website of the platform has a great design. Along with that, it is also super secure and trustworthy. It satisfies all necessary legitimacy and security standards, including an SSL encryption protocol for its website. The website feels very natural and responsive which makes the over experience quite enjoyable. To conclude this SkinsMonkey review, the platform checks all the boxes needed to push it to the top.
SkinsMonkey Key Features
Players only have access to skin trading at the SkinsMonkey platform.
Several great reviews for the SkinsMonkey platform can be found on the internet.
Deposit methods at SkinsMonkey include Rust skins.
Withdrawals can be made with Rust skins, CSGO skins, CSGO keys, and Dota 2 in-game items.
Claim SkinsMonkey Free Bonus
Go to SkinsMonkey using our link.
Register an account.
Enjoy your free bonus!
SkinsMonkey Alternatives
Frequently Asked Questions
✔️What is SkinsMonkey?
SkinsMonkey is a skin trading website that launched recently in 2021. At SkinsMonkey, players can trade in their unwanted Rust skins for skins that they want.
✔️Is SkinsMonkey Legit?
Yes, it is one hundred percent legitimate. The SkinsMonkey platform does not lack any of the legitimacy standards. It also employs the SSL encryption protocol.
✔️Is SkinsMonkey Trustworthy?
With over 8000 registered accounts and several thousands of trades completed, all despite being launched recently, SkinsMonkey is certainly a trustworthy platform for skin trading.
✔️Did Anyone at SkinsMonkey Get Scammed?
Of the 8000 registered users that have successfully completed several thousand trades, there has not been a single credible or legitimate scam accusation.