Are you pondering the question of whether Thunderpick.com is the right platform for you? To help you answer this question here is our unbiased review of the Thunderpick.com website that uncovers all its pros and cons. Continue reading so you can make an informed decision.

This Thunderpick.com review was updated on November 2022.



Here is a list of some of the best and worst of what Thunderpick.com has to offer:
Pros
The Thunderpick platform has one of the largest selections of eSport games and sports games, including CSGO, League of Legends, Football, and Ice Hockey.
Players can also play other casino-style games like Blackjack, Poker, and Roulette.
There are a lot of cryptocurrency options for making deposits at the Thunderpick website.
An efficient and effective live chat support feature is available for all users.
An extensive FAQ section is available that includes all types of questions and their detailed answers.
Cons
Besides gift cards, players only have access to cryptocurrency deposit methods.
Thunderpick is not available in a lot of countries.
Thunderpick.com Summary
| Overall rank | #1 out of 12 |
| --- | --- |
| Our rating | 4.3 |
| Usability | Very easy to use |
| Year established | 2017 |
| Official website | Thunderpick.com |
About Thunderpick.com
Thunderpick is an online betting platform that allows people to place bets on several eSports like CSGO and sporting events like football. Players also have access to casino games like Crash, Slots, Blackjack, Poker, and more. There is even a huge selection of Live Casino Games on the Thunderpick.com website.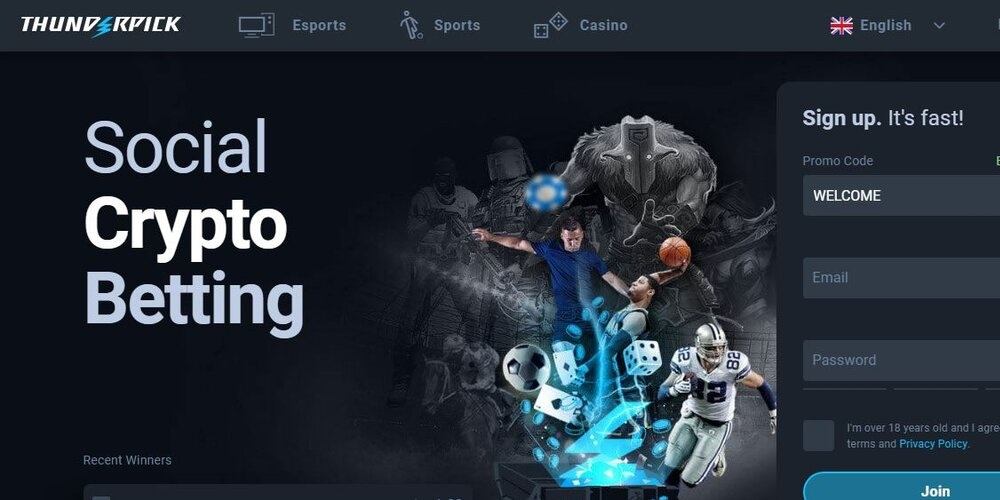 Our Thunderpick.com Review
Thunderpick is an overall great platform with tons of appealing features we couldn't exclude from the Thunderpick.com review. Firstly the platform is completely legit with all proper licensing. Secondly, the website for Thunderpick has proper encryption protocols for added security. And third, it has a great selection of gambling features.
When it comes to gambling features, Thunderpick has it all. The platform allows users to place bets on several different eSports, including all popular titles such as CSGO, Dota 2, and League of Legends. Players can also make bets on popular sporting events, including Football, Basketball, and Ice Hockey.
Along with having almost all the essential gambling features, the overall experience of using the Thunderpick website is also super engaging and entertaining. There is also an effective live chat support feature available for users. Concluding our Thunderpick.com review, it is one of the best online betting platforms with a huge selection of games.
Thunderpick.com Key Features
Thunderpick.com allows players to play games like Spin, Crash, Live Casino Games, Slots, Blackjack, Poker, Cards, Roulette, and Craps. Players can also place bets on eSports and Sports like football, CSGO, etc.
Thunderpick.com has hundreds of positive reviews on different places on the internet.
Players can make deposits in terms of gift cards.
Crypto payment methods include Bitcoin Cash, Binance Coin, Bitcoin, Ethereum, Litecoin, Tether, and Ripple.
No in-game item deposit methods are available at Thunderpick.com.
Withdrawal options include Bitcoin Cash, Binance Coin, Bitcoin, Ethereum, Litecoin, Tether, and Ripple.
Claim Thunderpick.com Free Bonus
Go to Thunderpick.com using our link.
Register an account.
Enjoy your free bonus!
Thunderpick.com Alternatives
Frequently Asked Questions
✔️What is Thunderpick.com?
Thunderpick is an online eSport and Sports betting platform. Thunderpick has some of the largest selection of eSport and Sports titles to place bets on.
✔️Is Thunderpick.com Legit?
The Thunderpick platform is one hundred percent legitimate as it has acquired all the necessary licensing that is required for a gambling platform.
✔️Is Thunderpick.com Trustworthy?
The Thunderpick platform has been operational since 2017 and has acquired tons of regular users. With a solid user base, Thunderpick is definitely trustworthy.
✔️Did Anyone at Thunderpick.com Get Scammed?
From all the users that regularly use the Thunderpick platform, a single legitimate scam accusation, report, or claim has yet to surface.