CSGO skins are a commodity that are so rare and so popular, they almost supersede the excellent gameplay and multiplayer action of the franchise. However, it can be a little overwhelming wading through the various trading options online. Well, that's what we are here for. Today, we take a look at the popular CSGO buying and selling website, TradeIt.gg.

This TradeIt.gg review was updated on November 2022.



Here is a list of some of the best and worst of what TradeIt.gg has to offer:
Pros
A huge stock of items on offer
Prices are relatively low as a whole
5% commission fee is competitive
Multiple language options
Multiple game items available
Trading bots make trading fast and easy
Cons
Lack lustre web design and UI
The Investment programme should be avoided
24/7 support has room to improve
TradeIt.gg Summary
| Overall rank | #4 out of 24 |
| --- | --- |
| Our rating | 4.5 |
| Usability | Very easy to use |
| Languages | 9 |
| Years established | 2017 |
| Trading fee | 8% |
| Games available | CSGO, Dota 2, Rust, Z1 Battle Royale |
| Official website | TradeIt.gg |
About TradeIt.gg
Tradelt.gg is one of the most popular CSGO skin trading platforms, with over 39 million successful trades performed by over 2.7 million users. Tradelt.gg allows users to trade in their skins for skins that they desire the most. Users can also buy skins with cash or sell skins for instant cash.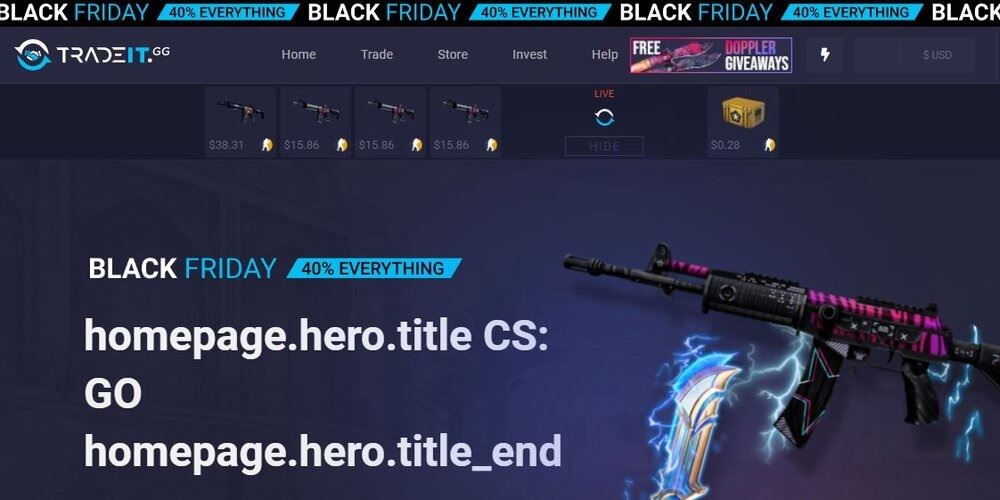 Our TradeIt.gg Review
We have some mixed feelings about Tradeit.GG. From what we can tell, this website is a trustworthy one. The company has been around for quite some time and has built up a trader base of around 2.5 million. Plus, the website offers a variety of language options for those in various regions, offering more accessibility as a whole. Then as for the inventory on offer, it is hard to argue with over $5 million worth of stock on the website. If you are looking for something specific, chances are, they will have what you are looking for.
Plus, it's nice to see that Tradeit.GG offers a sign up an incentive for new users. Which is something that a lot of non-CSGO gambling websites fail to offer. Plus, the website offers 24/7 support which, when put to the test were relatively responsive and those in the hot seat were knowledgable and helpful. There is room for improvement but it's more than acceptable.
However, on the negative side, Tradeit.GG's investment gimmick on the site is a one sided affair that clearly benefits the website more than the user. It's not a scam as they are very up front and transparent with the process but its still a little disappointing. Then on top of that, the website's UI is outdated and hard to navigate when compared to close competitors.
Tradeit.GG Key Features
A huge amount of options available. Approximately 60+ trades happen every minute.
Also offer different game cosmetics like DOTA2, RUST and TF2.
The website claims to offer 24/7, around the clock customer service.
An excellent Trustpilot rating of 9.5/10.
Tradeit.GG claim to offer prices that are on average about 40% cheaper than standard Steam market value.
A simple Steam Login link option.
An option to invest skins for a 1% commission.
Not trading allows you to trade immediately without relying on other users.
Multiple language options.
Flat commission fee of 8%.
Free sign up bonus.
Claim TradeIt.gg Free Bonus
Go to TradeIt.gg using our link.
Register an account.
Enjoy your free bonus!
TradeIt.gg Alternatives
Frequently Asked Questions
✔️What is TradeIt.gg?
Tradeit.GG is a CSGO skin buy and sell website. You can trade skins, deposit them in the websites investment scheme and you can trade fast with the use of bots
✔️Is TradeIt.gg Legit?
Yes, Tradeit.GG is legit. The company has been around for quite some time within the space and has built up a reputation as a viable trading marketplace. This is reflected in their strong Trustpilot score and their huge user base.
✔️Is TradeIt.gg Trustworthy?
Yes, Tradeit.GG is trustworthy too. Not only does this site have great credentials. We also tested the site to make sure all was above board and sure enough, the transaction went through a secure payment network and we received our item as expected.
✔️Did Anyone at TradeIt.gg Get Scammed?
Not that we have seen through our research. All of the reviews that we came across sang the praises of the service and those that had grievances had them based on the features of the website. So no scam to fall victim to here.