CSGO may be one of the staples of Esports gaming, but most people outside of the community aren't aware of just how much money there is to be made trading CSGO skins. However, you may be wondering what websites offer the best deals and overall experience. Well, allow us to explore the popular website, TradeSkinsFast.

This TradeSkinsFast review was updated on November 2022.



Here is a list of some of the best and worst of what TradeSkinsFast has to offer:
Pros
Great prices
Low commission fee
Great community and accessibility features
Stylish web design and simple to use UI
Associated with CS Deals
Cons
Customer service is sluggish and outdated
Smaller than other older websites
TradeSkinsFast Summary
| Overall rank | #14 out of 24 |
| --- | --- |
| Our rating | 3.3 |
| Usability | Confusing |
| Languages | 8 |
| Years established | 2016 |
| Trading fee | 5% |
| Games available | CSGO, Dota 2 |
| Official website | TradeSkinsFast.com |
About TradeSkinsFast
TradeSkinsFast is an online skin trading platform that uses bots for making skin trades. At TradeSkinsFast, users can trade CSGO, Dota 2, Rust, and Team Fortress 2 skins. TradeSkinsFast is also one of the more popular platforms when it comes to online skin trading trusted by many popular YouTube creators.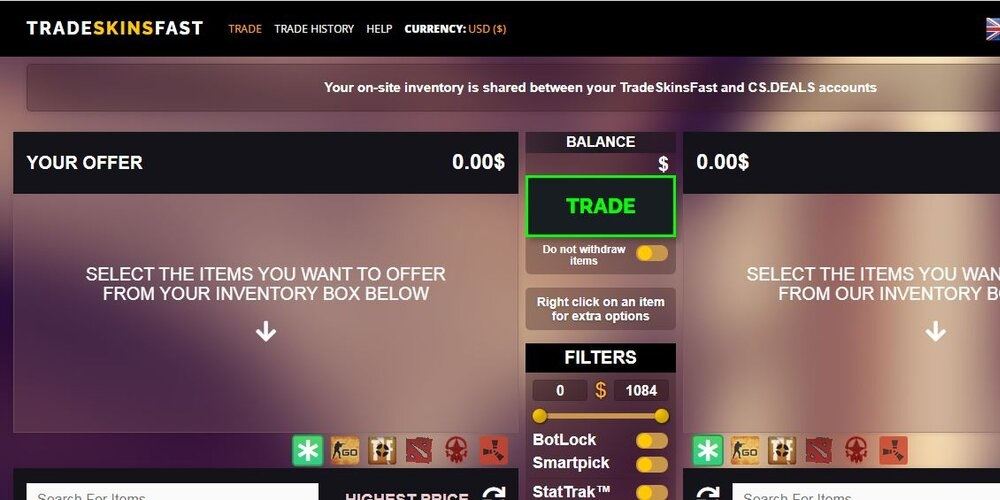 Our TradeSkinsFast Review
TradeSkinsFast is a website that has been around for quite some time and offers some of the easiest trading options around. This website has a decent sized inventory full of premium items and all of which are listed at fair prices which are lower than your typical Steam listing. The UI is simple to use and looks rather like trading within the game, Rocket League if you are familiar.
The website also has multiple payment options, making it easy for users to get exactly what they want through a secure service. Plus, the website also has great community and accessibility features too. Then as for the commission on this website, it is a very competitive 5% which means finding a great deal is even easier.
The downside to this website is that the customer service is via email. So you won't get a rapid response. Plus, the website for it's tenure is significantly smaller in stature than its closest, oldest competitors. Overall, we would say, try TradeSkinsFast if you want to get a good deal but if you want a comprehensive experience, you might want to look elsewhere.
TradeSkinsFast Key Features
Over 1,000,000 trades completed and lots of items in their inventory.
Great prices across the board.
A stylish website design.
Easy Steam logins.
Trade bots make trading fast and easy.
Multiple game items on offer.
Associated with CS Deals, a trusted website.
Multiple languages and currency options.
Strong community aspects.
Commission fee is 5%.
Claim TradeSkinsFast Free Bonus
Go to TradeSkinsFast using our link.
Register an account.
Enjoy your free bonus!
TradeSkinsFast Alternatives
Frequently Asked Questions
✔️What is TradeSkinsFast?
TradeSkinsFast is a CSGO trading website that allows players to trade their skins for cash or other premium skins.
✔️Is TradeSkinsFast Legit?
TradeSkinsFast is a legit website. It has been around for over five years now and has amassed quite a following with over 1,000,000 deals completed.
✔️Is TradeSkinsFast Trustworthy?
Yes, TradeSkinsFast is trustworthy. Not only is this website linked with CS Deals and boasts a high Trustpilot rating. We tried the service for ourselves and we had no trouble whatsoever.
✔️Did Anyone at TradeSkinsFast Get Scammed?
Not that we could see after extensive research. Everyone seems to look fondly upon this website for it's low commission and decent amount of premium items on offer.