Are you looking to buy some CSGO or Dota 2 skins at Waxpeer but don't know if it is the right platform for you? Not to worry, as we can help you in making this decision. We tried and tested the website by yourselves so you dolnt have to. Keep reading to find out details on our experience.

This Waxpeer review was updated on November 2022.



Here is a list of some of the best and worst of what Waxpeer has to offer:
Pros
For sellers, the Waxpeer platform has some of the smallest site fees as compared to other marketplaces.
The Waxpeer website is encrypted using the SSL encryption protocol, which keeps user data completely secure.
The use of P2P for transactions allows all skin transactions to be very fast.
Popular crypto deposit options are also available, like Bitcoin and Ethereum.
Waxpeer has one of the largest libraries of skins to choose from.
Waxpeer has skins for all price points ranging from just 50 USD all the way up to 10,000 USD for rarer skins.
Cons
Not a lot of deposit options like Vise or MasterCard.
About Waxpeer
Waxpeer is an online marketplace for CSGO and Dota 2 that only uses P2P for skin transfers. However, the use of P2P makes the process of transferring skins incredibly fast. Waxpeer launched back in 2019 and has been providing marketplace services ever since. Waxpeer also has most of the popular crypto deposit options.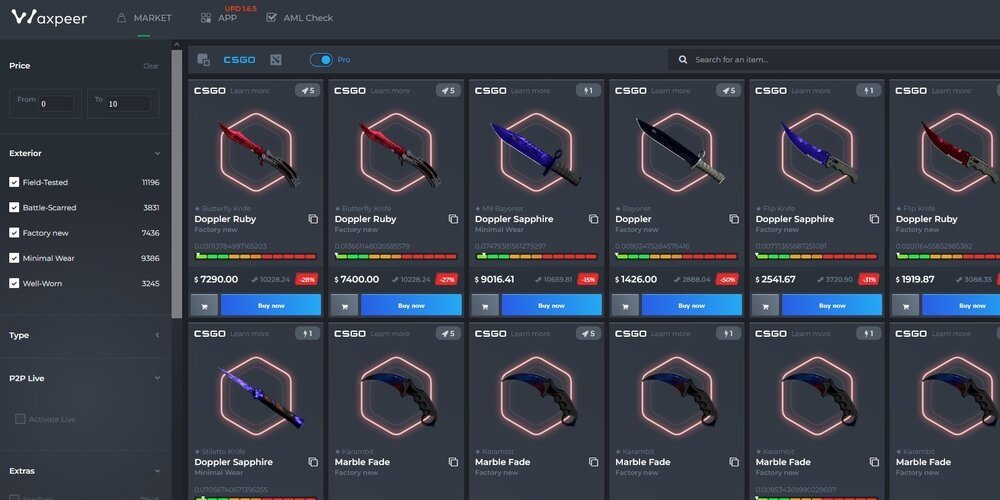 Our Waxpeer Review
There are a ton of marketplaces where users can sell their CSGO skins for real cash. For this reason, it is not easy for a platform to stand out, especially a platform like Waxpeer, which launched just about three years ago. However, despite that, Waxpeer has tons of skins listed for sale, which means tons of people are using the Waxpeer platform. Also, there are hundreds of positive reviews for it, which means that the platform is doing most things right.
We tried out the platform for ourselves, and we noticed that there was a wide variety of skins to choose from. Along with that, the cut that the site takes from sellers is not that large as compared to some other marketplaces. We had a great time using the Waxpeer website and experienced fast transactions, little to no loading times, and a very responsive feel. With Waxpeer, you also don't have to deal with the 7-day hold because Waxpeer uses P2P for skin transactions. As far as our Waxpeer review is concerned, we give it a thumbs up.
Concluding this Waxpeer review, if anyone is looking to sell their CSGO or Dota 2 skins fast for real cash, Waxpeer is definitely worth a try.
Waxpeer Key Features
Games/Activities: P2P Market.
Waxpeer has an excellent rating of 4.6 stars on Trustpilot with hundreds of reviews.
Deposit Methods: QIWI.
Crypto Payment Methods: BNB, Tether, Bitcoin, Litecoin, Dai, Ethereum, and Tron.
Other Deposit Methods: CSGO P2P and Dota 2 P2P.
Withdrawal Methods: CSGO P2P, Dota 2 P2P, Tron, and Tether.
Claim Waxpeer Free Bonus
Go to Waxpeer using our link.
Register an account.
Enjoy your free bonus!
Waxpeer Alternatives
Frequently Asked Questions
✔️What is Waxpeer?
Waxpeer is an online platform where users can sell their CSGO and Dota 2 skins or purchase some skins using the P2P trading system.
✔️Is Waxpeer Legit?
Waxpeer has zero issues in terms of legitimacy and has been providing quality service since it launched. Waxpeer is one hundred percent legitimate.
✔️Is Waxpeer Trustworthy?
We have used the Waxpeer platform ourselves and have found zero safety concerns. The platform also has hundreds of great reviews, which makes it a completely trustworthy platform.
✔️Did Anyone at Waxpeer Get Scammed?
Waxpeer has tens of thousands of listed offers and is quite popular. From the tons of users that use Waxpeer, there have been zero scam accusations.