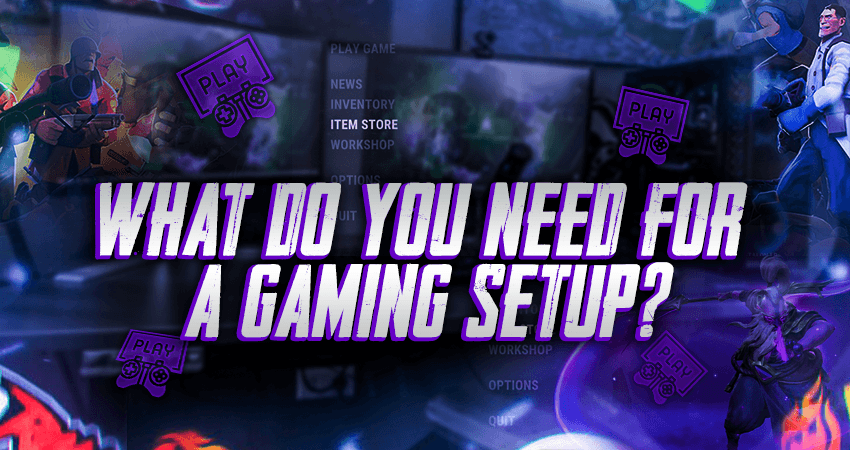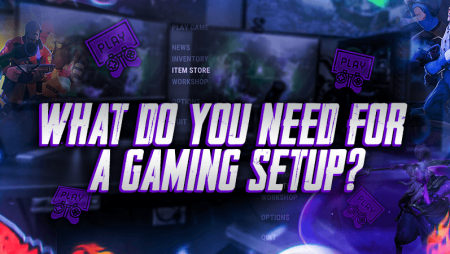 The gaming industry has been on the rise for quite a while now, and with time, the number of people are increasing who wish to game but have no idea where to start. This article will summarize the essentials needed for a gaming setup. The secret to a relaxing gaming experience is a well-rounded setup that fulfills all your gaming demands.
Building Blocks For A Gaming Setup
The first step in building your setup is to choose the right components and allocate your budget to each component accordingly. For example, suppose you like to play visually demanding, open-world games where exploration and sightseeing are prioritized. In that case, you might want to allocate a good amount of your budget to your GPU and a good quality display. However, buying a high-end mouse and keyboard along with a high refresh rate monitor might be essential if you prefer competitive shooters.
For most new gamers on a budget, their best option might be getting a used prebuilt as they are relatively cheaper and don't have to be manually assembled as that can be difficult for beginners.
The Heart Of A Build
The most important part of a gaming setup is the PC. Irrespective of the type of games you play, a big part of your budget will be spent on the CPU and the GPU. Selecting these will automatically narrow down options for the other components. The motherboard you chose should be compatible with your CPU, and unless you are willing to overclock, you will be OK with a mid-range one as there is no significant performance difference if you choose to go with some of the higher-end chipsets. The next component is the RAM which can be selected based on the preferred frequency of the CPU. For most cases, it is advised to go for a dual-channel ram, and as far as the ram's capacity is concerned, a 16GB kit is ideal; though, if you wish to perform other memory-intensive tasks, you can always increase the capacity.
The next thing to look out for is the GPU, Power Supply (PSU), and the case, as these three go hand in hand. For better futureproofing of your system, you should consider a PSU that exceeds the power requirements for your components. Also, the PSU's form factor is important to consider as it should fit your chosen case. For picking out a suitable case, you should first consider the ambient temperature for the environment the PC will be used in. If the temperature is high, it's best to invest in a case that has good airflow, and of course, the looks are based on one's personal preference.
The display is another thing to keep in mind. Many factors determine the type of display. For competitive gamers, a high refresh rate monitor would be preferred at the expense of quality. In contrast, someone playing a more visually demanding game might consider a good quality monitor, preferably with HDR. If you are someone who wishes to multi-task or stream, a dual monitor setup might not be a bad choice too.
For storage, an HDD and an SSD might be used, though the latter is more preferred. The Hard Disk Drive (HDD) is cheaply used for bulk storage. However, SSDs due to their massive performance improvement over HDDs, are favored by many.
Personalize According To Your Preferences
The selection of peripherals is purely based on your liking. However, one thing to remember is that the mouse, keyboard, and headset should match the games played. As mentioned earlier, it is advised to not spend too much on these components if you play open-world games; however, in a competitive environment, it is somewhat crucial to spend a bit more on these. Gamers who are into aesthetics could spend their remaining budget on stuff like hexagonal light panels, RGB lighting strips, and LED bars. They give off a retro-gaming mood to the eye and enhance the overall experience.
At last, to further improve your gaming experience, it is vital to invest in a good chair that is comfortable and also, ergonomically designed so that you don't experience any back pain during those long gaming hours.