So you found out about Runestake but can't decide if it's the right platform for you? To help you with that, we have created an extensive and detailed Runestake review. Keep on reading to find out more about all the features that the platform has to offer.

This Runestake review was updated on June 2023.



Here is a list of some of the best and worst of what Runestake has to offer:
Pros
The site has an extensive FAQ section that explains all the rules of Staking and Dueling.
The site is easy to use. The layout of all icons and buttons is easy to understand.
The Runestake platform has an on-site chat feature that users can use to chat with each other.
The Runestake platform has its own discord server that users can join.
Cons
There is no live chat support feature for users that need some info or have some other issue.
There are no language selection options available at Runestake.
About Runestake
Runestake is an online staking platform for RuneScape players. Users can participate in duels with RuneScape players from RuneScape 3 and OSRS. The site allows users to stake their in-game gold and battle in an in-game duel. The site also offers other features and activities like Slide, a type of casino game, and more.
Our Runestake Review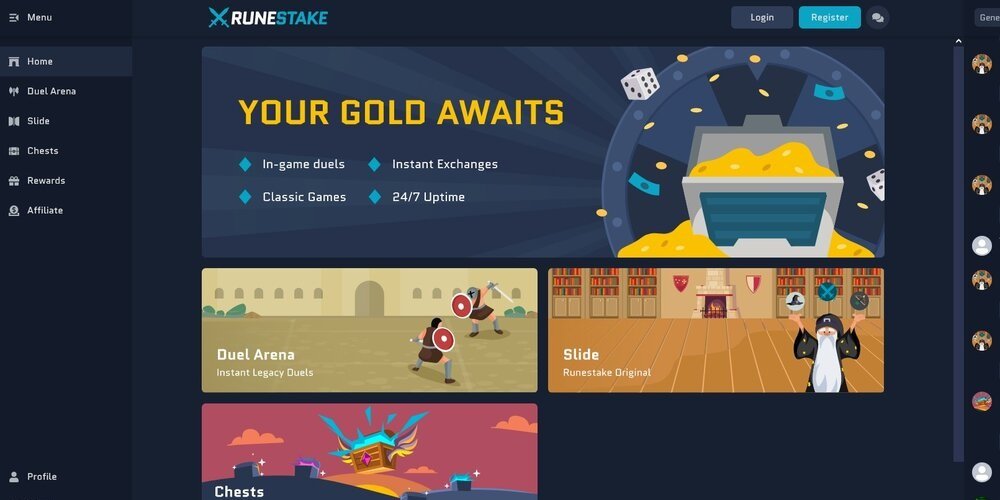 Staking is one of the most popular activities in the RuneScape community. There are a lot of online platforms where you can stake some RuneScape gold and then have a duel with other players. One of those sites is Runestake.
To find out whether the platform is any good, we tried out all their services. We were pleasantly surprised by everything that the site offered.
The process of staking in a duel of RuneScape using Runestake is straightforward. We faced no issues while trying it ourselves. We transferred some in-game gold at the platform and then some in-game gold back into our accounts without any trouble, which is why we can confirm the site is also legitimate. On top of that, the site also has other features and activities like a casino-style game and more.
Concluding this Runestake review, the platform is a decent option for anyone looking to take part in RuneScape staking. However, you can easily find better options.
Runestake Key Features
Runestake features a Gold Exchange, Duel Arena, Slide (Casino-Style Game), 5k Race, and Chests.
The site has several great reviews on different places on the internet.
Deposit options include Bitcoin, Litecoin, Ethereum, RuneScape 3 gold, and OSRS gold.
Withdrawal options include RuneScape 3 gold and OSRS gold.
Claim Runestake Free Bonus
Go to Runestake using our link.
Register an account.
Enjoy your free bonus!
Runestake Summary
| Our rating | 5.0 |
| --- | --- |
| Usability | Very easy to use |
| Languages | 1 |
| Free bonus | Free 1M OSRS Gold |
| Bonus code | farmingless |
| Official website | Runestake.com |
Runestake Alternatives
Frequently Asked Questions
✔️What is Runestake?
Runestake is an online RuneScape staking platform that allows users to take part in duels with other players from RuneScape 3 or OSRA and then stake some in-game gold.
✔️Is Runestake legit?
The Runestake platform is legitimate. We used the platform ourselves and found that it delivers on its promises of providing a safe RuneScape staking service.
✔️Is Runestake Trustworthy?
According to our experience with the site, we consider it to be trustworthy. We tried transferring some of our in-game gold to the site and then transferring some back to our accounts, and we faced no issues.
✔️Did Anyone at Runestake Get Scammed?
Out of the hundreds of reviews we looked at, we found zero credible scam accusations against the site.