Just found out about the RustChance platform but can't decide whether you should use it for Rust skin gambling? To make this decision much easier for you here is our extensive and unbiased RustChance review that covers all aspects. Continue reading to find out more about RustChance.

This RustChance review was updated on September 2022.



Here is a list of some of the best and worst of what RustChance has to offer:
Pros
The RustChance website can be viewed in languages other than English as well, including Turkish and Russian.
Players have access to a live chat feature on the RustChance website that they can use to chat with other players.
The signup process is very fast and takes only clicks to complete.
Launching in 2017, the RustChance platform is on the older side, which makes it much more trustworthy.
Cons
The website for RustChance is not the best in terms of the layout when compared to other platforms.
There is loud onsite music on the RustChance website which may be annoying for some.
About RustChance
RustChance is one of the older online gambling platforms for Rust skins, launching back in 2017. It is also amongst the most popular platforms, as it manages to attract hundreds of players every day. At RustChance, users also get to enjoy seasonal events with exclusive and unique rewards.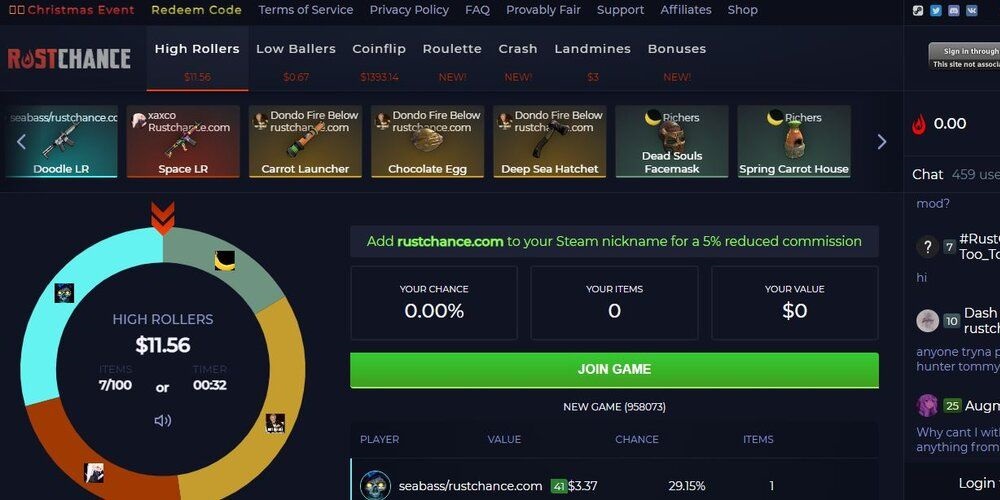 Our RustChance Review
One of the main things that we look for in a gambling platform is its trustworthiness, as we have a zero-tolerance policy against all platforms that have a record of un-trustworthy activities. RustChance has managed to maintain a clean track record of a completely trustworthy platform. Throughout all the years that the platform has been operational, it has faced zero legitimate scam accusations or other security issues. The website also has the SSL encryption protocol which helps secure user data.
Along with being super secure and trustworthy, RustChance also has one of the best selection of gambling games to play. Not only that, but users also get to experience seasonal events on RustChance. During these events, players get a chance to win exclusive and unique rewards. To conclude this RustChance review, it is one of the best Rust skin gambling websites, also being one of the most secure ones.
RustChance Key Features
The games available at the RustChance platform include Roulette, Crash, Jackpot, Coinflip, and Landmines.
Several great reviews for the RustChance platform can be found on the internet.
The deposit methods for RustChance include CSGO Skins, Dota 2 in-game items, and Rust Skins.
Players can make withdrawals with Rust skins.
Claim RustChance Free Bonus
Go to RustChance using our link.
Register an account.
Enjoy your free bonus!
RustChance Alternatives
Frequently Asked Questions
✔️What is RustChance?
RustChance is a popular gambling website for Rust skins, where players have access to some of the most popular gambling games like Crash and Jackpot.
✔️Is RustChance Legit?
With a provably fair system for all the games and over half a million page views for the website every month, RustChance is completely legitimate.
✔️Is RustChance Trustworthy?
RustChance is amongst the older platforms when compared to other Rust skin gambling websites. Since its launch, it has proven to be completely trustworthy.
✔️Did Anyone at RustChance Get Scammed?
Of the hundreds of users that are active on the RustChance website every day, any credible scam accusations are yet to surface on the internet.