Here is our honest RustClash review that reveals all its pros and cons after analyzing all its features including its legitimacy, security, and usability. To make an informed decision before starting to use the RustClash platform, continue reading this review and discover everything you need to know.

This RustClash review was updated on September 2022.



Here is a list of some of the best and worst of what RustClash has to offer:
Pros
The website of the RustClash platform is designed to be appealing for gamers.
The layout of all the features of the website is not complicated and very beginner-friendly.
The RustClash is the first platform to offer a case-opening service for Rust Skins.
The "Login With Steam" process for the RustClash platform is very fast, taking only a few clicks to complete.
The website can be viewed in languages other than English as well, namely Spanish and Russian.
Players can earn free cases with no deposit requirements for making withdrawals.
Cons
It is one of the more recent websites.
About RustClash
While it launched recently, in 2021, RustClash is the first platform to offer a case-opening service specifically for Rust skins. Along with this, players can also earn cases for free. There is also an active leaderboard on the RustClash platform where all the top players are rewarded.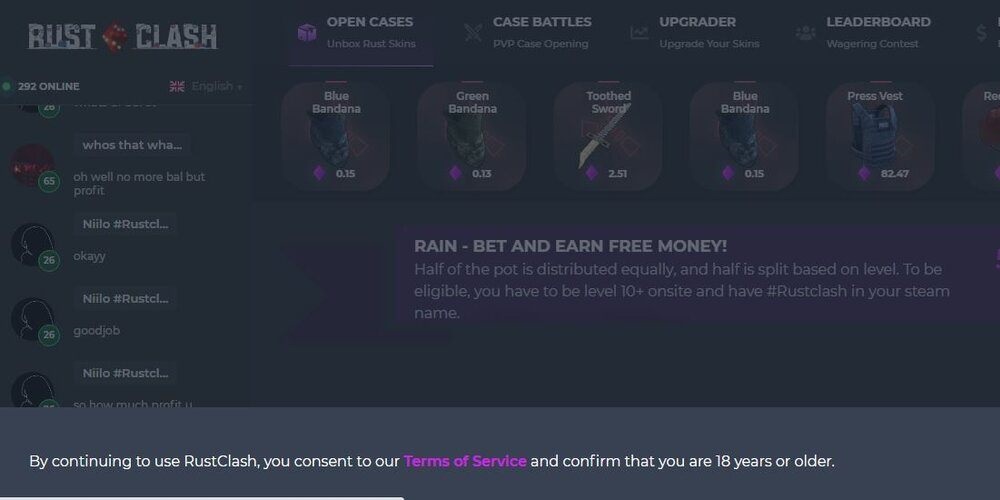 Our RustClash Review
In a market saturated with tons of online platforms that provide some kind of service related to Rust skins, it is not that easy to stand out. RustClash manages to do that by being completely legitimate, having proper security and encryption protocols, and being easy to use.
That being said, there are many platforms that have these kinds of features as well. To stand out from the crowd there needs to be something unique about the platform. Fortunately, RustClash has exactly that. It is the first platform to provide a case opening service for Rust skins. There was no case opening website for Rust skins before RustClash, which is why tons of people are using it.
RustClash also has an active leaderboard that rewards the top players. Concluding this RustClash review, it is the best platform for people that are looking for a case opening service for Rust skins.
RustClash Key Features
At RustClash, players have access to Case Openings, Case Battles, and the Upgrader game mode.
Several reviews for the RustClash platform can be found on the internet.
Deposit methods include Visa and MasterCard.
Crypto payment methods include Bitcoin, Ethereum, Litecoin, and Doge Coin.
Players can also make deposits with Rust Skins.
Withdrawals can be made with Rust Skins.
Claim RustClash Free Bonus
Go to RustClash using our link.
Register an account.
Enjoy your free bonus!
RustClash Alternatives
Frequently Asked Questions
✔️What is RustClash?
RustClash is a case-opening website for Rust skins. It is also the first platform to provide this kind of service for particularly Rust skins.
✔️Is RustClashLegit?
With a system that is provably fair, proper security measures, and a fast withdrawal system, the RustClash platform is one hundred percent legitimate.
✔️Is RustClash Trustworthy?
The RustClash platform is one hundred percent trustworthy as only the top-notch encryption technologies are implemented on their website, including the SSL encryption protocol.
✔️Did Anyone at RustClash Get Scammed?
Of the hundreds of players that are active daily on the RustClash website, there have been a total of zero credible or legitimate scam accusations.