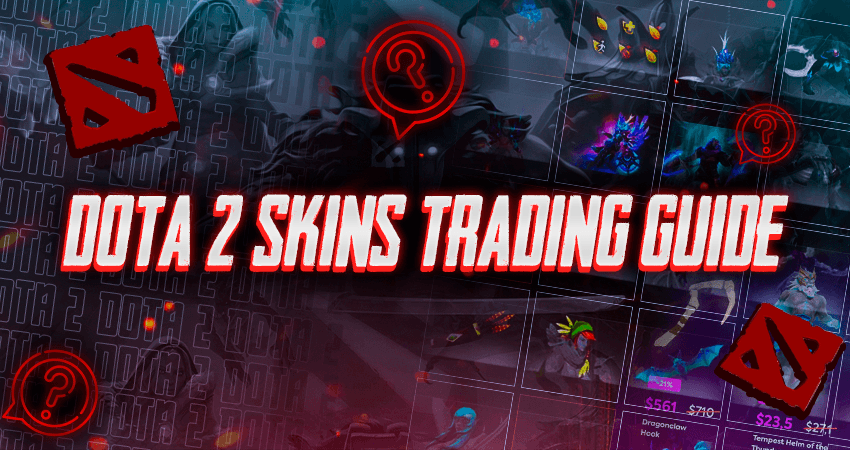 Are you looking for new Dota 2 skins to show off with friends? Well, you can get new skins through Dota 2 skins trading. Plus, you can also get rid of a few old ones. If that sounds interesting, you are at the right place. Here is a complete Dota 2 skins trading guide. This article was updated in 2023.
Key Takeaways
Dota 2 skins trading is a simple process that involves exchanging unwanted in-game skins with others. You can use the Steam trading feature to initiate these trades.
Before you can engage in Dota 2 skins trading, ensure your Steam account meets specific requirements, including purchase history, Steam Guard activation, and absence of trade bans or VAC bans.
Follow a step-by-step guide to start trading Dota 2 skins, which includes deciding on trades, finding trade partners, using Steam's trade offer system, and making successful trades.
You can trade with both Steam friends and non-friends by using the same trade window, provided you have their trade URL. This enables you to expand your trading network.
To avoid scams in Dota 2 skins trading, always verify the value of items on the Steam Community Market and be cautious when using third-party trading platforms. Opt for reputable trading sites to reduce the risk of scams.
How Dota 2 Skins Trading Works?
Dota 2 skins trading is simple. Let's say you have some skins you no longer like, but your friend wants those skins. Plus, your friend has some skins they don't like, but you want them. So, you decide to trade those skins with each other. That, in a nutshell, is how Dota 2 skins trading works.
To trade Dota 2 skins with others, you'll need to use the Steam trading feature. With this feature, you can select precisely what skins you want to give away and which ones you want in return.
Tradable Dota 2 Skins
While Dota 2 skins trading, there are certain restrictions that you must be aware of. Some are related to skins, while others are related to your account. Here are the ones related to skins.
Unreadable Skins: Certain skins in Dota 2 aren't tradable. They are marked as "non-tradable" in the item description.
Temporary Unreadable Skins: Items unboxed from a Treasure are unreadable for three months after the treasure is released.
Here are the requirements you must meet to be able to trade Dota 2 skins. All of these are related to your Steam account.
Your Steam account must have a successful purchase older than thirty days and earlier than a year.
Your Steam account must have had Steam Guard enabled. It must have stayed activated for 15 days.
After resetting your password through Steam support, you must wait another 15 days with Steam Guard enabled.
After adding a new purchase method to your account, you will have to wait for seven days before being able to trade.
Finally, to be able to trade Dota 2 skins, your Steam account must not have any trade bans or VAC bans.
For more information on trade requirements, you can check out the official Steam page for this topic.
Dota 2 Skins Trading - Step-by-Step Guide
Here is a step-by-step guide you can use to get into Dota 2 skins trading right away:
Step 1: Decide what type of trade you want, including the skins you need and the ones you want to give away.
Step 2: Find someone willing to trade with you. It can be one of your Steam friends or a reputable skins trader.
Step 3: Launch Steam and hover over your username in the upper left corner of the Steam window.
Step 4: Click the "Inventory" option from the dropdown menu. It will open up your Steam inventory.
Step 5: Once you have opened your Steam inventory, click the "Trade Offers" button from the upper right section.
Step 6: Click the "New Trade Offer..." button. Doing that will open up a new window showing all your Steam friends.
Step 7: Go through all of your Stream friends, find the name of the one you want to trade with and click on it.
Step 8: As you click on your friend's name, a new window will open, showing your and your friend's inventory items.
Step 9: From your inventory, select the items you want to give away, and from your friend's inventory, select the items you want.
Step 10: Click the "Make Offer" button. Doing that will send your friend a trade offer. The trade will complete once they accept.
Trading With People Who Aren't On Your Steam Friends List
While trading with someone, regardless of whether or not they have added you on Steam, you'll have to use the same trade window from Step 8 mentioned above. To get to this trade window with the Steam user that isn't in your Steam friends list, you need their trade URL.
As you open their trade URL, you'll be taken to the same trade window, allowing you to add the skins you want to give away and the ones you want in return. After that, click the "Make Offer" button, which will send them the offer and the trade will get completed once they accept it.
You can also send your trade URL to other Steam users, which they can use to send you a trade offer. To find the trade URL, follow Steps 1 to 5 from the guide above. After that, click on the "Who can send me Trade Offers?" option. Your trade URL will appear in the "Third-Party Sites" section.
Dota 2 Skins Trading Sites
Dota 2 skins trading is quite popular. Because of that popularity, multiple Dota 2 skins trading platforms have popped up. There are several ways you can look for potential trades on these websites. For example, you can go through the trade offers listed on the site and select one you like. Or, you can post your trade offer and wait for others to accept it.
Getting into trading Dota 2 skins on third-party platforms is also pretty simple. All you have to do is create an account on the website. After that, you have to enter your Steam trade URL at the site, and you are good to go. Other instructions are available on the site you choose.
Bellow, you can find a few leading Dota 2 2 skin trading platforms.
Avoiding Dota 2 Skins Trading Scams
The main reason why people get scammed in Dota 2 skins trading is that they don't know what particular items are worth and end up giving their valuable items to scammers in exchange for some worthless ones. To avoid that, you should always double-check the price of a particular item on the Steam Community Market.
Another thing you should be careful of is the platform you choose. There are plenty of scam sites out there that you must be aware of. To avoid scam sites, you can pick one from our recommended Dota 2 trading sites list, which we created after testing multiple platforms and filtering out all scam sites.
Conclusion
Now, you are ready to get into Dota 2 skins trading. While it may seem tempting to dive head first, you must keep your head straight because, as we mentioned, people do get scammed while trading. Carefully follow the instructions we have laid out for you, along with the safety strategies, and you'll be trading Dota 2 skins without any issues.
What are Dota 2 skins, and how do they enhance gameplay?
Dota 2 skins are cosmetic items that can be applied to heroes and weapons in the game. While they do not affect gameplay mechanics, they offer visual enhancements, changing the appearance of characters and items. Players can collect and trade these skins to customize their favorite heroes and showcase their unique style on the battlefield.
How can I obtain Dota 2 skins for trading?
There are several ways to acquire Dota 2 skins for trading. You can receive them as drops while playing matches, purchase them from the Steam Community Market, or open various types of in-game containers like chests and treasure sets. Additionally, participating in major Dota 2 events or tournaments may reward you with exclusive skins.
What determines the value of Dota 2 skins in the trading market?
The value of Dota 2 skins is influenced by several factors. Rarity plays a significant role; the scarcer a skin is, the higher its value tends to be. Moreover, the popularity of the hero and the quality of the skin's design can impact its price. Demand from the player community, availability, and external market trends may also play a part in determining a skin's trading value.
Are there any risks involved in Dota 2 skin trading, and how can I stay safe?
While Dota 2 skin trading can be enjoyable and profitable, it comes with some risks, such as potential scams or fraudulent trading practices. To stay safe, it's essential to verify the legitimacy of the trading partner, use Steam's trade offers feature for secure exchanges, and avoid sharing personal information or sensitive data during the process. Familiarize yourself with common scam tactics to protect yourself from potential losses.
What are some effective trading strategies to maximize the value of my Dota 2 skins?
Maximizing the value of your Dota 2 skins requires careful planning and consideration. One effective strategy is to monitor the market trends and identify opportune moments to buy or sell skins. Acquiring rare or limited-edition skins during in-game events and holding onto them for a while can potentially increase their value over time. Additionally, trading multiple lower-value skins for a higher-value one can be a smart way to consolidate and grow your inventory's worth.