Valve has earned themselves a reputation within the gaming industry as an untouchable, god-like developer and publisher. They have the midas touch and develop innovative, near-flawless games. However, they often don't finish their trilogies, which is evidenced by Portal, Half-Life, Left 4 Dead and, of course, Team Fortress. However, with a game like TF2 that is as popular now as it ever was, why would you make another? The skin market is also still booming and, as you would imagine, there are tonnes of websites cashing in. So which one should you use? Well, what about Bazaar.tf?

This Bazaar.tf review was updated on November 2022.



Here is a list of some of the best and worst of what Bazaar.tf has to offer:
Pros
Simple, easy to follow design
Zero commissions
Decent inventory
Rapid support
Offers secure payment methods like Paypal
Cons
UI is rough around the edges
Scammers can be an issue
Cash out is slow
Bazaar.tf Summary
| Overall rank | #18 out of 24 |
| --- | --- |
| Our rating | 3.0 |
| Usability | Standard |
| Languages | 1 |
| Years established | 2012 |
| Trading fee | 8% |
| Games available | TF2, Dota 2, CSGO |
| Official website | Bazaar.tf |
About Bazaar.tf
Bazaar.tf is one of the more basic online trading platforms for Team Fortress 2 and CSGO items. Users can list trade offers at the Bazaar.tf platform for other users to see where they can choose if they want to accept it. Users can also list offers as auctions on which other users can make bids.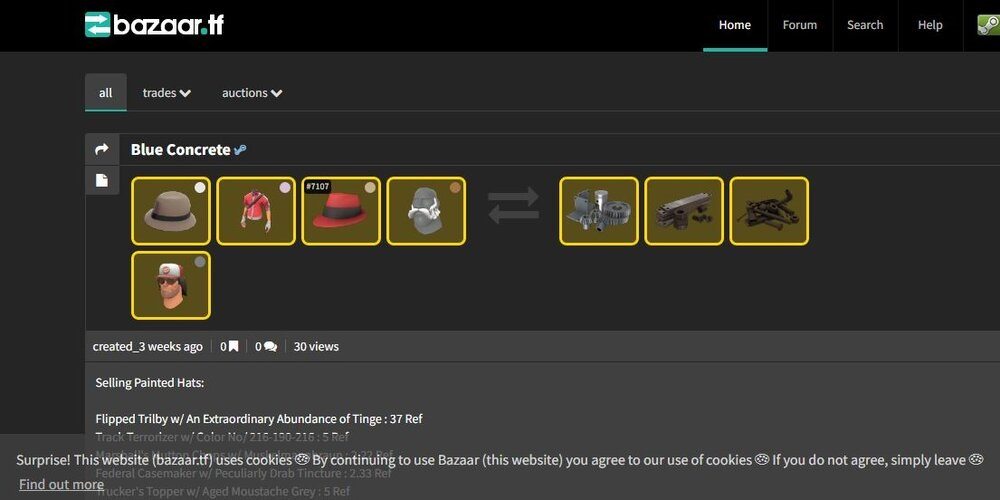 Our Bazaar.tf Review
Before we even get into this one, you need to bare in mind that Bazaar.TF is a freshly started venture and as such, it is still a little rough around the edges. However, that isn't to say that this website has nothing to offer even the most veteran traders out there. This website has a simple design which some may not enjoy, however, the simplicity makes things easy for beginner traders, makes trades straightforward and leaves nothing hidden behind smoke and mirrors, which is appreciated.
Then as for the lack of hidden fees and commission, it's a joy for those looking to make a bargain. You can scan through the wealth of trades and auctions and make a fair trade. The website even offers rules on trading etiquette which is a nice, classy touch. Then also, the website as a new business, is very dedicated in offering the best customer service around, so while it is rather primitive, the support is reliable and rapid, which is all you really need. Plus, did we mention that this site allows for Paypal payments for added security?
The downsides to this website is that it is a very new website. So as a result, the UI still needs work as it isn't unlike a Steam forum page at the moment. The cash out times are quite lengthy and overall, the website just feels a little unpolished. Plus, we picked up on the website that while they are trying to stamp it out, the site is susceptible to scammers. So be warned. However, we would urge readers to at least check out this new TF website.
Bazaar.TF Key Features
A simple and easy to understand website layout.
Offers trades and auctions.
A large user base and inventory of items.
A secure trading service with safeguards in place.
8% trading fee.
Responsive support.
Claim Bazaar.tf Free Bonus
Go to Bazaar.tf using our link.
Register an account.
Enjoy your free bonus!
Bazaar.tf Alternatives
Frequently Asked Questions
✔️What is Bazaar.tf?
This is a website that deals exclusively in TF2 items. Players can trade and make avail of auctions on the site and potentially get a great deal.
✔️Is Bazaar.tf Legit?
This website is new on the scene but it is definitely legit. They are a transparent and trusted service that is growing rapidly within the space, and for good reason.
✔️Is Bazaar.tf Trustworthy?
Yes, we tried the service and had a great time doing so. Plus, the user reviews while in short supply, are all positive
✔️Did Anyone at Bazaar.tf Get Scammed?
No, Baazar.TF do all that they can to stamp out all scams on the site. As this is a new site, there is some danger of encountering scammers but the website does all that it can to warn and protect you.