One of the best ways to stand out in a match of Team Fortress 2 is by equipping some unique skins. However, gamers get bored with their older skins after a while. Fortunately, you can trade all your old skins or other items for newer ones at platforms like Bazaar.tf. But will the site live up to your expectations? Keep reading this Bazaar.tf review to find out.

This Bazaar.tf review was updated in 2023.



Here is a list of some of the best and worst of what Bazaar.tf has to offer:
Pros
The site offers detailed guides for users new to trading.
Bazaar.tf is quite popular, with new trade offers that pop up almost every minute.
The platform has an intuitive search feature allowing users to search for trade offers with particular items they are interested in.
Bazaar.tf also allows users to list their trade offers as auctions on which others can bid.
Cons
The platform does not offer a live chat support feature.
About Bazaar.tf
Bazaar.tf is a trading platform for Team Fortress 2 items. The site acts as more of a marketplace for trade offers, where users can list trade offers. Other users can see those offers, decide whether they like them, and then continue with the trade.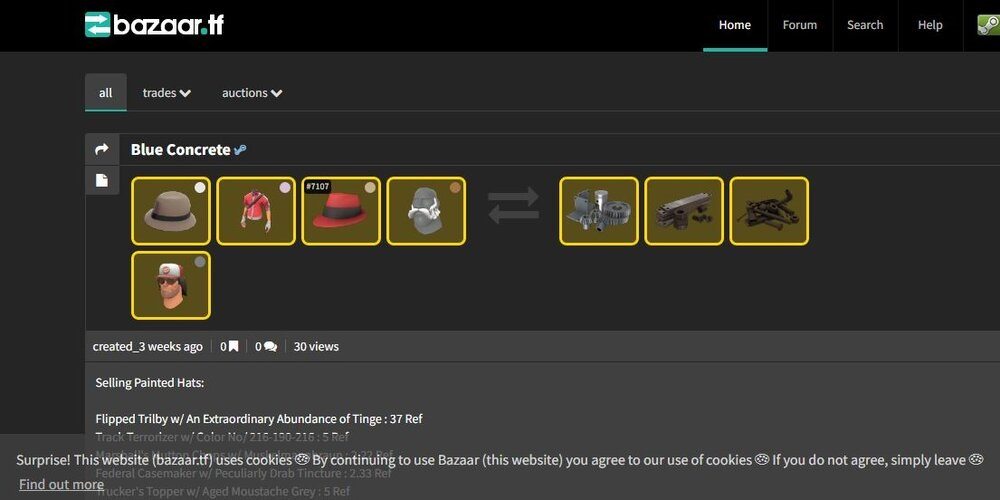 Our Bazaar.tf Review
The Bazaar.tf website has a simple design, which makes things easy for beginner traders. It makes trades straightforward and leaves nothing hidden. One of the best things about Bazaar.tf is that there are no hidden fees or commissions. The website even has rules on trading etiquette to ensure an improved trading experience for all users.
One issue we found with the platform was a lack of live chat support. However, the support system available at Bazaar.tf is reliable and rapid. You won't have to wait unnecessarily for a response. But it won't be as fast as live chat support.
Another downside to Bazaar.tf is that it is a very new website. So, as a result, it needs work. The website's design could benefit a lot from improvements. It doesn't look appealing. The icons and text also feel a bit out of place and odd. On top of that, the transaction times are a bit on the higher side. Overall, the website just feels a little unpolished.
Concluding this Bazaar.tf review, you can definitely try it out. It is a legit site and is not involved in any illicit activities. However, we feel multiple platforms provide much better services and features.
Bazaar.TF Key Features
A simple and easy-to-understand website layout.
Offers trades and auctions.
A large user base and inventory of items.
A secure trading service with safeguards in place.
8% trading fee.
Responsive support.
Bazaar.tf Summary
| Our rating | 3.0 |
| --- | --- |
| Usability | Standard |
| Languages | 1 |
| Years established | 2012 |
| Official website | Bazaar.tf |
Bazaar.tf Alternatives
Frequently Asked Questions
✔️What is Bazaar.tf?
Bazaar.tf is a website that deals exclusively in TF2 items. Users can list trade offers for TF2 items, list them as auctions for others to bid, and accept trade offers from the ones listed.
✔️Is Bazaar.tf Legit?
Bazaar.tf offers a transparent and trusted service within the space. We used the site and can confirm that it is legitimate.
✔️Is Bazaar.tf Trustworthy?
Yes, we tried the service and had a great time doing so. Plus, user reviews, while in short supply, are all positive.
✔️Did Anyone at Bazaar.tf Get Scammed?
Since this is a new site, there is some danger of encountering scammers. However, the platform itself has never scammed anyone. In fact, Bazaar.tf is actively trying everything in its power to remove scammers from its platform and protect its users.