Have a hard time dealing with the enemies in New World? Why not buy some gold from IGGM? If you aren't sure if it's the best in-game currency retailer for you, check out our extensive IGGM review, where we explore all its pros and cons. Keep on reading to learn more about IGGM.

This IGGM review was updated on February 2023.



Here is a list of some of the best and worst of what IGGM has to offer:
Pros
Despite being an in-game currency retailer for MMO role-playing games, the IGGM platform also covers other games like Rocketplay and Forza Horizon 5.
The IGGM platform has a responsive live chat support feature.
IGGM offers all of the most popular deposit options.
The delivery times at IGGM are relatively fast, compared to other online marketplaces, with most orders processed in under 15 minutes.
The IGGM platform has a great refund policy.
Cons
The IGGM website can only be viewed in one currency, which is the U.S. dollar.
There are no language options besides English available at IGGM to view the website in.
About IGGM
IGGM is an online marketplace for in-game currencies and items. Products offered at IGGM are primarily for MMO role-playing games, but the site also includes in-game items and currencies for games like Rocket League, NBA 2k22, and Fallout 76. The IGGM platform also buys both in-game currencies and items from users.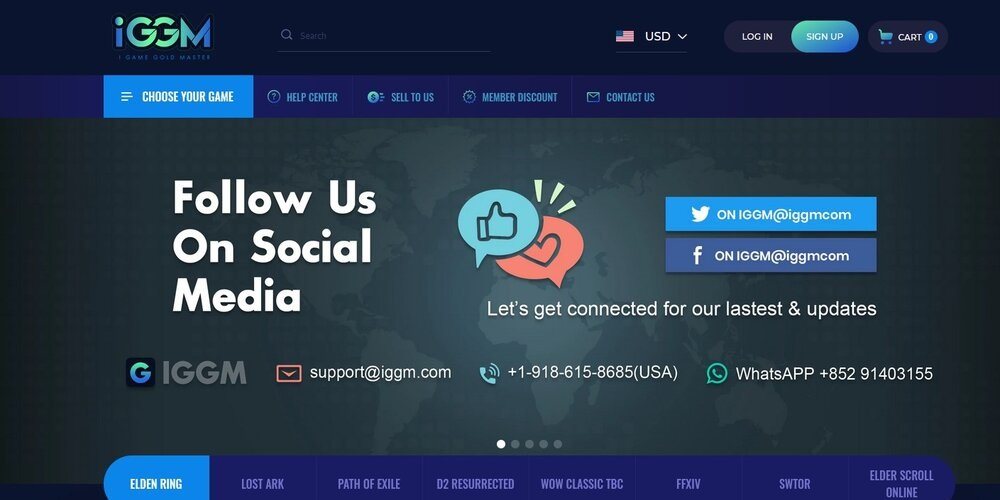 Our IGGM Review
When it comes to in-game currency retailers, the IGGM platform has it all. Despite primarily being a retailer for MMORPGs, the IGGM platform also includes other games. Some popular ones include Rocket League, Forza Horizon 4 & 5, NBA 2k23, NHL 22, and Fallout 76. Along with a huge library of games, the IGGM platform also has a ton of payment options. However, we would have liked to see at least one crypto payment option. The customer support is also great, with support agents usually taking no more than a few seconds to respond to queries.
One area where we would like to see some improvement is the website's overall design. The IGGM website uses a color scheme that feels a bit odd, along with the pictures and icons. However, this is purely subjective. A lot of people like how the IGGM website looks. Moving on to another great thing about IGGM, it is one of the highest-rated in-game currency and items retailers, with an impressive 4.8-star rating. Amazingly, this rating is from over seven thousand reviews. Concluding this IGGM review, IGGM is easily one of the top online marketplaces for in-game currencies.
IGGM Key Features
Games/Activities: Marketplace for In-Game Items and In-Game Currencies.
IGGM has over seven thousand great reviews on Trustpilot with an excellent rating of 4.8 stars.
Deposit Methods: Visa, MasterCard, ApplePay, GooglePay, PayPal, Discover, JCB, Skrill, Sofort, iDeal, giropay, dotpay, blik, RapidTransfer, Klarna, necard, and Itaucard.
Withdrawal Methods: Paypal, and Digital Items.
Claim IGGM Free Bonus
Go to IGGM using our link.
Register an account.
Enjoy your free bonus!
IGGM Summary
| Our rating | 4.25 |
| --- | --- |
| Usability | Easy to use |
| Languages | 3 |
| Official website | IGGM.com |
IGGM Alternatives
Frequently Asked Questions
✔️What is IGGM?
IGGM is an online platform that sells in-game currencies and items for video games like New World, Rocket League, Lost Ark, Forza Horizon 5, and more.
✔️Is IGGM Legit?
The IGGM platform has no red flags when it comes to legitimacy. The reviews for IGGM are great, and the transactions are fast, which indicates that IGGM is legitimate.
✔️Is IGGM Trustworthy?
With over seven thousand people giving positive feedback for the IGGM platform, there is no doubt that it is one hundred percent trustworthy.
✔️Did Anyone at IGGM Get Scammed?
Even with thousands of people reviewing the site and explaining their experiences, there have been no credible claims of anyone getting scammed at IGGM.