Are you looking for a platform where you can buy and sell in-game items for games like CSGO, PUBG, Dota 2, H1Z1, and Team Fortress 2? Why not try StoneFire? If you aren't sure if it's the best platform for you, you can check out our extensive and unbiased StoneFire review.

This StoneFire review was updated on November 2022.



Here is a list of some of the best and worst of what StoneFire has to offer:
Pros
StoneFire is one of the only marketplaces that support in-game items for over five games, including games like Killing Floor 2 and Unturned.
StoneFire has an instant cash option where users can sell their in-game items for instant cash.
StoneFire has a large collection of CSGO skins, with some as cheap as a few cents and some as expensive as a thousand dollars.
The StoneFire website is easy to navigate through and feels super responsive.
Cons
There is only one deposit option and only one withdrawal option at StoneFire for now.
There is no live chat support feature.
The site can be viewed in only two currencies.
About StoneFire
StoneFire is an online marketplace primarily for CSGO items. However, in-game items for PUBG, Dota 2, H1Z1, Team Fortress 2, PayDay 2, Rust, Killing Floor 2, and Unturned can also be sold at or purchased from the StoneFire platform. For items sold at StoneFire, the platform charges a commission of 10%.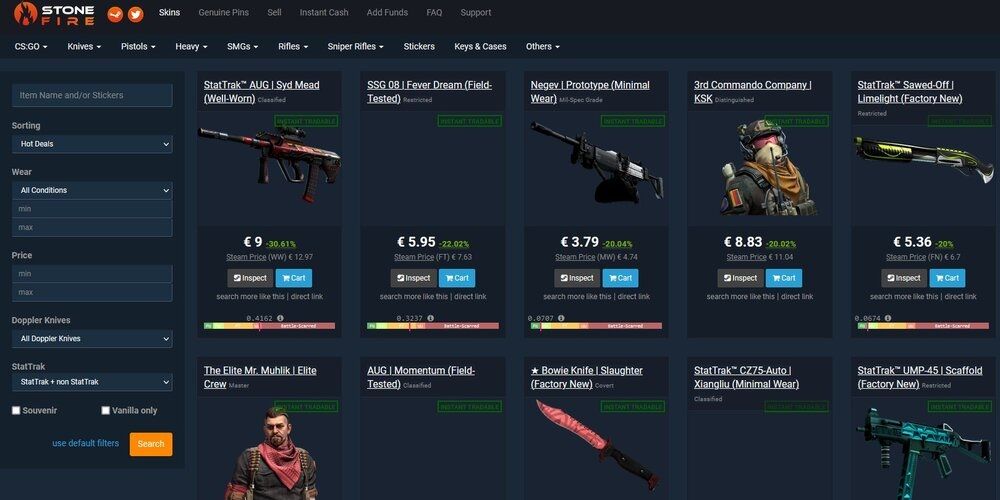 Our StoneFire Review
StoneFire launched way back in 2015, so it has been quite a while since it started operation. However, while the site is quite popular and a lot of users use the platform, it did not get as much traction as it deserves. We took a look at the StoneFire website for ourselves and tried it out for a while. The website seems to have no issues in terms of delays while changing from one page to another, and overall the site felt quite fluid. The great thing about StoneFire is that it is one of the few marketplaces that support such a large number of games.
The site commission for all sales made at StoneFire is relatively high. However, it can be lowered down to about 7.5% using promo codes, or it can be lowered down to 5% using the StoneFire premium subscription. Another thing that we would like to see improvements on is the payment and withdrawal methods. There is only one for deposit and one for withdrawal. Concluding this StoneFire review, if you are ok with the deposit and withdrawal methods available at StoneFire, then you should definitely try it out as it certainly has a lot to offer.
StoneFire Key Features
Games/Activities: Marketplace for in-game items for CSGO, PUBG, Dota 2, H1Z1, Team Fortress 2, PayDay 2, Rust, Killing Floor 2, and Unturned.
StoneFire has great reviews on different places on the internet.
Deposit Methods: G2APay.
Withdrawal Methods: CSGO Items, PUBG Items, Dota 2 Items, H1Z1 Items, Team Fortress 2 Items, PayDay 2 Items, Rust Items, Killing Floor 2 Items, Unturned Items, Other Steam Community Items, and PayPal.
Claim StoneFire Free Bonus
Go to StoneFire using our link.
Register an account.
Enjoy your free bonus!
StoneFire Alternatives
Frequently Asked Questions
✔️What is StoneFire?
StoneFire is an online marketplace where users can buy and sell in-game items for CSGO, PUBG, Dota 2, H1Z1, Team Fortress 2, and more.
✔️Is StoneFire Legit?
StoneFire has been providing its services since 2015 and has shown no signs of closing its operation, which reassures us that it is one hundred percent legitimate.
✔️Is StoneFire Trustworthy?
StoneFire has employed an SSL encryption protocol for its website, which keeps all user data secure. StoneFire is a completely trustworthy platform.
✔️Did Anyone at StoneFire Get Scammed?
Since it started its operation in 2015, the StoneFire platform has provided its services to tons of users. Yet, there have been no credible scam accusations against StoneFire.