Thanks to TF2's timeless gameplay, it is still relevant today. Now is a good time as any to jump into Team Fortress 2 trading. However, finding a decent platform where you can trade TF2 skins can be a bit challenging. Well, maybe you should head over to Trade.tf. Keep reading to figure out whether it will live up to your expectations or not.

This Trade.tf review was updated in 2023.



Here is a list of some of the best and worst of what Trade.tf has to offer:
Pros
The website has a slick and clean design.
Trade.tf offers a price checker and other functions that help users accurately analyze the value of the items before continuing with the trade.
The platform has a strong community, which allows new trades to be available almost every other minute.
Trade.tf offers both bot trading and P2P trading.
Cons
The support system is average at best.
The fees are not transparent.
About Trade.tf
Trade.tf is a Team Fortress 2 trading platform. It essentially acts as a marketplace for trade offers where users can list their trade offers for others to see. Users that like a trade offer can select the listing and then continue with the trade.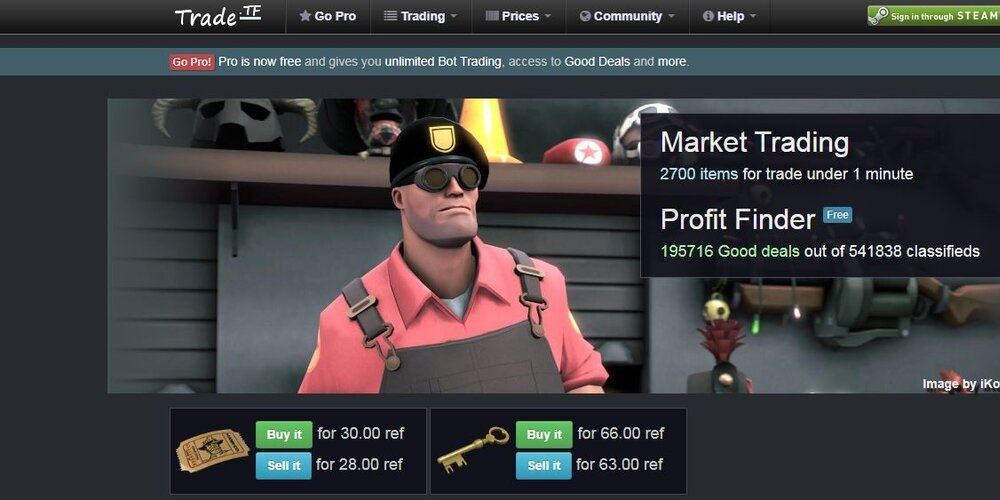 Our Trade.tf Review
Trade.tf is a website that might not have all the bells and whistles. However, what it lacks in some departments, it makes up for them with versatility. It does that by offering both bot trading and P2P trading. It is a big plus since most trading platforms have a P2P or a bot trading service. There aren't a lot of them that offer both.
The list of positives doesn't end there. The Trade.tf website also has a convenient layout and UI, which makes finding specific items a breeze. Plus, the website offers a price checker too. So when you have found the item you were looking for, you'll be able to ensure you aren't giving away highly-valuable in-game items in return for some cheap ones.
Another great thing we love about Trade.tf is it offers several social features, allowing users to connect, chat, and share experiences on the fly. Speaking of community, Trade.tf has a large user base, which helps keep the site stocked with new trade offers.
One of the downsides of this website is that the customer support needs a lot of work. Plus, there isn't a lot of info on any of the fees on this site. So it is a gamble for new buyers and sellers. Summing up this Trade.tf review, it is worth a try. However, we feel there are better options with a lot more features.
Trade.tf Key Features
A well-stocked inventory.
A built-in price checker and calculator.
Strong community aspects.
Bot trading and P2P.
Pro/premium plans.
Classy look and intuitive UI.
Trade.tf Summary
| Our rating | 3.5 |
| --- | --- |
| Usability | Standard |
| Languages | 1 |
| Years established | 2013 |
| Official website | Trade.tf |
Trade.tf Alternatives
Frequently Asked Questions
✔️What is Trade.tf?
Trade.tf is a Team Fortress 2 trading website where users can exchange old TF2 items for newer ones through P2P trades, auctions, and bot trading.
✔️Is Trade.tf Legit?
Yes. Trade.tf has a large user base with many positive reviews. We used the site as well, and everything worked fine. We can confirm that it is legit.
✔️Is Trade.tf Trustworthy?
Yes, we gave this service a go and found no red flags suggesting that the site has any security problems or is untrustworthy.
✔️Did Anyone at Trade.tf Get Scammed?
We certainly couldn't see anything that indicated this. We mainly encountered positive reviews. We looked at hundreds of reviews and didn't see any legit scam accusations.