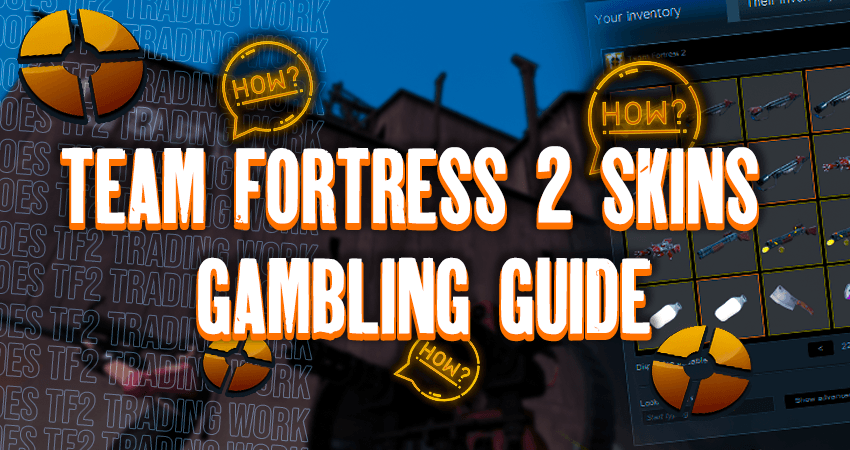 So, you have multiple Team Fortress 2 skins in your inventory, but you no longer need them. Why not play a few gambling games with them? You might be wondering where to start. There is no need to worry. We are here to help you. Here is a complete guide on Team Fortress 2 skins gambling. This article was updated in 2023.
Key Takeaways
TF2 skins gambling involves using in-game skins as a form of currency to participate in various gambling games and activities on specialized online platforms.
The article provides a clear step-by-step guide for beginners, outlining the process of selecting a legitimate gambling platform, creating an account, depositing skins, choosing games, placing bets, claiming winnings, and withdrawing skins.
When selecting a TF2 skins gambling platform, consider factors such as legitimacy, trustworthiness, game selection, skin variety, customer support, deposit/withdrawal processes, user experience, and the presence of bonuses and promotions.
It's essential to be aware of the legal age for gambling in your jurisdiction and any regional restrictions on gambling activities. Recent changes to Steam's policies regarding gambling should also be taken into account.
The article emphasizes responsible gambling and advises against chasing losses. Enjoy TF2 skins gambling as a form of entertainment while being cautious about the platform you choose and the potential risks involved.
Understanding Team Fortress 2 Skins Gambling
When you wager your TF2 skins on outcomes for gambling games or activities, you essentially engage in Team Fortress 2 skins gambling. To do that, you need Team Fortress 2 skins gambling websites.
Team Fortress 2 skins gambling websites are online platforms that accept TF2 skins as deposits and allow users to play gambling games with them. The site will convert the skins into on-site credit or allow you to bet them directly.
Team Fortress 2 Skins Gambling Games/Activities
There are plenty of activities within Team Fortress 2 skins gambling. Plus, some platforms even have custom games you can enjoy. Here are some popular options that you can find at Team Fortress 2 skins gambling sites:
Roulette
Wheel
Dice
Slots
Coinflip
Jackpot
Crash
Hi-Lo,
Battles/Dules.
You can also participate in Team Fortress 2 skins betting. Explaining it in detail would be out of the scope of this article. Simply put, it's a gambling activity where you wager your Team Fortress 2 skins on the outcomes of esports matches or events for conventional sports.
Team Fortress 2 Skins Gambling - Step-by-Step Guide
So, you want to play some gambling games through your Team Fortress 2 skins but don't know how it works? Well, you aren't alone. To help you with that, here is a step-by-step guide that explains the process.
Step 1: Select a Team Fortress 2 skins gambling platform. Make sure that the website you choose is 100% legit, trustworthy, and meets all your requirements.
Step 2: Create an account on the gambling site, and enter all the information required. The site may also allow users to sign in through Steam, which takes only a few seconds.
Step 3: Go to the deposit section and transfer the Team Fortress 2 skins you want to gamble with. To do that, you can follow the instructions provided by the site.
Step 4: Go through the gambling games/activities on the site and select the one you want to play. Make sure you stick to the basic games if you are a beginner at this.
Step 5: Select the skins you want to wager. Or, decide on the on-site credits if you are on a platform that converts skins to on-site credits for gambling. After that, place the bet.
Step 6: Once you have placed the bet, start the game/activity and wait for it to end. For example, you'll have to wait for the roulette wheel to stop or the coin to land.
Step 7: After that, claim your winnings. You'll either receive a skin or on-site credit that you can use to claim a skin. It depends on the gambling activity and the platform.
Step 8: Go to the withdrawal section of the website to get your skins transferred to your Steam inventory. The website will have all the instructions on the complete process.
Bellow, you can find a few leading Team Fortress 2 skin gambling platforms.
What to Consider When Choosing a Team Fortress 2 Skins Gambling Platform?
There are plenty of platforms out there you can use for Team Fortress 2 skins gambling. However, there are only a few worth considering. Plus, there are a lot of scam sites you should be aware of. To find the best platform for yourself, here are the factors you should consider.
Legitimacy: Always choose legitimate platforms since legit sites don't scam people. Websites licensed and regulated by top regulatory bodies are considered legit.
Trustworthiness: Another factor that can reassure you that you won't get scammed is trustworthiness. You can verify whether a site is trustworthy from user reviews.
Provably Fair System: Some platforms have rigged games. To avoid that, choose platforms with provably fair systems that guarantee games free of frigging.
Game Selection: If you are looking for a particular gambling game or activity, make sure it is available. Plus, a large game selection is nice to have.
Skin Selection: The skin selection will determine what type of skin you'll win. So, choose a platform with a good skin selection.
Customer Support: Good customer support is also crucial. It will make frustrating situations, like withdrawal delays, much less frustrating and easier to handle.
Deposit/Withdrawal Process: Some platforms have unnecessarily long deposit and withdrawal processes. Avoid those types of websites.
User Experience: A platform must also have an intuitive UI, straightforward menus, and an appealing design. Choose platforms that are easy to use and attractive.
Bonuses/Promotions: Bonuses and promotions are great additions to a decent platform. However, you mustn't dismiss a platform because they don't have these.
If you analyze the website through all these factors, you'll find a legit and trustworthy website catered to all your needs. However, going through all these points can be very time-consuming. Fortunately, we've done that for you, hand-picking and making a list of the best options.
Is Team Fortress 2 Skins Gambling Legal/Allowed?
To participate in Team Fortress 2 skins gambling, you must be above the legal age for gambling. Also, certain parts of the world have banned gambling. It's best to consult with the laws of your own country to avoid running into any issues.
However, with a recent update on the "Steam Online Conduct" page, gambling is now considered a bannable offense. This change has confused many gamers since Valve has already implemented loot boxes in their games, which is a form of gambling.
Conclusion
Now, you are ready to start playing amazing gambling games or participate in other activities through your Team Fortress 2 skins. Remember to be extra careful about what platform you choose, and you'll have nothing to worry about. Also, chasing losses is a guaranteed way of ruining your experience. Keep responsible gambling in mind, and have fun.
What is Team Fortress 2 skins gambling, and how does it work?
Team Fortress 2 skins gambling refers to the practice of betting or wagering in-game skins, which are cosmetic items that alter the appearance of weapons or characters in the popular game, Team Fortress 2. Players can participate in various gambling platforms, where they can bet their skins on games of chance or skill to win more valuable skins.
Are Team Fortress 2 skins gambling websites legal and safe to use?
The legal status of Team Fortress 2 skins gambling websites can vary depending on the jurisdiction. Some regions may have specific regulations that govern online gambling, including the use of in-game items for betting. It's essential to research and use reputable websites that comply with applicable laws and prioritize user safety and fair play.
What are the risks associated with Team Fortress 2 skins gambling?
Team Fortress 2 skins gambling carries several risks, including the potential for losing valuable skins. Just like traditional gambling, it's crucial to remember that outcomes are based on chance or skill, and there is no guaranteed way to win. Additionally, using unregulated or sketchy websites could expose players to security and privacy risks.
Can I convert my Team Fortress 2 skins back into real money after gambling?
While some platforms might offer ways to exchange skins for virtual currency, which can then be used for other in-game items, converting Team Fortress 2 skins directly back into real money is generally against the game's terms of service. Valve Corporation, the game's developer, has taken measures to prevent this type of activity and may enforce penalties for violating their policies.
How can I ensure responsible gambling with Team Fortress 2 skins?
Responsible gambling is crucial when engaging in any form of betting, including Team Fortress 2 skins gambling. Set a budget for yourself and stick to it, never bet more than you can afford to lose. Avoid chasing losses and recognize that gambling outcomes are based on chance. If you find yourself struggling with gambling addiction or related issues, seek support from friends, family, or professional resources dedicated to helping individuals with gambling problems.