Want to play some gambling games using your Team Fortress 2 skins? Why not try TF2Easy? To get a better idea of what TF2Easy is like and figure out if it's the right platform for you, check out our TF2Easy review. Keep on reading to learn more about what TF2Easy has to offer.

This TF2Easy review was updated on October 2022.



Here is a list of some of the best and worst of what TF2Easy has to offer:
Pros
TF2Easy has a quick and easy registration process that takes only about two or three clicks to complete.
The TF2Easy platform also features a live chat feature that the users of the platform can use to chat with each other.
The TF2Easy platform also gives out free stuff if you add TF2EASY to your Steam name.
TF2Easy also offers a case opening feature where users can open one or more from a selection of five custom cases.
Cons
The TF2Easy platform does not have a live chat support feature.
About TF2Easy
TF2Easy is an online platform where people can come and use their Team Fortress 2 skins to play some fun and exciting gambling games. There are four gambling games available at TF2Easy, which include Jackpot, Upgrader, Coinflip, and Champions, with two variants for the Jackpot game.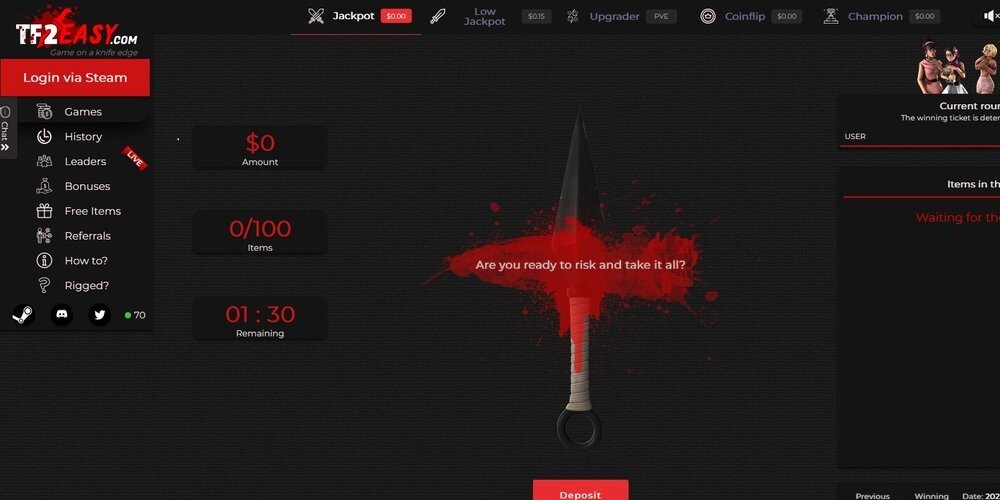 Our TF2Easy Review
There are tons of platforms for Team Fortress 2 skin betting, but it takes a bit more than just offering a skin betting feature to get some attention. After using the TF2Easy platform for several hours, it was clear to us that it has all the great features that can help it stand out.
First of all, the TF2Easy website feels great to use. While using the TF2Easy website, we experienced zero lag when switching from one page to another. Secondly, the site also has a case opening feature. Most Team Fortress 2 gambling sites only offer one gambling game, let alone a separate case opening feature. You can open one or more from a selection of five different custom cases.
While some people might not think of it as a big deal, the TF2Easy website also has a mute feature that disables all of the website's sounds. Most websites don't have that. Having to listen to all the loud noises that those websites make can be very annoying.
TF2Easy is also very safe. The website uses SSL encryption, and all the games use a provably fair system. Concluding this TF2Easy review, TF2Easy is a great platform for anyone looking to play some gambling games with TF2 skins.
TF2Easy Key Features
Games/Activities: Jackpot, Upgrader, Coinflip, and Champions.
You can find several great reviews for TF2Easy on several places on the internet.
Deposit Methods: Team Fortress 2 In-Game Items.
Withdrawal Methods: Team Fortress 2 In-Game Items.
Claim TF2Easy Free Bonus
Go to TF2Easy using our link.
Register an account.
Enjoy your free bonus!
TF2Easy Alternatives
Frequently Asked Questions
✔️What is TF2Easy?
TF2Easy is a gambling site for TF2 skins. Users can use Team Fortress 2 in-game items they have in their inventories to play gambling games at TF2Easy.
✔️Is TF2Easy Legit?
TF2Easy is a completely legitimate platform. Hundreds of people use TF2Easy every day for gambling, and the site is also encrypted using the SSL encryption protocol.
✔️Is TF2Easy Trustworthy?
Along with an SSL encryption protocol that ensures that any data you enter at the site won't get leaked, TF2Easy also has a provably fair system for all the games, which makes it completely trustworthy.
✔️Did Anyone at TF2Easy Get Scammed?
Of the hundreds of players that use the TF2Easy platform regularly, there have been zero credible scam accusations against TF2Easy.