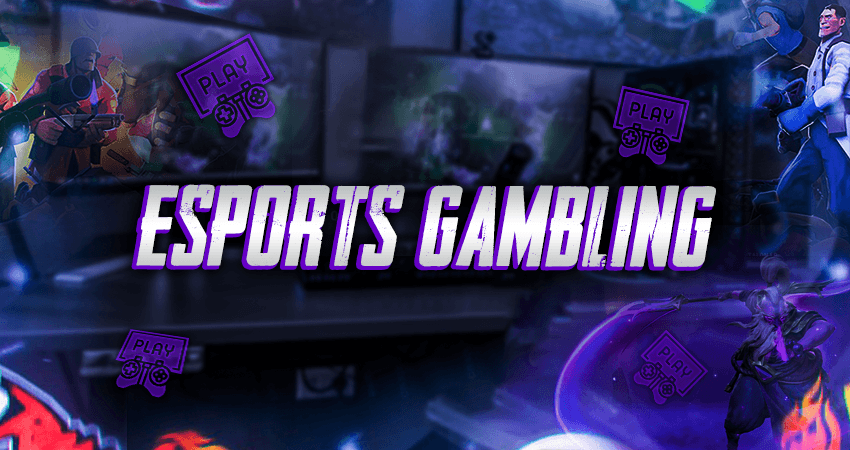 So, you want to get into esports skins gambling but don't know where to start. We hear you loud and clear. It's not your fault since the world of esports skins gambling is quite extensive. Fear not, as you have landed in the right place. Here is a complete guide on eSports skins gambling, where we explore all its nitty-gritty elements. This article was updated in 2023.
Key Takeways
eSports skins gambling involves wagering valuable in-game weapon skins on various games and activities. These skins can be from popular games like CS:GO, Dota 2, or TF2. Gamblers can participate in diverse games, making it an exciting and dynamic form of betting.
eSports skins gambling offers a wide range of games and activities, including Crash, Jackpot, Roulette, Coinflip, and more. Each game comes with its own set of rules and strategies, providing players with numerous options to choose from based on their preferences.
When entering the world of eSports skins gambling, it's crucial to select a reputable and trustworthy platform. Factors to consider include the site's reputation, supported games, user experience, customer support, and available bonuses. A reliable platform ensures the safety of your valuable in-game skins.
The step-by-step guide provided in the article offers a clear roadmap for newcomers. It covers registering on a gambling platform, depositing skins, choosing games, placing bets, and withdrawing winnings. Following these steps can help beginners get started safely and confidently.
While eSports skins gambling can be enjoyable, it's essential to approach it responsibly. Set limits on your wagers, avoid chasing losses, and be aware of the risks involved. Always prioritize the enjoyment of the game over the potential rewards and gamble responsibly.
Understanding How eSports Skins Gambling Works
You are probably familiar with gambling. Gambling is wagering something of value on the outcome of a game or activity. Traditionally, people wager cash or casino chips. However, those aren't the only items considered valuable. In the world of gaming, weapon skins are considered a valuable commodity. Plus, a lot of gambling platforms accept these skins as deposits.
When you log on to a skins gambling platform, deposit your skins from games like CS2, Dota 2, or TF2, and wager them on outcomes for activities and games, you are participating in esports skins gambling.
Let's look at an example to understand esports skins gambling. For example, you have the M4A4 Desolate Space (factory new) weapon skin in your CS2 inventory. You wager this skin on a game of roulette and bet on red.
If the roulette wheel lands on a red number, you win, and you get your weapon skin back, plus another weapon skin worth around 47% to 48% (average odds of red & black in roulette) of the skin you wagered. On the other hand, if it doesn't land on red, you lose your weapon skin.
You can participate in esports skins gambling at online platforms that offer these activities. Fortunately, there are a ton of esports gambling platforms out there. Some will allow you to bet your skins directly, while others will convert them into on-site credits.
Types of eSports Skins Gambling Games & Activities
There are a ton of activities and games that fall under esports skins gambling. Depending on the platform, it can have all those activities available, only a few of them, or sometimes only one.
Crash
First, we have Crash. The rules of Crash are simple. Players place their in-game skins as bets and watch a multiplier rising. You can cash out whenever you like, and you'll receive skins worth the multiplier times the value of your wager. However, if you wait too long, the multiplier will crash, and all players who haven't cashed out will lose their skins.
Jackpot
In a game of Jackpot, several players deposit their in-game skins into a pot until the cumulative value of all skins reaches a certain threshold. Once that happens, a random winner is selected, and they receive all the skins in the pot. The value of each skin determines the player's chances of winning.
Roulette/Wheel/Dice (Roll)
All three games fall under the "Roll" category. In these games, a roulette wheel, a wheel of fortune, or dice get rolled. The player can bet their in-game skins on an outcome, like a number on the dice, a section on the wheel of fortune, or a number/color from the roulette wheel. If the roll lands on the selected outcome, the player wins.
Coinflip
Coinflip is one of the simplest gambling games out there. A virtual coin gets flipped, and players bet their in-game skins on the face it will land. If it lands on the one you selected, you win. If it doesn't, you lose your in-game skin.
Battles/Duels
Battles/Duels does not refer to a single game. Instead, it's a variation of several gambling games where players compete against each other using their in-game skins as wagers, and the winner of the battle or duel takes all skins. For example, you can play coin flip against other players, where you and the opponent deposit in-game skins in a pot, and the winner takes all.
Slots
Slots are probably the most popular gambling activity/game. The gameplay for slots at esports skins gambling platforms isn't much different than how people gamble on real slot machines. In short, you deposit your in-game skins at the site, select a slot game, and skins get converted to spins, depending on their value. After that, you spin the slot and finally claim your prize once the slot stops.
Upgrader
Upgrader is one of the most popular games in esports skins gambling. As the name suggests, the reward for winning in this game is a weapon skin of higher value than the one you used to gamble. However, the outcome is random. There is no guarantee that you'll get an upgrade, and you might lose the skins you gambled with.
Hi-Lo
In a game of Hi-Lo, the player has to predict whether the next card on a virtual deck will be higher or lower than the current one. To make a prediction, players must deposit their in-game skins as bets. Players can keep on predicting for as long as they want. Once they are satisfied with their winnings, they can cash out. If they make one wrong prediction, all their winnings will get lost.
Live Dealer Games
Live dealer games are virtual versions of popular casino games like blackjack, poker, baccarat, and more. The only difference is that live dealer games include live streams of actual casino tables with a real card dealer appearing on your screen, dealing the cards to you as if you were right in front of them.
Betting
Esports or sports betting is a form of skins gambling where players place bets on either Esports events or matches for regular sports using their in-game skins. Let's say a Dota 2 esports match is happening between Team Liquid and Talon Esports. You have a strong gut feeling that Team Liquid will win the event, and you bet on Team Liquid with your in-game skin. This, in a nutshell, is esports skins betting.
Sports betting works in the same way. Replace the esports match from the example above with a regular sporting event like the NBA Finals, and you have sports betting. Esports/sports betting is an extensive topic. It includes multiple rules and terms like betting odds, betting lines, and betting markets. Check out our esports betting guide for more info on that.
Step-by-Step Guide for Getting into eSports Skins Gambling
To help you get into esports skins gambling, here is a complete step-by-step guide that explains everything in detail.
Step 1: Select a reputable skins gambling platform that meets all your needs and requirements.
Step 2:

The next step is to register with the platform. For most esports skins gambling sites, you can simply sign in through Steam, which takes only about two or three clicks.

Step 3:

Deposit the skins you wish to gamble with. The platform will provide all instructions on how to transfer skins. The process usually involves adding your Steam trade URL to the site.

Step 4:

Once your gambling account gets funded with skins, select a game or activity you want to participate in. As mentioned, there are multiple options, depending on the platform.

Step 5:

After selecting a game, decide how many skins you want to wager and place the bet. Or, set the amount of credit you wish to bet if the platform converts your skins into site credit.

Step 6:

After placing the bet, start the game/activity and wait for it to conclude. For example, click the spin button for a slot game and wait for all the slots to stop spinning.

Step 7:

It's time to claim your winnings (if you win). Depending on the site and game/activity, you either receive a random skin or get to choose one from the site's library.

Step 8: Once you're ready to cash out, go to the withdrawal section, and transfer your skins to your Steam library. Some sites even let you make withdrawals through real money.
What to Consider When Choosing an eSports Skins Gambling Site?
Before you get into eSports skins gambling, you need to focus on selecting the right gambling site. Here is a list of the main factors you should consider while deciding on an esports skins gambling site.
Reputation and Trustworthiness: The first thing you should verify before depositing your skins is the platform's reputation and trustworthiness. Go for established platforms with positive reviews and a solid track record of delivering quality service. Since your valuable skins are on the line, you shouldn't risk them on untrustworthy websites.
Supported Games for Skin Deposits: Skins gambling platforms accept skin deposits for various games, like CS2, Dota 2, and Rust. However, these platforms usually support only one of these games. Hence, before committing to a site, ensure it supports the in-game skins you want to gamble with.
Games and Other Gambling Activities: As discussed, esports skins gambling includes multiple games and activities. Not every platform offers all activities. Some platforms only offer one or two games. If you are interested in a particular game, ensure it is available in the platform's library. Also, it doesn't hurt to have other options that you can try if you get bored with one game.
User Experience: Besides reputation, gambling options, and supported games, you need your user experience at an esports skins gambling website to be enjoyable. A good user experience includes several aspects. The site should have a user-friendly interface and intuitive navigation. Plus, the site should look good, with a color scheme/theme you find attractive.
Customer Support: A responsive and helpful support team is crucial in stressful situations like withdrawal delays. Before you finalize a platform, contact their customer support and see how they respond.
Bonuses and Promotions: Finally, you can check whether there are any bonuses, promotions, or loyalty programs available on the site. However, if a site meets all the criteria mentioned above, you shouldn't dismiss it simply because it doesn't offer bonuses.
To help you with that, bellow we have added a few leading eSports gambling platforms.
Top eSports Skins Gambling Strategies
Let's face it, no strategy or trick can guarantee your success in esports skins gambling. However, that shouldn't be your main goal in the first place. Instead, focus on ways that can help you maximize your enjoyment level and improve your experience. Here are some of the top strategies for precisely that.
Bankroll Management: The most common way people almost ruin their experience is by going overboard and chasing losses. However, chasing losses never works. It only makes you feel worse. Before you start a session of esports skins gambling, set a budget and stick to it. This way, you'll know when to stop and will have had your fun.
Focus on Games You Know: Not everyone is an expert blackjack player. Fortunately, not everyone has to be. You can have plenty of fun playing other games you are familiar with. But, if you play games you know nothing about, you probably won't have much fun. It's best to stick with games you have experience in.
Take Advantage of Bonuses & Promotions: Bonuses/promos can provide additional value. The best part about bonuses and promotions is that it's a win-win situation for you. You won't be charged extra. You'll just be getting more out of the gambling experience. Always look for bonuses and any promotional offers active on the site.
Keep Emotions in Check: Avoid making impulsive decisions based on emotions. You might end up wagering a weapon skin that you like a lot. You won't feel very good if you lose that skin. Keep your head clear while participating in esports skins gambling. This way, you will avoid any bad experiences.
Conclusion
Getting into esports skins gambling can seem daunting. However, things get much simpler and easier to understand once you get into it. In a nutshell, esports skins gambling starts with you making deposits at a gambling website with your in-game skins from games like CS2, Dota 2, or Rust. After that, you can use your skins to play gambling games. Finally, you can claim all your winnings. But remember, gamble responsibly, and it's all about having fun.
Other eSports Gambling Guides
What is eSports skins gambling, and how does it work?
eSports skins gambling involves betting in-game items, often cosmetic "skins", rather than traditional currency.
How do I get started with eSports skins gambling?
Starting requires an account on a platform that supports skins gambling, skins to bet, and knowledge of the specific game's market.
What are the most popular games for eSports skins gambling?
CS:GO, Dota 2, and PUBG are among the most popular games for skins gambling due to their robust skins markets.
Are there any risks involved in eSports skins gambling?
Yes, risks include the potential for addiction, loss of valuable skins, and the presence of less reputable platforms.
What platforms are reliable for eSports skins gambling?
Platforms like Loot.bet, Thunderpick, and Skinwallet are recognized as reliable for eSports skins gambling.