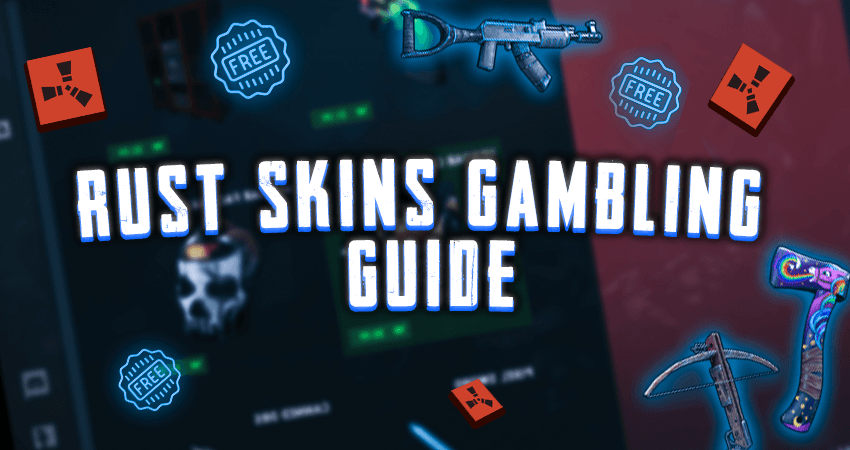 If you want to get into Rust skins gambling but don't know where to start, you are in the right place. While it may seem confusing at first, it's actually not that complicated, and you can get into Rust skins gambling within a few minutes. Here is everything you need to know about Rust skins gambling. This article was updated in 2023.
Key Takeaways
Rust skins gambling involves wagering in-game skins on various games and activities. These skins hold value within the gaming community and can be used as currency on gambling platforms.
Rust skins gambling offers a wide range of games, including roulette, dice, crash, slots, and more. Each game has its unique mechanics, making it essential for players to understand how they work before participating.
A step-by-step guide simplifies the process of getting into Rust skins gambling. It involves selecting a reputable platform, creating an account, depositing skins, choosing a game, placing bets, and ultimately withdrawing winnings.
Choosing the right Rust skins gambling platform is crucial. Prioritize platforms with a solid reputation, a variety of games, user-friendly design, and trustworthy licensing. Avoid potential scam sites to protect your valuable skins.
The legality of Rust skins gambling varies by location. While it's legal in some areas, it may be prohibited in others. Gamers should be aware of their local laws and Steam's policies regarding gambling activities involving skins.
Understanding Rust Skins Gambling
You probably have some idea about how traditional gambling works. In simple terms, gambling is when you wager something of value on the outcomes of games or other activities. If the result is what you wagered on, you win. If not, you lose your wager.
Cash and casino chips aren't just the only thing of value you can use to participate in gambling activities. For instance, Rust skins are also considered quite valuable within the gaming community. Plus, many gambling platforms accept Rust skins as deposits and allow users to participate in gambling activities.
In a nutshell, Rust skins gambling is when you wager your Rust skins for gambling games or activities. Depending on the gambling site and the game/activity, your skins either get converted into on-site credit, or you place bets directly with your Rust skins.
Types of Rust Skins Gambling Games/Activities
Ranging from coin flip to complex virtual slot machines, Rust skins gambling includes a wide variety of games/activities. The most popular options include Roulette, Wheel, and Dice, which fall under the "Roll" category of games.
As the name suggests, each of the "Roll" games involves a roll, which can be a dice, a roulette wheel, or the wheel of fortune, where the players bet their Rust skins on an outcome for these rolls. If the result matches what the player wagered on, they win an amount based on their wager and the multiplier/odds.
Another popular game is Crash, where players wager their Rust skins, and a multiplier begins to rise. To win, players can cash out at any time. When a player cashes out, they receive rewards based on the multiplier value at that moment. However, the multiplier can crash at any time, causing all remaining players to lose their wager.
Other casino-style gambling games you can play with your Rust skins include Slots, Jackpot, and Coinflip. The game "Coinflip" is self-explanatory. In short, it's a virtual coin toss where the player bets on either heads or tails. Slots also work the same as how slot machines at land-based casinos work. Finally, in a game of Jackpot, multiple players deposit their skins into a pot until the pot's value reaches a certain threshold, at which point a random player is announced as the winner, receiving all skins.
For those seeking more competitive gameplay, there are Battles/Duels. Battles don't refer to a single type of game. Instead, it's a game mode for existing gambling games, for example, Dice battles or Coinflip duels. In these types of games, players get to play against other players. Both players bet their Rust skins and the winner takes all.
Another type of Rust skins gambling is Rust skins betting. It's a wide topic, and explaining it here would be out of the scope of this article. You can check out our detailed esports betting guide here for more information. In a nutshell, Rust skins betting is a form of gambling where you bet your Rust skins on esports matches or conventional sports.
Rust Skins Gambling - Step-by-Step Guide
Getting into Rust skins gambling can seem difficult. To make things easier to understand, here is a complete step-by-step guide on Rust skins gambling:
Step 1: Select a Rust skins gambling platform. You can check out our picks for the best Rust gambling sites here.
Step 2: Create an account on the gambling site.
Step 3: Deposit your Rust skins using the instructions provided by the site.
Step 4: Select a gambling game/activity.
Step 5: Set your wager and place the bet.
Step 6: Start the game/activity and wait for the result.
Step 7: Claim your winnings.
Step 8: Withdraw the skins you won to your Steam inventory.
What to Consider When Choosing a Rust Skins Gambling Platform?
As gamers, we understand that the in-game skins we have collected over the years are quite dear to us, and one of the worst things imaginable for a gamer is losing all those skins. However, if you aren't careful while selecting a platform for Rust skins gambling, that might happen to you. Surprisingly, there are plenty of scam sites out there that you should be aware of.
In short, choosing a Rust skins gambling site is something that you shouldn't take lightly. While choosing a platform for yourself, you can keep several factors in mind to have the best experience possible and avoid getting scammed. The first of those factors is legitimacy and trustworthiness. You can verify whether a site is legit and can be trusted by going through its user reviews and looking at its licensing information.
Once that's complete, you can move on to activities/games. There's no point in creating an account on a website that doesn't offer the gambling game/activity you want to play. Plus, it's nice to have multiple options to try once you get bored of one.
After that, you can evaluate features like design, theme, color scheme, and usability. A website that keeps lagging and is difficult to navigate will ruin your overall experience. Choose websites that are intuitive and user-friendly. Plus, you also want the website to look good, at least to you. So, pick platforms with a design/theme you find attractive. Finally, you can look at bonuses and promotions. To help you with that, bellow we have added a few leading Rust gambling platforms.
Is Rust Skins Gambling Legal or Even Allowed?
The legality of Rust skins gambling is the same as regular gambling. For instance, if you are above the minimum age requirement and within a country that hasn't banned gambling, playing Rust skins gambling games is 100% legal. However, you should be aware of countries where it is illegal.
Whether it's allowed or not is a bit confusing. Gamers have been participating in Rust skins gambling for a long time without any issues. However, with the recent update on the "Steam Online Conduct" page, Valve has made "gambling" a bannable offense. Since Valve is known for adding gambling-style loot box systems in their video games, this change has left gamers confused about the state of Rust skins gambling.
Conclusion
So, you've made your decision. You have learned all the basics of Rust skins gambling and are now ready to make your first wager. Remember to be very careful about what platform you choose. Also, keep responsible gambling in mind and have fun.
What is Rust skins gambling, and how does it work?
Rust skins gambling refers to the practice of using in-game items known as "skins" as virtual currency to bet on various gambling platforms or websites. Players can acquire skins in the game Rust and then use them to participate in games of chance, such as roulette, coin flips, or jackpot-style games. The outcome of these games determines whether the player wins or loses the skins they wagered.
Are Rust skins gambling sites legal and safe to use?
The legality and safety of Rust skins gambling sites can vary depending on the jurisdiction and the specific website's policies. While some websites may operate within legal boundaries, others may operate in a gray area or even be considered illegal. Additionally, safety concerns arise from potential scams, fraudulent sites, or issues with underage gambling. It's crucial for users to thoroughly research a site's reputation, read user reviews, and exercise caution before participating.
How can I obtain Rust skins for gambling purposes?
Rust skins can be obtained in various ways. Players can earn them by playing the game and receiving random drops, trading with other players, or purchasing them from the in-game store or community market. Additionally, some gambling websites may offer bonuses or promotions that provide players with free skins to use for gambling.
What are the risks and benefits of Rust skins gambling?
Rust skins gambling can be enticing due to the potential to win valuable skins, which can be traded or sold for real money. However, it also carries significant risks, such as the loss of valuable skins, potential addiction, and exposure to fraudulent websites. It's essential for players to set strict limits on their gambling activities, treat it as entertainment rather than a source of income, and seek help if they believe they may have developed a gambling problem.
Are there any alternatives to Rust skins gambling that offer a similar experience?
For players who enjoy the excitement of gambling but want to avoid the risks associated with Rust skins gambling, some alternative options can offer a similar experience. Many online casinos and betting platforms allow players to wager real money on various games, including traditional casino games and esports betting. However, it's crucial to remember that gambling of any kind should be approached responsibly and with a clear understanding of the associated risks.