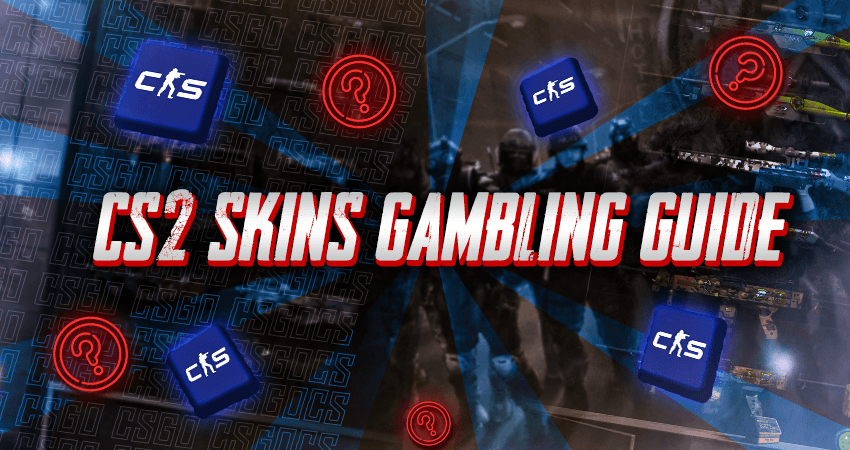 Want to get into CS2 skins gambling but don't know where to start? Well, there's no need to get confused. You have landed at the right place. To help you get into CS2 skins gambling, we have created an extensive guide on precisely that. Let's get right into it. This article was updated in 2023.
Key Takeaways
CS2 skins gambling is a unique form of entertainment where you use in-game skins as wagers instead of cash or chips. It's important to remember that like traditional gambling, these activities rely on luck for their outcomes.
CS2 skins gambling offers a wide variety of games and activities, from Crash and Jackpot to Coinflip and Live Dealer Games. Each game comes with its own set of rules and strategies, making it important to choose the one that suits your preferences and risk tolerance.
If you're interested in trying CS2 skins gambling, follow a step-by-step guide to get started safely. This includes selecting a reputable platform, creating an account, depositing skins, and choosing your preferred game. Always gamble responsibly and be aware of potential legal and ethical considerations in your region.
Picking a trustworthy CS2 skins gambling platform is paramount. Look for user reviews and licensing information to ensure you're on a legitimate site. Beyond security, consider factors like available games, prices, and bonuses to enhance your experience.
While CS2 skins gambling is generally legal, it's essential to be aware that regulations may vary by country. Always check your local laws to ensure compliance. Additionally, Valve's stance on gambling within the CS2 community can affect your participation, so stay informed about any updates or changes.
Understanding CS2 Skins Gambling
CS2 skins gambling refers to playing gambling games or participating in other gambling activities by wagering your CS2 skins instead of cash or casino chips. Like regular gambling, these games or activities usually have random outcomes, and winning them is based on luck.
For example, let's say you and a couple of friends pool up your CS2 skins, write the names of everyone on pieces of paper, and drop them in a bowl. A person picks out one from the bowl, and whoever's name is on that paper gets all the skins.
That was just an example of how CS2 skins gambling works. In reality, you need to use CS2 skins gambling websites to play gambling games through your CS2 skins. They are online platforms where you can deposit your CS2 skins and participate in gambling activities. Some gambling sites may convert your CS2 skins into on-site credit.
Types of CS2 Skins Gambling
There are several types of gambling activities you can participate in through your CS2 skins. Not only that, but some websites also create unique games/activities. Here is a list of all popular CS2 skins gambling games/activities available at most CS2 skins gambling websites.
Crash: Players bet their CS2 skins and a multiplier starts rising. Players can cash out anytime and get rewards based on the multiplier. The multiplier can crash anytime, and all remaining players will lose their skins.
Jackpot: Multiple players deposit skins in a pot until the total value reaches a threshold. A random player then gets announced as the winner of all skins. Skin values determine the chances of winning.
Roulette/Wheel/Dice (Roll): All three are "Roll" games. Players bet skins on results like dice numbers, wheel sections, or roulette numbers/colors. A player wins when the roll matches the chosen outcome.
Coinflip: Coinflip is a straightforward gambling game. A virtual coin gets flipped, and players bet their skins on the outcome. If the chosen face appears, you win. Otherwise, you lose your skin.
Battles/Duels: Battles/Duels are versions of other gambling games where players wager skins against other players, and the winner gets all. In other words, you get your opponent's CS2 skins instead of skins based on a multiplier.
Slots: Slots in CS2 skins gambling platforms operate similarly to real slot machines. Players deposit skins, select a slot game, initiate the spin, and claim their prize based on the final slot result.
Upgrader: Upgrader is a popular game within the CS2 community. Players wager their CS2 skins, and the game randomly gives a skin, which could be worth higher or lower than the value of their wagered skin.
Hi-Lo: In Hi-Lo, players predict whether the next card in a virtual deck is higher or lower. Players can cash out whenever they want. However, one wrong prediction and the player loses everything.
Live Dealer Games: Live dealer games are virtual versions of popular casino games. They are live streams of casino tables where a card dealer appears on your screen and deals cards, making you feel you are at a casino.
CS2 Skins Betting
Besides all the types of CS2 skins gambling mentioned above, there is also CS2 skins betting. It's a form of gambling where you bet CS2 skins not on casino-style games but on actual sporting events that happen in the real world. These events can include esports tournaments or matches for conventional sports.
For example, let's say a match for a CS2 tournament is happening, and you think that Team-A will get the first blood. So, you wager a CS2 skin from your inventory on that particular outcome. That is CS2 skins betting in a nutshell. You can check out our complete betting guide for an in-depth explanation of this.
Getting Into CS2 Skins Gambling - Step-by-Step Guide
Getting into CS2 skins gambling can seem quite daunting. To make things easier to understand, here is a complete step-by-step guide on getting started with CS2 skins gambling:
Step 1: Select a CS2 skins gambling platform. You can check out our picks for the best CS2 gambling sites.
Step 2: Create an account on the platform and sign in. Most platforms allow users to sign in through Steam.
Step 3: Deposit the skins you want to gamble. Follow the instructions provided. It might require your trade URL.
Step 4: After depositing CS2 skins into your account, select a gambling game or activity you want to participate in.
Step 5: Decide how many skins or the amount of on-site credit you wish to bet and place the bet.
Step 6: Once you have placed your wager, start whatever game you want to play and wait for it to end.
Step 7: Claim your winnings, go to the withdrawal section, and transfer the skins you won to your Steam library.
What to Consider When Choosing a CS2 Skins Gambling Platform?
While getting into CS2 skins gambling, probably the most important thing you'll do is pick a platform. While there are plenty of legit CS2 skins gambling websites, some platforms are straight-up scams, and landing on one can result in losing all your CS2 skins.
To pick the best CS2 skins gambling platform, you should keep several factors in mind. Firstly, the platform should be legitimate and trustworthy. You can figure this out from the site's user reviews and licensing information.
Once you've verified that the site is secure, you can move on to subjective factors like the games, prices, and bonuses on offer. We understand that going through all that information can be difficult. To help you with that, bellow we have added a few leading CS2 gambling platforms.
The Legality of CS2 Skins Gambling
CS2 skins gambling has been going on since Counter-Strike: Global Offensive days. One would assume that CS2 skins gambling is perfectly legal, and you won't run into any issues because of participating in CS2 skins gambling. However, there is more to it.
While CS2 skins gambling is legal for the most part, gambling as a whole is not allowed in certain parts of the world. In other words, there are certain countries where CS2 skins gambling is illegal. To be 100% sure, it's always best to consult with the laws of your own country first.
Secondly, with the recent update on Valve's "Steam Online Conduct" page, gambling is now considered a bannable offense. However, this doesn't give us a clear answer. Valve themselves have a form of gambling in CS2, CS2 case opening.
Conclusion
CS2 skins gambling is quite fun. You never know when you'll get an exciting new weapon skin. If you don't have CS2 skins to wager, check out our list of the best places to buy CS2 skins. With that said, remember to gamble responsibly and not get carried away.
Is CS2 skins gambling legal?
While CS2 skins gambling is legal in many places, it's essential to check your country's laws for specific regulations.
How do CS2 skins gambling sites convert skins into on-site credit?
Some CS2 skins gambling platforms offer on-site credit, allowing players to wager without directly using CS2 skins.
Can I gamble CS2 skins without depositing any money?
Yes, some CS2 skins gambling sites offer free bonuses or promotional credits for players to start gambling without initial deposits.
What are the risks of CS2 skins gambling?
CS2 skins gambling involves luck and chance, so there's a risk of losing your wagered skins. Gamble responsibly and set limits.
Are CS2 skins gambling platforms safe from scams?
To ensure safety, choose reputable CS2 skins gambling sites based on user reviews and licensing information. Research before playing.