Buying RuneScape gold online can be a tricky process. You never know if the website is genuine or not until it's too late. That's why we've created this review of 4RSGold. Our goal was to determine whether they were a genuine service or not and if they were a quality company. We took a look at everything from their gold transactions to their payment methods to determine whether or not 4RSGold was worth your time.

This 4RSGold review was updated on November 2022.



Here is a list of some of the best and worst of what 4RSGold has to offer:
Pros
Guaranteed fast deliveries in under 10 minutes, sometimes even under 5
Refunds for transactions that failed or were delivered late
Plenty of discounts for players who come back and use their services again
Many extra features are offered by the website
Cons
Prices are a bit higher than at other websites
Dated design on the website
4RSGold Summary
| Overall rank | #9 out of 34 |
| --- | --- |
| Our rating | 4.0 |
| Usability | Easy to use |
| Languages | 1 |
| OSRS price | $0.42/M |
| RS3 price | $0.04/M |
| Official website | 4RSGold.com |
About 4RSGold
If you're looking for a fast delivery service, cheap gold, and dedicated discounts, then 4RSGold is the perfect online gold marketplace for you.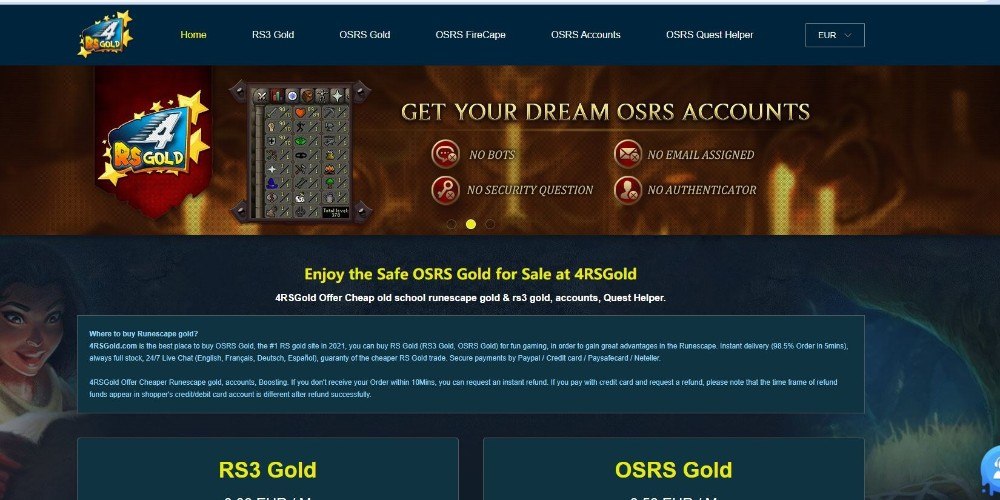 Our 4RSGold Review
Discount codes, fast deliveries, and easy-to-use transactions are what makes this website so amazing. When reviewing RuneScape gold accounts, I tend to look for the easiest-to-use services that can guarantee me my in-game gold in no time. 4RSGold covers both requirements and does so with flying colors. They're an experienced marketplace that takes care of their customers.
The discount codes stood out to me during my review of the website as they offered such a nice drop in price. A gold marketplace rarely offers you a reason to return, but 4RSGold certainly did. I found myself with a reason to create an account and return to them every time I wanted in-game gold. The discounts are impressive and the gold is cheap.
If you're looking for a dependable and dedicated RuneScape gold marketplace online, then this is the one for you. They offer fast deliveries, cheap gold, and rare items, all in one, well-designed spot. There are some features that could be updated, but I like to think that they're staying true to the OSRS idea that 2001 graphics are the best.
This RuneScape gold website has been working for years to provide customers with the best transactions possible.
4RSGold Key Features
Deliveries in under 10 minutes or your money back.
Old School RuneScape gold costs $0.42/M.
RS 3 gold costs $0.04/M.
Returning customer discounts to lower the price of gold.
Fully leveled accounts, quest help, and rare items are also offered.
Claim 4RSGold Free Bonus
Go to 4RSGold using our link.
Make a purchase.
Enjoy your free bonus!
4RSGold Alternatives
Frequently Asked Questions
✔️What is 4RSGold?
They are an online marketplace where RuneScape players can purchase in-game gold using real money.
✔️Is 4RSGold Legit?
They are a perfectly legitimate service that guarantees a successful transaction or your money back. They're so confident in their deliveries that if it takes more than 10 minutes, you can get an instant refund.
✔️Is 4RSGold Trustworthy?
4RSGold is a totally trustworthy company that even goes so far as to protect your account from outside data collectors. Your information will be protected rather than sold.
✔️Did Anyone at 4RSGold Get Scammed?
No one has been scammed by 4RSGold as their services are completely legit. Once you've purchased gold from them, they'll be sure to deliver it within minutes.