As buying RuneScape gold online becomes more popular, so too does the flood of online gold marketplaces. There are endless websites ready to offer you gold for real money, but some of them have no intention of delivering on that purchase. We're taking a look at some of the most popular websites to determine whether or not they're worth your time. Here is a review of RSOrder and everything they have to offer.

This RSOrder review was updated on November 2022.



Here is a list of some of the best and worst of what RSOrder has to offer:
Pros
Competitively priced gold for OSRS and RS 3 accounts
Relatively quick delivery times
Easy to use live chat that enables quality communication with employees
Discounts for minor actions like saving the website as a shortcut
Cons
Poorly designed website is difficult to navigate
Payment options are limited
RSOrder Summary
| Overall rank | #2 out of 34 |
| --- | --- |
| Our rating | 5.0 |
| Usability | Very easy to use |
| Languages | 1 |
| OSRS price | $0.415/M |
| RS3 price | $0.043/M |
| Official website | RSOrder.com |
About RSOrder
RSOrder is an online marketplace that offers RuneScape players gold for real money. They've been around for years and have built up experience throughout their time. They offer fast transactions, cheap gold, and developed accounts for new players looking for the late-game experience.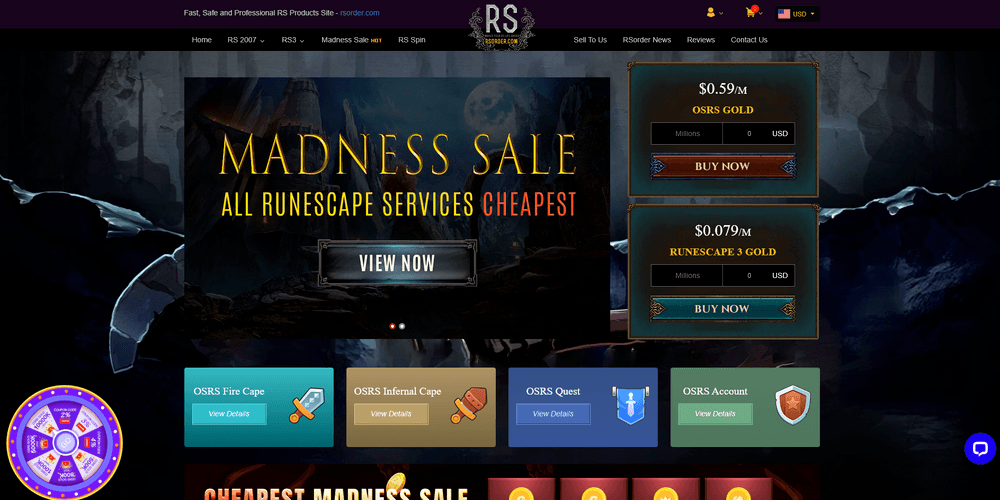 Our RSOrder Review
I'll start off by making note of how disappointing the design of the website was. From the off-center spacing to the oddly colored boxes, this website screamed scam to me. However, once you get into the content of the website rather than the design of their page, it becomes pretty clear that they know what they're doing. RSOrder is a great, sub-surface, RuneScape gold marketplace.
Their pricing is competitive and their transactions are fast. Once you've made your purchase, they offer a live chat so that you can organize when and where to meet in the game for the delivery to be made. The process can usually be completed within a few minutes so that you're not left waiting around for the gold you've purchased.
While they certainly have some features to work on, RSOrder is a dedicated RuneScape gold marketplace that will have your transaction completed in no time. If you're looking for cheap gold, the ability to sell your current gold, rare items, and leveled accounts all for an affordable price, then RSOrder is the perfect place for you. Just be ready to bear through the poor website design.
RSOrder Key Features
OSRS gold costs $0.415/M.
RS3 gold costs $0.043/M.
Deliveries can be completed within minutes.
Live chat to help organize an efficient delivery process.
Discounts for repeating customers and certain perks.
Claim RSOrder Free Bonus
Go to RSOrder using our link.
Make a purchase.
Enjoy your free bonus!
RSOrder Alternatives
Frequently Asked Questions
✔️What is RSOrder?
RSOrder is an online marketplace where RuneScape players can purchase in-game gold for real money.
✔️Is RSOrder Legit?
RSOrder is a completely legit company that ensures transactions are completed.
✔️Is RSOrder Trustworthy?
Your payment info will be protected when using RSOrder. They encrypt all information so that customers don't have to worry about their data getting leaked.
✔️Did Anyone at RSOrder Get Scammed?
To date, no scams have been reported or verified by customers of RSOrder.