Do you want to buy some OSRS or RuneScape 3 gold from RSGoldFast? But is the best platform for you? To help you decide, we used the platform, tried their services, and created a review. Continue reading to learn more about the platform.  

This RSGoldFast review was updated on June 2023.



Here is a list of some of the best and worst of what RSGoldFast has to offer:
Pros
Not only do they provide gold, but you can also find power leveling, fire capes, and even full-access accounts here as extra services.
It only takes 5 or 10 minutes on average to complete transactions and get every bit of gold you had ordered loaded into your account.
Protected and encrypted transactions so that your data is secured.
Fast service and concise transactions.
Probably the cheapest prices in the market.
Cons
The design of the website could use some improvements.
About RSGoldFast
It is an online platform where people can buy gold for OSRS and RuneScape 3. Users can buy RuneScape gold at a rate of $0.38 per million for OSRS gold and $0.04 per million for RuneScape 3 gold. The platform also offers other services for OSRS and RuneScape 3, like selling OSRS items to users.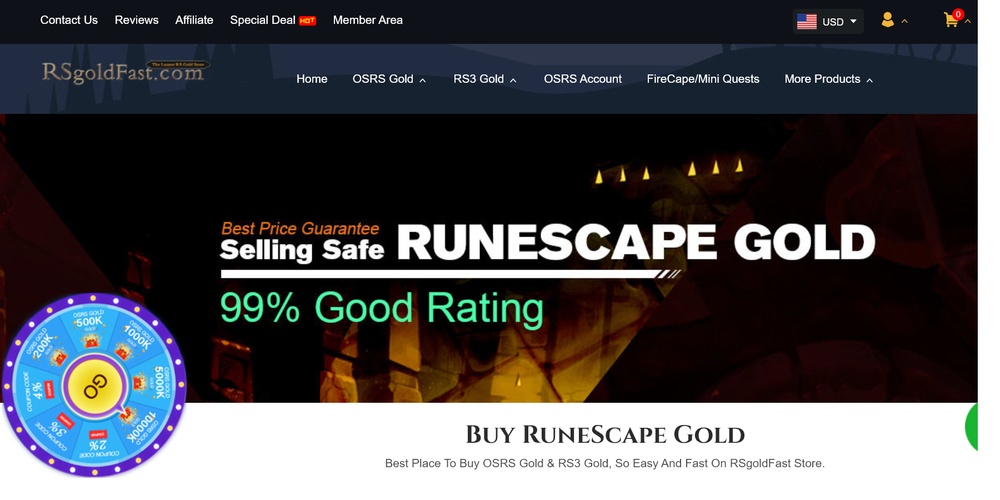 Our RSGoldFast Review
RSGoldFast is an easy-to-use platform with highly competitive rates. On top of that, it also has a massive selection of payment options. We tried the website ourselves to see if it was any good, and it did not disappoint us in any way.
At RSGoldFast, users are not just limited to purchasing RuneScape gold. Users have access to other RuneScape-related features as well. For example, the platform also sells OSRS items and RuneScape accounts.
All services offered by RSGoldFast are completely legitimate. We purchased some RuneScape gold and got the gold delivered to our RuneScape accounts without any issues. The transactions were safe and secure. From our experience with the platform, we can conclude that it is trustworthy.
With all the great features, it is difficult not to recommend this website. Concluding this review, with its incredibly responsive and easy-to-use website and highly competitive rates, RSGoldFast easily gets a spot on our recommended list.
RSGoldFast Key Features
Has over 2000 reviews on Trustpilot with an excellent rating of 4.6 stars.
Payment options include PayPal, Master Card, Visa, American Express, Discover, JCB, WebMoney, Onecard, NETS, Boleto, and AliPay.
One Million OSRS Gold Costs $0.38.
One Million RuneScape 3 Gold Costs $0.04.
Claim RSGoldFast Free Bonus
Go to RSGoldFast using our link.
Make a purchase.
Enjoy your free bonus!
RSGoldFast Summary
| Our rating | 5.0 |
| --- | --- |
| Usability | Very easy to use |
| Languages | 1 |
| OSRS price | $0.4/M |
| RS3 price | $0.041/M |
| Official website | RSGoldFast.com |
TLDR
RSGoldFast Alternatives
Frequently Asked Questions
✔️What is RSGoldFast?
RSGoldFast is a site where you can buy gold for RuneScape. Users can make payments through several payment options. After that, they can get the RuneScape gold traded directly into their account.
✔️Is RSGoldFast Legit?
RSGoldFast is legit, and they have lots of positive reviews. We tried the site ourselves, and we received everything we paid for.
✔️Is RSGoldFast Trustworthy?
To be sure about the trustworthiness of RSGoldFast, we tried the platform for ourselves. According to our testing, we found the platform to be trustworthy.-
✔️Did Anyone at RSGoldFast Get Scammed?
We have not found any credible scam accusations against the platform. Also, according to our experience with the platform, we can conclude that it is not a scam.