Are you thinking of buying some OSRS or RuneScape 3 gold from RSGoldFast but can't seem to decide if it is the best platform for you? To help you make your decision, here is our extensive and unbiased RSGoldFast review. Continue reading to learn more about the platform.

This RSGoldFast review was updated on October 2022.



Here is a list of some of the best and worst of what RSGoldFast has to offer:
Pros
Not only do they provide gold, but you can also find power leveling, fire capes, and even full access accounts here as extra services.
It only takes 5 or 10 minutes on average to complete transactions and get every bit of gold you had ordered loaded into your account.
Protected and encrypted transactions so that your data is secured.
Fast service and concise transactions.
Cons
Website design is a bit weird.
Some payment methods will incur fees
RSGoldFast Summary
| Overall rank | #1 out of 34 |
| --- | --- |
| Our rating | 5.0 |
| Usability | Very easy to use |
| Languages | 1 |
| OSRS price | $0.4/M |
| RS3 price | $0.041/M |
| Official website | RSGoldFast.com |
About RSGoldFast
RSGoldFast is an online platform where people can buy some gold for OSRS and RuneScape 3. Millions of gold can be purchased, at a rate of $0.445 per million for OSRS gold and $0.042 per million for RuneScape 3 gold, with tons of payment options to choose from.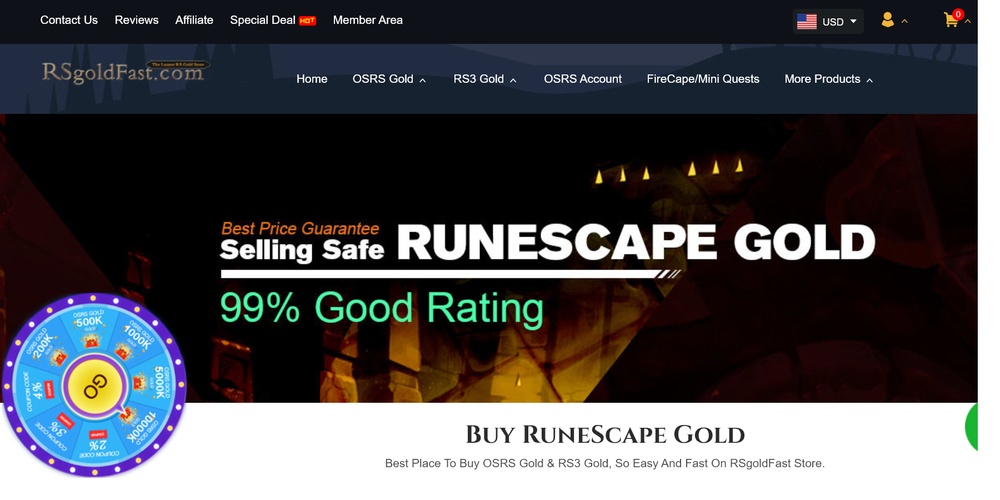 Our RSGoldFast Review
Because of the popularity of both RuneScape 3 and Old School RuneScape, there are thousands of websites where people can purchase some gold for each game. While it is hard to stand out in the middle of this much competition, RSGoldFast has managed to do it with its competitive rates and easy-to-use website.
Not only is the platform super easy to use and has super competitive rates, but it also has a huge selection of payment options to choose from. We tried the website ourselves to see if it was any good, and it did not disappoint us in any way. With all the great features, it is really hard not to recommend this. All in all, it is a great platform. Concluding this RSGoldFast review, with its incredibly responsive and easy-to-use website and highly competitive rates, RSGoldFast easily gets a spot on our recommended list.
RSGoldFast Key Features
You can buy OSRS and RS3 gold at RSGoldFast.
RSGoldFast has over 2000 reviews on Trustpilot with an excellent rating of 4.6 stars.
Payment options include PayPal, Master Card, Visa, American Express, Discover, JCB, WebMoney, Onecard, NETS, Boleto, and AliPay.
One Million OSRS Gold Costs $0.4.
One Million RuneScape 3 Gold Costs $0.041.
Claim RSGoldFast Free Bonus
Go to RSGoldFast using our link.
Make a purchase.
Enjoy your free bonus!
RSGoldFast Alternatives
Frequently Asked Questions
✔️What is RSGoldFast?
RSGoldFast is a site where you can buy gold for RuneScape and get it traded to you in game directly. You can buy as much as you want.
✔️Is RSGoldFast Legit?
This site is proven to be legit because they have been in the business for over 10 years and gathered the positive reviews to match.
✔️Is RSGoldFast Trustworthy?
Since there are so many options for secure payments, well laid out steps and instructions, and good ratings, we feel this site is trustworthy.
✔️Did Anyone at RSGoldFast Get Scammed?
No one has gotten scammed on this site because they are a valued service that has over 99% of users leave positive scores.