Want to buy some OSRS or RuneScape 3 gold? There are a ton of great platforms for that, but is EZRSGold one of them? To help you figure that out, we reviewed the site and created an EZRSGold review. Keep on reading to learn more about all its pros and cons.

This EZRSGold review was updated in 2023.



Here is a list of some of the best and worst of what EZRSGold has to offer:
Pros
Has one of the largest selections of payment options, including Visa and MasterCard.
Crypto payments like Bitcoin and Ethereum are also available.
Has one of the most user-friendly designs.
A live customer chat support feature is available for all users.
It is very responsive and easy to navigate.
The process of buying or selling gold is explained in detail on the website, which makes it easier for users.
The FAQ section is quite extensive and covers nearly all topics.
Cons
There are not many withdrawal options at the EZRSGold. The only options are Bitcoin and PayPal.
About EZRSGold
It is an online marketplace for Old School RuneScape and Runescape 3 gold. At the EZRSGold, users can buy a million gold for RuneScape 3 for 0.05 USD or a million gold for Old School RuneScape for 0.32 USD. Plus, they also have access to a large selection of payment options to choose from.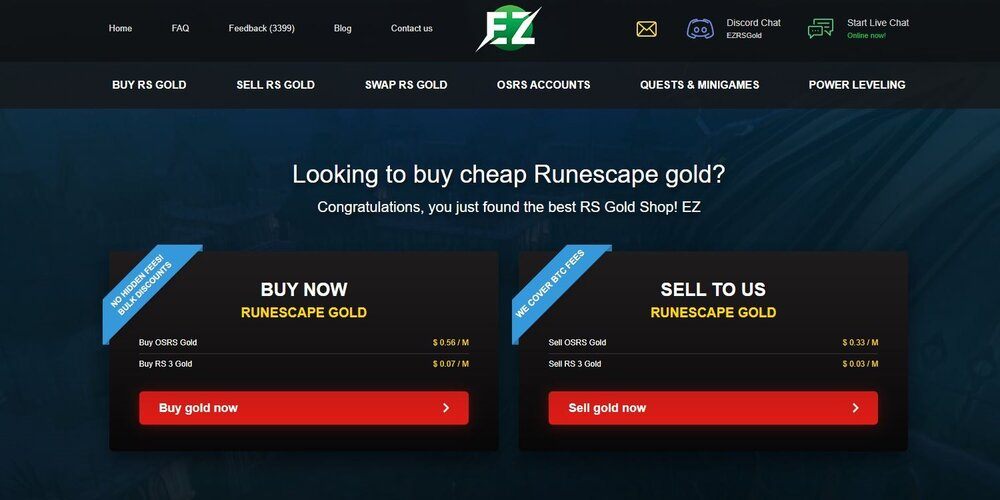 Our EZRSGold Review
EZRSGold has a 5.0-star rating on Trustpilot, which is no easy feat. Along with that, the rating comes from over 1200 user reviews. From all this, we can conclude that the site has a positive reputation in the RuneScape community.
With that said, reviews don't paint the complete picture, so we tried the platform ourselves. As expected, their service was flawless. We purchased some gold and received it in-game without any issues.
EZRSGold has a lot of other great things going for it as well. The transactions are simple and quick. The platform offers several popular payment options, including crypto payment options like Bitcoin and Ethereum.
Concluding this EZRSGold review, it is amongst the top RuneScape gold platforms for anyone looking to buy some Old School RuneScape or RuneScape 3 gold. The platform is trustworthy and provides a high-quality service, with competitive pricing for RuneScape gold.
EZRSGold Key Features
Buying, Selling and Swapping Gold features are available.
Has an excellent 5.0-star rating on Trustpilot with over 1200 reviews.
Deposit options include Visa, MasterCard, Google Pay, Apple Pay, Skrill, Neteller, Klarna, Trustly, and Bancontact.
Crypto payment methods include Bitcoin, Bitcoin Cash, Ethereum, USDC, and Litecoin.
Withdrawal options include PayPal and Bitcoin.
Million gold for RuneScape 3 costs $0.05.
Million gold for Old School RuneScape costs $0.32.
Claim EZRSGold Free Bonus
Go to EZRSGold using our link.
Enter discount code: Farmingless.
Make a purchase.
Enjoy your free 4% extra gold bonus!
EZRSGold Summary
Our rating
4.75
Usability
Very easy to use
Languages
1
OSRS price
$0.32/M
RS3 price
$0.05/M
Free bonus
Get 4% extra gold
Get 7% more gold when paying with Crypto + 4% with Farmingless bonus code!
Bonus code
Farmingless
Official website
EZRSGold.com
TLDR
EZRSGold Alternatives
Frequently Asked Questions
✔️What is EZRSGold?
EZRSGold is an online marketplace for Runescape gold where people can buy/sell Old School Runescape and Runescape 3 gold.
✔️Is EZRSGold Legit?
EZRSGold is one hundred percent legitimate. We tested the platform ourselves and found no legitimacy issues.
✔️Is EZRSGold Trustworthy?
EZRSGold is completely trustworthy. While using it ourselves, we got all the gold that we paid. Also, the platform has an outstanding 5-star rating on Trustpilot with over 1200 reviews.
✔️Did Anyone at EZRSGold Get Scammed?
Since its launch in 2016, the EZRSGold platform has not received a single credible scam accusation. We looked at hundreds of user reviews to verify that.