With the thousands of platforms available on the internet for purchasing some RuneScape gold, it is not easy to figure out which one to use. If you are planning on using Eldorado.GG, take a look at our extensive and in-depth Eldorado.GG review so that you are well informed before you make the final decision.

This Eldorado.GG review was updated on February 2023.



Here is a list of some of the best and worst of what Eldorado.GG has to offer:
Pros
Service is extremely fast with a guaranteed 25 minute response time, with the average being only 3 minutes to get your gold or whatever other service you wanted.
They guarantee a positive experience by not only providing secure transaction, but services that help resolve any disputes.
Cons
No reviews are listed on the site itself, you'll have to look outside if you want to see what other users think and feel.
Their daily stock is more limited compared to other sites. Still high enough for most users, but they might run the risk of running out.
About Eldorado.GG
Eldorado.GG is an online platform where people can purchase gold for RuneScape. With a price of $0.0315 per million for RuneScape 3 gold and $0.346 per million for OSRS gold, users can buy as much gold as they want at Eldorado.GG. Users also have several crypto payment options to choose from.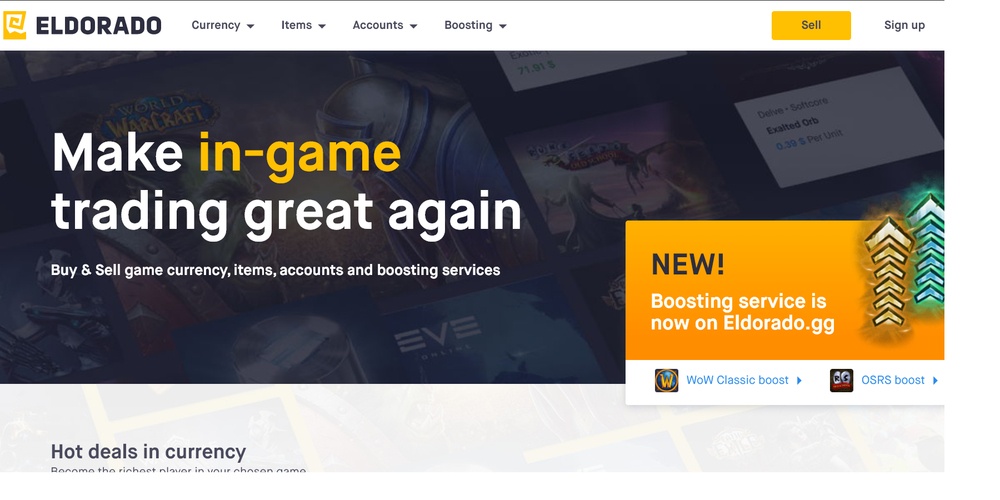 Our Eldorado.GG Review
Most websites that sell gold for RuneScape 3 and OSRS are not that great. Most of them are not that well optimized and feel laggy. However, Eldorado.GG is a website that stands out in this aspect. We tried the Eldorado.GG platform for ourselves and found the website to be super responsive. We felt nearly zero delays while navigating our way through different pages on the Eldorado.GG website.
It takes much more than a great website for a platform to make its way to our recommended list. Fortunately, Eldorado.GG has a lot more going on for itself. Eldorado.GG is loaded with games that users can buy in-game currencies for. There are several crypto payment options to choose from as well. Not only that but the rates for gold are really competitive. Concluding this Eldorado.GG review is a great place for anyone looking to buy some RuneScape 3 or OSRS gold.
Eldorado.GG Key Features
Gold for both OSRS and RuneScape 3 can be purchased from the Eldorado.GG platform, along with in-game currencies for tons of other games.
Eldorado.GG has over 6500 reviews on Trustpilot with an excellent rating of 4.9 stars.
Deposit methods include Visa, Mastercard, and Discover.
Crypto payment options include Bitcoin, Litecoin, Ethereum, Tether, and DogeCoin.
One Million OSRS Gold Costs $0.346.
One Million RuneScape 3 Gold Costs $0.0315.
Claim Eldorado.GG Free Bonus
Go to Eldorado.GG using our link.
Make a purchase.
Enjoy your free bonus!
Eldorado.GG Summary
| Our rating | 3.75 |
| --- | --- |
| Usability | Standard |
| Languages | 1 |
| OSRS price starts from | $0.346/M |
| RS3 price starts from | $0.0315/M |
| Official website | Eldorado.gg |
Eldorado.GG Alternatives
Frequently Asked Questions
✔️What is Eldorado.GG?
Eldorado.GG is a site where you can directly buy RuneScape gold (and other helpful features) instead of having to play the game to obtain it yourself.
✔️Is Eldorado.GG Legit?
We feel Eldorado.GG is legit because they have traded billions in gold already. Most users have had no complaints or problems their entire lifespan.
✔️Is Eldorado.GG Trustworthy?
Eldorado.GG remains a trustworthy site because they offer secure methods to complete your transactions as well as listen to feedback to improve.
✔️Did Anyone at Eldorado.GG Get Scammed?
So far, no users have reported being scammed at Eldorado.gg, instead they have praised the gold buying and trading experience as a positive one.