With the growing demand for buying RuneScape gold online, a new online gold marketplace seems to pop up every other week. However, which one is worth considering, and is Food4RS one of the better options? We tried the platform ourselves to determine precisely that. Here is a review of Food4RS and everything they have to offer.

This Food4RS review was updated in 2023.



Here is a list of some of the best and worst of what Food4RS has to offer:
Pros
An established business with over three years of RuneScape gold trading experience.
One of the biggest RuneScape gold sites on the market today.
24/7 live chat customer support.
Speedy gold delivery.
Competitive pricing.
Several secure payment methods.
Cons
Users can only view the site in English.
The platform does not offer other services, like RuneScape accounts selling, besides RuneScape gold trading.
About Food4RS
Food4RS is a third-party website where users can purchase RuneScape gold. Users can make payments using real cash and then get the gold transferred to their RuneScape accounts. The price of gold is $0.45 for one million OSRS gold and $0.06 for one million RuneScape 3 gold.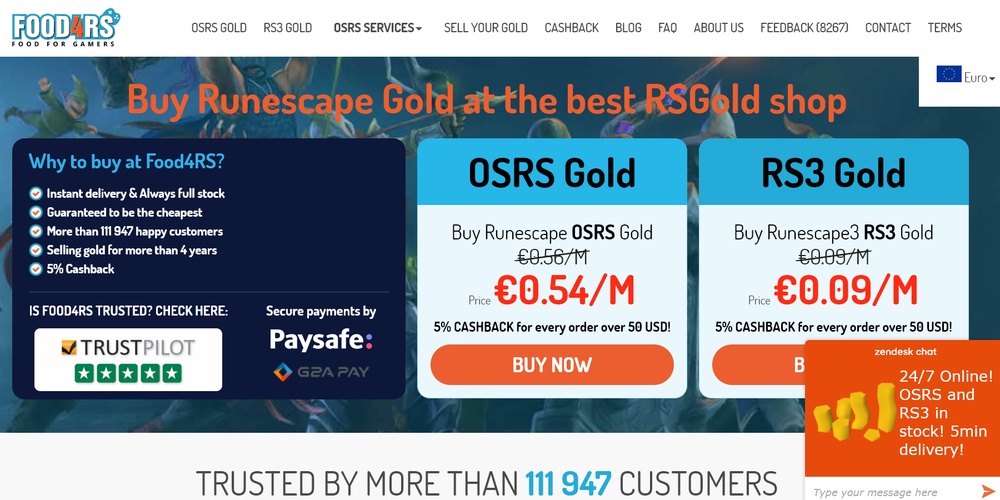 Our Food4RS Review
Food4RS has some great user reviews. However, user reviews don't paint a complete picture, so tested the platform ourselves to see if it is worth considering. According to our experience with the site, we found it quite dependable, with an efficient and convenient service.
The transactions at Food4RS are seamless and don't take a lot of your time to complete. Soon as you make a purchase, you'll get the gold in your RuneScape account almost instantly. The prices that the platform offers for RuneScape gold are also very competitive. On top of all that, users have access to several secure money transfer methods, including PayPal.
Food4RS seems dedicated to helping its current and potential customers. The platform offers a 24/7 live support team on standby who can quickly assist anyone with service-related issues or questions.
Concluding this Food4RS review, it easily gets a spot on our recommended list. It is a reputable site, providing a high-quality service for over six years. Considering the fair price and excellent customer service standards, we deem Food4RS one of the top platforms.
Food4RS Key Features
OSRS Gold for $0.45/M.
RS3 Gold for $0.06/M.
5% cashback on all transactions over $50.
More than 8,000 positive reviews.
Instant delivery.
24/7 customer service.
Payments via Credit Cards, Zen, and CoinBase.
Highly rated by TrustPilot.
Claim Food4RS Free Bonus
Go to Food4RS using our link.
Make a purchase.
Enjoy your free bonus!
Food4RS Summary
| Our rating | 4.5 |
| --- | --- |
| Usability | Very easy to use |
| Languages | 1 |
| OSRS price | $0.45/M |
| RS3 price | $0.06/M |
| Official website | Food4RS.com |
Food4RS Alternatives
Frequently Asked Questions
✔️What is Food4RS?
Food4RS is a highly reputable RuneScape gold trading site where users can buy or sell gold to be used in-game.
✔️Is Food4RS Legit?
Food4RS is legit. The site has built a solid reputation as a reliable place to buy RS3 and OSRS gold. We tested the site ourselves and found no issues that might compromise the platform's legitimacy.
✔️Is Food4RS Trustworthy?
When it comes to trust, you can rest easy. According to our experience with the platform, we received all the gold we purchased. That, bundled with the sheer number of positive reviews, we can conclude that the site is trustworthy.
✔️Did Anyone at Food4RS Get Scammed?
Currently, there aren't any credible reports of users getting scammed at Food4RS. It is a reputable site with many positive reviews. To verify all that, we looked at multiple user reviews.