If you're looking for competitively priced gold from a trustworthy and reputable RuneScape gold website, let this Food4RS review be your jumping-off point.

This Food4RS review was updated on October 2022.



Here is a list of some of the best and worst of what Food4RS has to offer:
Pros
An established business with over 3 years of gold trading experience
One of the biggest gold sites on the market today
24/7 live chat customer support
Very fast gold delivery
Competitive pricing due to a multi-source gold supply
Several secure payment methods
Cons
Works only in English
Some payment methods will incur fees
They do not buy accounts
Food4RS Summary
| Overall rank | #5 out of 34 |
| --- | --- |
| Our rating | 4.5 |
| Usability | Very easy to use |
| Languages | 1 |
| OSRS price | $0.45/M |
| RS3 price | $0.06/M |
| Official website | Food4RS.com |
About Food4RS
Food4RS stands as one of the most aesthetically pleasing third-party websites offering RuneScape gold. However, does good user experience mean that this site is safe, trustworthy, and scam-free? In this Food4RS review, I'll touch on all of the major factors of a solid RuneScape gold trading site to ensure you're getting what you pay for.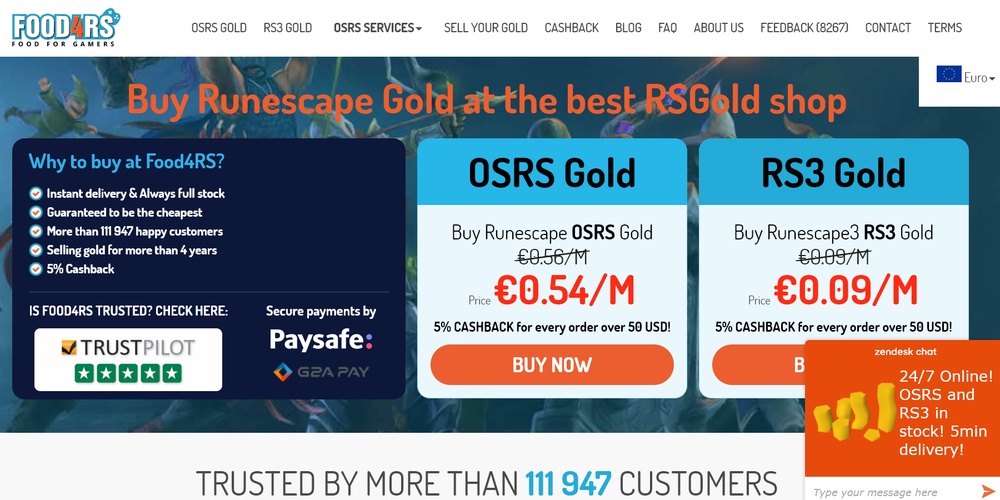 Our Food4RS Review
The first thing I initially liked about Food4Rs is that rather than farming gold themselves, they buy from RuneScape players directly. This means the site never loses gold since there are so many sources. With that said, they do not buy or sell accounts and don't deal with complicated situations. They stick strictly to gold trading, which is why transactions are seamless in every way. This is a dependable site with efficient and convenient service. As soon as you make a purchase, you'll receive it almost instantaneously.
Thanks to a steady supply of gold, pricing is competitive and payment can be completed via several secure methods, including PayPal.  In terms of customer service, Food4RS seems dedicated to helping its current and potential customers. There is a 24/7 live support team on standby who can quickly assist anyone with service-related issues or questions. Food4RS is not a scam site, but a site offering reputably sourced gold at a fair price and excellent customer service standards.
This Europe based gold trading company opts to work with both RuneScape 3 and the older version of RuneScape. They've been trading as a business for more than 6 years, but they initially started out as forum traders.
Food4RS Key Features
OSRS Gold for $0.45/M.
RS3 Gold for $0.06/M.
5% cashback on all transactions over $50.
More than 8,000 positive reviews.
Instant delivery.
24/7 customer service.
Payments via Credit Cards, Zen and CoinBase.
Highly rated by TrustPilot.
Claim Food4RS Free Bonus
Go to Food4RS using our link.
Make a purchase.
Enjoy your free bonus!
Food4RS Alternatives
Frequently Asked Questions
✔️What is Food4RS?
Food4RS is a highly reputable RuneScape gold trading site where users can buy or sell gold to be used in-game.
✔️Is Food4RS Legit?
With overwhelmingly positive reviews, Food4RS is legit. The site has built a solid reputation as being a reliable place to buy RS3 and OSRS gold.
✔️Is Food4RS Trustworthy?
When it comes to trust, you can rest easy. Due to the sheer number of positive reviews, you don't have to worry about being compromised or scam. Since the site does not trade accounts, you do not have to give your RuneScape or OSRS account details, so no hacking either.
✔️Did Anyone at Food4RS Get Scammed?
There are not currently any reports of users of Food4RS getting scammed. This is a reputable site with a high number of positive reviews and a massive following in the RuneScape trading space.