Are you looking for a headstart in RuneScape? Well, you always have the option to buy some gold with real cash at platforms like Loot4RS. But will it live up to your standards? Or is it even worth your time? We tested the site and reviewed their services to figure out precisely that. Keep reading to learn more about the features offered at Loot4RS.

This Loot4RS review was updated in 2023.



Here is a list of some of the best and worst of what Loot4RS has to offer:
Pros
The site has a VIP program to reward gamers who frequently use the site.
All gold at Loot4RS gets sourced from players, unlike several other sites that source it from gold farms.
The pricing for RuneScape gold at Loot4RS is quite competitive compared to other platforms.
The site has several payment options.
Cons
The support network for Loot4RS is a bit lacking.
About Loot4RS
Loot4RS is an online platform where users can purchase in-game gold for RuneScape 3 and OSRS. The price for OSRS gold at Loot4RS is $0.49 for one million units of gold. On the other hand, RuneScape 3 gold costs $0.045 for a million units of gold.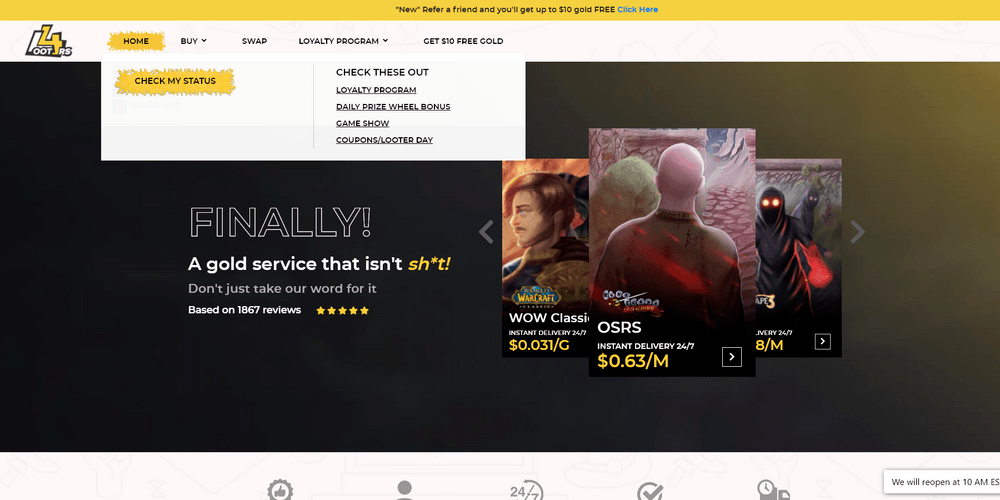 Our Loot4RS Review
Loot4RS is a super user-friendly website with a convenient layout for all icons and an easy-to-understand UI. One of the best features of Loot4RS is that the gold is sourced solely from players, not farms.
Another thing we appreciate about the site is that there are no hidden fees. So, you won't be getting a surprise at the end of the checkout process. Also, Loot4RS offers secure payment methods.
To test the whole process, we bought some gold ourselves. We were impressed by the speed at which the platform's representative met us in the game for the transfer of gold. The process was surprisingly fast compared to other similar platforms.
After the seamless process of buying OSRS gold, we looked at a couple of user reviews to see what the community thinks of the platform. We saw about 1500 five-star reviews, all attesting to the high-quality service that Loot4RS offers.
On top of all that, the platform also has a unique VIP program, which allows gamers a chance to win weekly prizes and even free RuneScape gold.
With all that said, Loot4RS isn't perfect. We did find some issues. Concluding this Loot4RS review, it is a decent platform and is definitely worth a try. However, we feel there are some better options.
Loot4RS Key Features
OSRS gold for $0.49/M.
RS3 gold for $0.045/M.
Zero cashback on transactions over $50.
More than 1500 five-star reviews.
Delivery in under 5 minutes.
Payments via PayPal, Stripe, Visa, Mastercard, Discover, and Venmo.
Highly rated at TrustPilot.
Claim Loot4RS Free Bonus
Go to Loot4RS using our link.
Make a purchase.
Enjoy your free bonus!
Loot4RS Summary
| Our rating | 4.0 |
| --- | --- |
| Usability | Easy to use |
| Languages | 1 |
| OSRS price | $0.49/M |
| RS3 price | $0.045/M |
| Official website | Loot4RS.com |
Loot4RS Alternatives
Frequently Asked Questions
✔️What is Loot4RS?
Loot4RS is a RuneScape gold site where users can buy OSRS and RS3 gold using cash to get a head start in the game.
✔️Is Loot4RS Legit?
Loot4RS has more than 1,500 positive reviews. We used the site ourselves and found that everything worked great. We can confidently say that it is a legit site.
✔️Is Loot4RS Trustworthy?
We bought some gold from the site and faced no issues. We can confirm that Loot4RS is a trustworthy site.
✔️Did Anyone at Loot4RS Get Scammed?
As we read through the multiple five-star reviews, we found no evidence suggesting that anyone has gotten scammed by Loot4RS.