Stumble upon the Loot4RS website and the first thing you'll likely notice is that the site itself is pretty sparse. The basic black background and white font isn't exactly the stuff of RuneScape fantasy. With that said, this is a US-based site dedicated to the buying and selling of RuneScape gold. But is it legit? Read this Loot4RS review and find out.

This Loot4RS review was updated on February 2023.



Here is a list of some of the best and worst of what Loot4RS has to offer:
Pros
VIP Program to reward gamers who frequently use the site
Gold sourced from players, not farms
Competitive pricing in the RuneScape gold marketplace
24/7 customer service via live chat
Fee-free transactions
Cons
The website looks a bit dated and simple
Downloads are not always instantaneous
About Loot4RS
Though Loot4RS may lack the flashy graphics of some RuneScape gold sites, it is a reputable place to buy and sell both OSRS and RS3 gold. In this Loot4RS review, I found the customer service to be excellent, the service to be simple, and the product to be of the highest quality.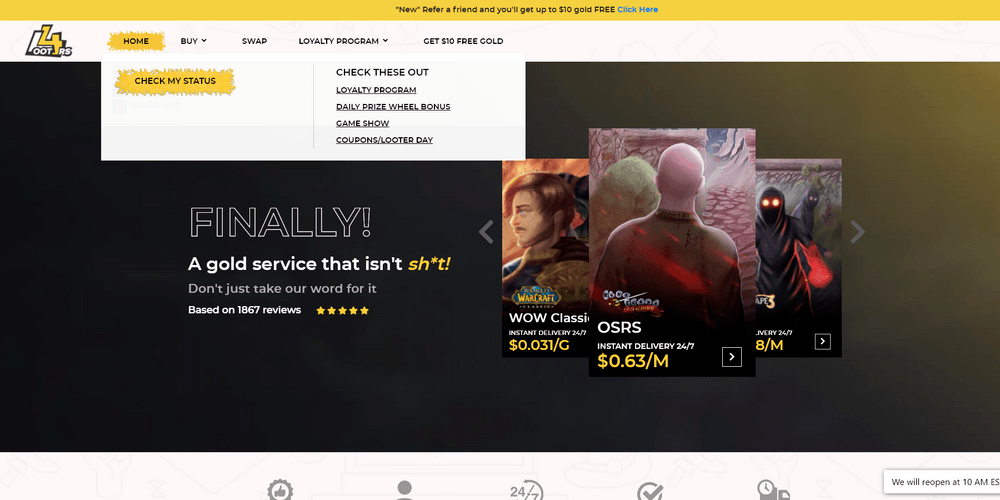 Our Loot4RS Review
Upon landing on the site, I had my doubts that Lot4RS could live up to the overwhelmingly positive reviews. Within a few moments of clicking around, I found that this is a super user-friendly interface that is responsive. When it comes to buying OSRS and RS3 gold, the process is simple. It is also worth mentioning that the gold is sourced from players, not farms( an extra positive in my book). This US-based site does not boast hidden fees, grants delivery in under 5 minutes, and offers secure payment methods. To check out, I filled out the required information and chose a payment method. That was that.
As I was in the checkout process, I did notice a chat box popped up asking if I needed any help. That's because Loot4RS offers up 24/7 customer service via live chat. Should you hit any snags, simply pull up the chatbox and go from there. It really is simple. After my seamless process of buying OSRS gold, I read through the reviews. There are close to 1500 five star reviews, all attesting to the ease, security, and enjoyment of the site itself. There is also a unique VIP program that offers gamers the chance to earn weekly prizes and even free gold. In my opinion, Loot4RS may lack some flash aesthetically, but it is hard to beat the simplicity of buying and checking out, especially when you consider how many scam sites do exist.
As a longtime RuneScape fan and frequent buyer of gold, I've found that every site dedicated to OSRS and RS3 gold has a few specifications that set them apart from the pack. These often have to do with the very basic aspects that make one site better than another.
Loot4RS Key Features
OSRS gold for $0.49/M.
RS3 gold for $0.045/M.
Zero cashback on transactions over $50.
More than 1500 five star reviews.
Delivery in under 5 minutes.
24/7 customer service via live chat.
Payments via PayPal, Stripe, Visa, Mastercard, Discover and Venmo.
Highly rated by TrustPilot.
Claim Loot4RS Free Bonus
Go to Loot4RS using our link.
Make a purchase.
Enjoy your free bonus!
Loot4RS Summary
| Our rating | 4.0 |
| --- | --- |
| Usability | Easy to use |
| Languages | 1 |
| OSRS price | $0.49/M |
| RS3 price | $0.045/M |
| Official website | Loot4RS.com |
Loot4RS Alternatives
Frequently Asked Questions
✔️What is Loot4RS?
Loot4RS is a RuneScape based gold site that offers players the opportunity to buy both OSRS and RS3 gold for competitive prices in under 5 minutes.
✔️Is Loot4RS Legit?
With more than 1,500 positive reviews and a high rating on TrustPilot, Loot4RS is a legit site that is based in the United States.
✔️Is Loot4RS Trustworthy?
Hundreds of transactions are conducted daily via Loot4RS, each without a hitch. With thousands of positive reviews and repeat customers, Loot4RS is definitely a trustworthy site.
✔️Did Anyone at Loot4RS Get Scammed?
Reading through the thousands of five-star reviews, there is no evidence that anyone has ever been scammed by Loot4RS. This is a secure and trustworthy site that puts its customers first.