In creating this PieGP review, it was evident that this is a site created by RuneScape players for RuneScape players. They truly understand the perspective of their customer base and strive to offer up an affordable and fast service that delivers as promised.

This RuneScape review was updated on February 2023.



Here is a list of some of the best and worst of what RuneScape has to offer:
Pros
Very competitive pricing for both OSRS and RS3 gold
24/7 customer service agents via live chat or email
Ability to swap gold in addition to buying and selling
A variety of safe and proven payment methods to choose from
Easy-to-navigate interface designed with players in mind
Cons
Infrequent coupon codes
The site does not cover any accrued transaction fees
No cash back on bigger bulk purchases
PieGP Summary
| Our rating | 3.25 |
| --- | --- |
| Usability | Easy to use |
| Languages | 1 |
| OSRS price | $0.396/M |
| RS3 price | $0.04/M |
| Official website | PieGP.com |
About PieGP
When the owner of PieGP found that there weren't enough reliable platforms to buy and sell OSRS cheap gold, he decided to create one himself. The result is a legitimate platform where RuneScape fans can buy and trade gold freely and safely.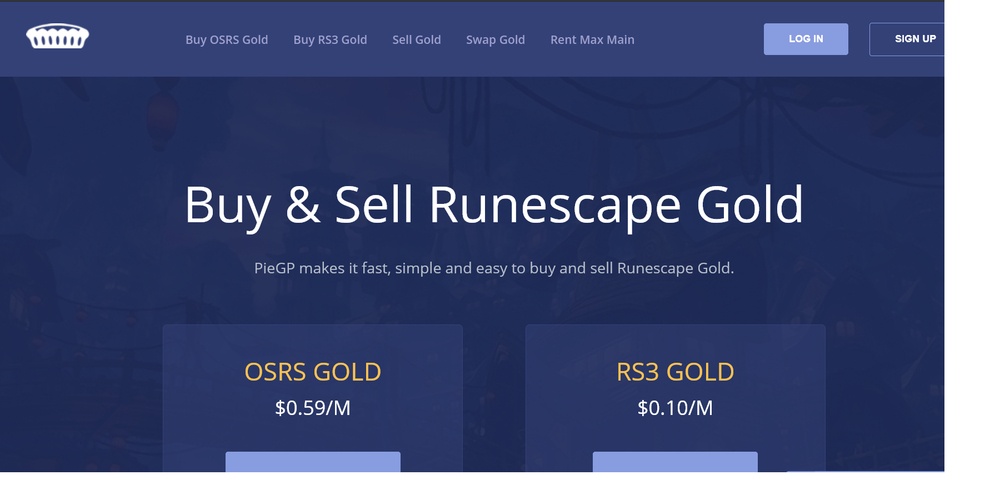 Our PieGP Review
PieGP is arguably one of the most popular sites to buy and swap OSRS cheap gold for RuneScape. In order to test the service, I both bought OSRS gold and participated in swapping. With over 100,000 customers, I felt confident that the process would be easy. In buying gold, all I had to do was input the amount of gold we wanted to buy and choose a payment method. Once payment cleared, the gold was delivered in an instant. With swapping, I worked with their RuneScape swapping team to get consistent rates and an easy swap. The process was a breeze.
While testing the buying, selling, and swapping features, I also wanted to get a feel for customer service. Upon initiating a live chat, I found that the agents spoke clearly and seemed to be gamers themselves. They had a vast knowledge of the RuneScape world and definitely had my best interests in mind, especially when it came to getting a fair swap. It goes without saying that the reason PieGP has earned so many positive reviews is that they deliver as promised on every aspect of their business model. You can tell that this was a site created by someone who enjoys and loves RuneScape as much as those visiting.
In my opinion, this is a top choice if you're looking to buy, sell, or swap either OSRS or RS3 gold safely and efficiently without breaking the bank or risking your privacy.
PieGP is a site created by a frustrated RuneScape gamer for other RuneScape gamers who are tired of dealing with scam-sites online when looking for gold. As any RuneScape enthusiast knows, weeding through the muck for a reliable source isn't always easy.
PieGP Key Features
OSRS Gold for $0.396/M.
RS3 Gold for $0.04/M.
Zero cashback on $50+ purchases.
More than 600 five star reviews.
Instant delivery of purchases.
24/7 customer support via live chat or email.
Payments via Bitcoin, Ideal, SoFort, Mastercard, Visa, Skrill, Klarna, Trustly and PayPal.
Highly rated on TrustPilot.
Claim PieGP Free Bonus
Go to PieGP using our link.
Make a purchase.
Enjoy your free bonus!
PieGP Alternatives
Frequently Asked Questions
✔️What Is PieGP?
PieGP is a site dedicated to buying, selling, and swapping both RS3 and OSRS Gold safely. It was created by a fellow gamer who wanted a legit space for gamers to unite and purchase gold.
✔️Is PieGP Legit?
PieGP is 100% legit. Hundreds of thousands of successful transactions have occurred via the site. Additionally, the PieGP service team definitely puts its customers ahead of any monetary priorities.
✔️Is PieGP Trustworthy?
With simple, fast, and affordable OSRS and RS3 gold transactions, PieGP is a very trustworthy site. With thousands of reviews and a blemish-free record, their credibility has never been challenged.
✔️Did Anyone at PieGP Get Scammed?
No, based on the high rating on TrustPilot and user reviews, no one at PieGP has ever gotten scammed. In fact, the site was created by an owner who was tired of being scammed by other RuneScape gold sites.