Finding an online RuneScape gold store that meets all your requirements can be tricky, considering all claim to have the best service. If you are on the fence about PieGP, then you are at the right place. We tested the site and created a review for you to judge. To learn more about what the platform offers, keep reading this PieGP review.

This RuneScape review was updated in 2023.



Here is a list of some of the best and worst of what RuneScape has to offer:
Pros
The platform offers 24/7 customer support service via live chat or email.
The customer support at PieGP is one of the fastest on the market.
The site also has a "Gold Swap" feature.
Users can also sell their RuneScape gold to the site for cash.
The site has a variety of safe payment methods to choose from.
PieGP also accepts crypto payments.
Cons
The prices for RuneScape gold at PieGP are average at best.
About PieGP
PieGP is an online store for RuneScape gold. Users can buy gold for both OSRS and RuneScape 3 using cash transfer methods or crypto. The price for OSRS gold is $0.413 per million units of gold and $0.04 per million for RuneScape 3.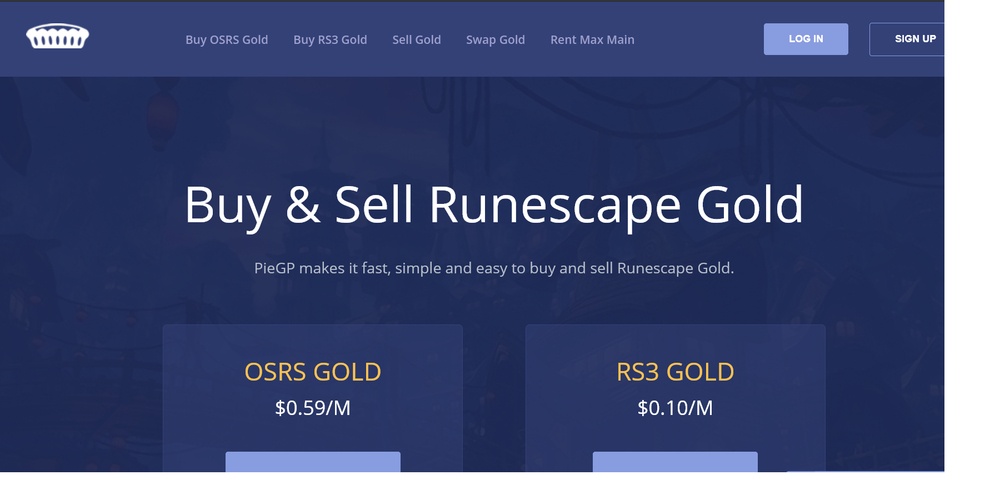 Our PieGP Review
While the pricing for RuneScape gold at PieGP is not the best, the site delivers a decent gold buying experience. We bought some gold for RuneScape 3 and faced zero issues whatsoever. Also, the whole process got completed surprisingly fast. The platform's representative wasted no time meeting us in the game, and we got our gold soon after.
One of the best things about PieGP is the multiple deposit options. All popular cash transfer options like Visa, Skrill, Mastercard, and Qiwi are available. On top of that, the platform also accepts crypto.
While testing the buying, selling, and swapping features at PieGP, we also tried contacting customer support. We got matched with a support agent within 2 seconds. That is impressive, considering most sites don't even offer live chat support. The support agent was also very polite and quick to respond. We got all the answers we were looking for through the support agent.
Concluding this review, PieGP is a decent site for anyone who wants to buy RuneScape gold. However, the site does have several flaws. For that reason, we feel there are better options.
PieGP Key Features
OSRS Gold for $0.396/M.
RS3 Gold for $0.04/M.
Zero cashback on $50+ purchases.
Several five-star reviews.
Instant delivery.
24/7 customer support via live chat or email.
Payments via Bitcoin, Ideal, SoFort, Mastercard, Visa, Skrill, Klarna, Trustly, and PayPal.
Highly rated on Trustpilot.
Claim PieGP Free Bonus
Go to PieGP using our link.
Make a purchase.
Enjoy your free bonus!
PieGP Alternatives
Frequently Asked Questions
✔️What Is PieGP?
PieGP is an online platform where users can buy, sell, and swap in-game gold for RuneScape 3 and OSRS.
✔️Is PieGP Legit?
PieGP is 100% legit. We used the site and found no red flags suggesting it is involved in illicit activities or isn't legitimate.
✔️Is PieGP Trustworthy?
The site puts its customers ahead of any monetary priorities. We experienced this firsthand when we bought some RuneScape 3 gold from PieGP. We can confirm that it is a trustworthy site.
✔️Did Anyone at PieGP Get Scammed?
Based on the high rating on TrustPilot and user reviews, no one at PieGP has ever gotten scammed. We checked out hundreds of user reviews and couldn't find any credible scam accusations.