There are multiple online RuneScape gold stores. However, many don't deliver on their promises and aren't as great as they advertise. The problem is that you will never figure that out about a site without actually trying it. Fortunately, we have done that for you. We tested RPGStash and reviewed it so you can make an informed decision before buying RuneScape gold from them. Keep reading to learn more about what the site offers.

This RPGStash review was updated in 2023.



Here is a list of some of the best and worst of what RPGStash has to offer:
Pros
The platform offers other services besides RuneScape gold as well.
RPGStash offers fast delivery times so that you're not left waiting.
The site also covers in-game currencies for other games.
RPGStash has a live chat support feature for users facing any issues.
The site also allows users to open cases like the ones available in CSGO.
Cons
The prices for RuneScape gold at RPGStash are not that great.
The UI of the RPGStash website is a bit confusing.
About RPGStash
RPGStash is an online store where users can buy gold for RuneScape 3 and OSRS. Plus, the platform also sells other in-game items and services for RuneScape. The price for RS3 gold at RPGStash is $0.38 per million and $0.42 per million for OSRS gold. However, these prices may vary depending on the amount of gold you purchase.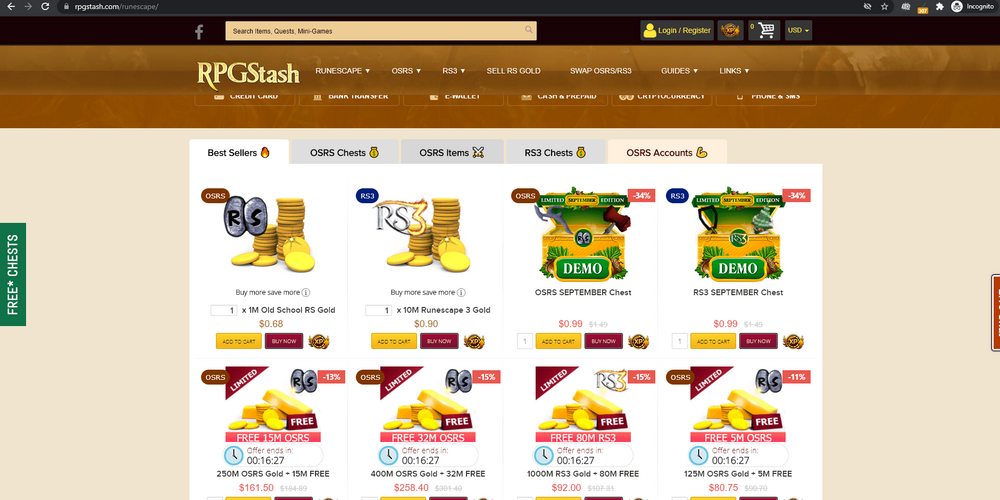 Our RPGStash Review
RPGStash provides a decent gold-selling service with fast transactions. Best of all, the site has several payment options, including all popular ones like Visa, MasterCard, PayPal, and even Crypto like Bitcoin. Circling back to the speed of transactions, we bought some RuneScape 3 gold, and the whole process, starting from payment to the transfer of in-game gold, took only a few minutes to complete.
While the service at RPGStash is decent, the website needs some work. It's certainly not the most stunning website we've seen. Not only does it not look that great, but it is also a bit clunky with several UI issues. Icons and text feel odd. Also, icons that should be clickable aren't, which worsens the overall user experience.
Shifting things to a more positive note, RPGStash has multiple other features that help it stand out. For one, it offers live chat support, which is relatively responsive. Also, the platform offers other services and digital items, including a case-opening feature with custom cases that have RuneScape gold or RuneScape items as prizes.
Concluding this RPGStash review, it is an okay platform. While the issues on the site aren't deal breakers, we feel there are better options that don't have those issues, plus some extra features.
RPGStash Key Features
RPGStash offers OSRS and RuneScape 3 gold.
The site also offers other services and digital products.
Payment options include Visa, MasterCard, Apple Pay, PayPal, iDeal, PaySafe, and more.
Crypto payment options include Bitcoin and more.
The price for RS3 gold is $0.38 per million.
The price for OSRS gold is $0.42 per million.
Claim RPGStash Free Bonus
Go to RPGStash using our link.
Make a purchase.
Enjoy your free bonus!
RPGStash Summary
| Our rating | 2.75 |
| --- | --- |
| Usability | Standard |
| Languages | 1 |
| OSRS price | $0.42/M |
| RS3 price | $0.38/M |
| Official website | RPGStash.com |
RPGStash Alternatives
Frequently Asked Questions
✔️What is RPGStash?
RPGStash is an online currency store for video games like RuneScape, where users can purchase gold for RuneScape 3, OSRS, and in-game currencies for other games.
✔️Is RPGStash Legit?
RPGStash is a legit company that delivers on all its promises. We used the site and got everything that we paid for.
✔️Is RPGStash Trustworthy?
We bought some gold from RPGStash and faced no issues. We can confirm that it is a trustworthy platform.
✔️Did Anyone at RPGStash Get Scammed?
Not that we could find. We looked at multiple places on the internet for user reviews and only found positive comments. We also didn't find any scam accusations against RPGStash.