There are countless RuneScape gold companies online offering discounted gold to players. However, many of these are fronts or scams that are ripping you off. If you're in the market for real RS gold, it pays to research the website you're looking to buy from. We've taken a closer look at RPGStash to see if they're a quality company.

This RPGStash review was updated on November 2022.



Here is a list of some of the best and worst of what RPGStash has to offer:
Pros
Offers cheap gold, rare items, and fully leveled accounts for low prices
Fast delivery times so that you're not left waiting
Also covers other MMORPG game currencies for players
Various discounts are made accessible to players who come back
Cons
Gold is organized into boxes so that you can't just buy a certain amount of gold
The website can be confusing to navigate
RPGStash Summary
| Overall rank | #24 out of 34 |
| --- | --- |
| Our rating | 2.75 |
| Usability | Standard |
| Languages | 1 |
| OSRS price | $0.42/M |
| RS3 price | $0.38/M |
| Official website | RPGStash.com |
About RPGStash
While RuneScape gold does seem to be their focus, it certainly isn't the only feature they offer. This online RuneScape gold market has been around for years, offering customers access to cheap gold, fully leveled accounts, and rare items for a low cost.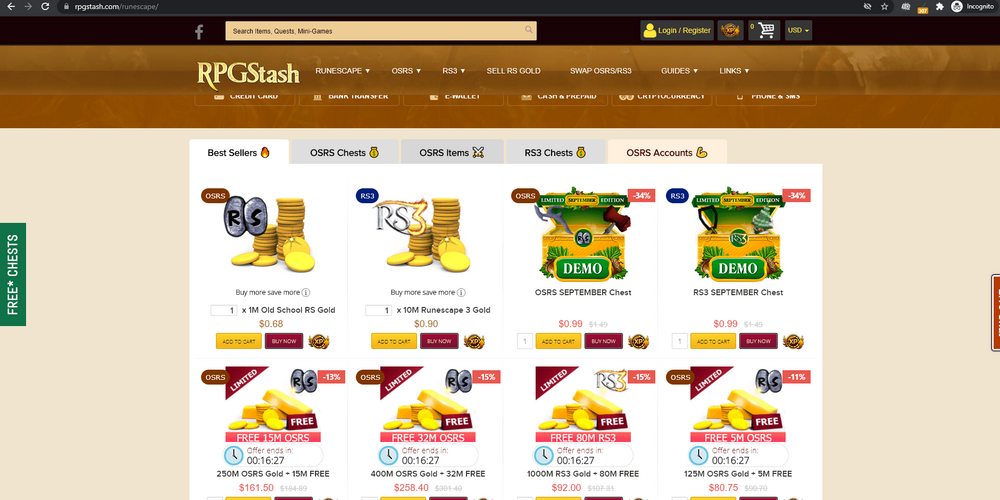 Our RPGStash Review
While it's certainly not the most stunning front-end work on a website I've seen, RPGStash does get the job done in the end. Their real power lies in how effective they are at transactions, not in the beauty of their product. The whole process is relatively simple to complete and the website even guides you through it, but if you go in expecting the simplicity of most RS gold websites, you're in for a shock.
RPGStash seems to emphasize packages of gold rather than individual transactions which can throw you off if you're not careful. However, once you've got the hang of how RPGStash operates, completing your transaction will take no time at all. RPGStash boasts a relatively quick delivery process so that you can get playing right away.
I found RPGStash to be a refreshing way to get cheap gold onto my account. If you're looking for a dedicated gold marketplace that can get you RuneScape gold in a matter of minutes for a low cost, then RPGStash is the place for you.
They have even expanded to cover currency and items found in other MMORPG games like World of Warcraft or Path of Exile.
RPGStash Key Features
Here is a look at some of what RPGStash has to offer players.
Repeat customer discounts from time to time.
Live chat with a real person for any questions or concerns.
Organized chests that contain gold, items, and experience.
Swap currency between OSRS and RS 3 accounts.
Claim RPGStash Free Bonus
Go to RPGStash using our link.
Make a purchase.
Enjoy your free bonus!
RPGStash Alternatives
Frequently Asked Questions
✔️What is RPGStash?
RPGStash is one of the world's largest MMORPG currency markets where players can buy in-game currency with real money. They offer transactions for RuneScape, WoW, PoE, and so much more!
✔️Is RPGStash Legit?
RPGStash is a totally legit company that backs all of its transactions with a delivery guarantee. If there was an issue with a transaction, they have a 24/7 help chat.
✔️Is RPGStash Trustworthy?
This website ensures that all of your information is protected from third parties. They do not sell your information, and they protect your transaction via hefty security.
✔️Did Anyone at RPGStash Get Scammed?
No one has been scammed when using RPGStash. They guarantee a successful transaction or your money back.