For the most part, we had a favorable experience buying gold from RSMalls and felt as if the transaction was safe and secure. Below, we'll dive into an RSMalls review to help discern whether or not this is a legitimate site.

This RSMalls review was updated on February 2023.



Here is a list of some of the best and worst of what RSMalls has to offer:
Pros
A Full RS marketplace selling OSRS and RS3 gold along with jewelry, fire capes, and other essentials
Ability to buy and sell accounts via the website
Competitive pricing that is consistently updated to reflect market value
24/7 customer service via the easy to use the live chat option
More payment method options than the average RS site
Cons
Many of the payment methods have service fees
A limited number of reviews to go by
Lower rating on TrustPilot
About RSMalls
RSMalls is an online platform where people can buy some gold for OSRS and RuneScape 3 games. RSMalls is widely seen by buyers as a great site to pick up gold, especially since it is a literal mall full of everything related to RuneScape.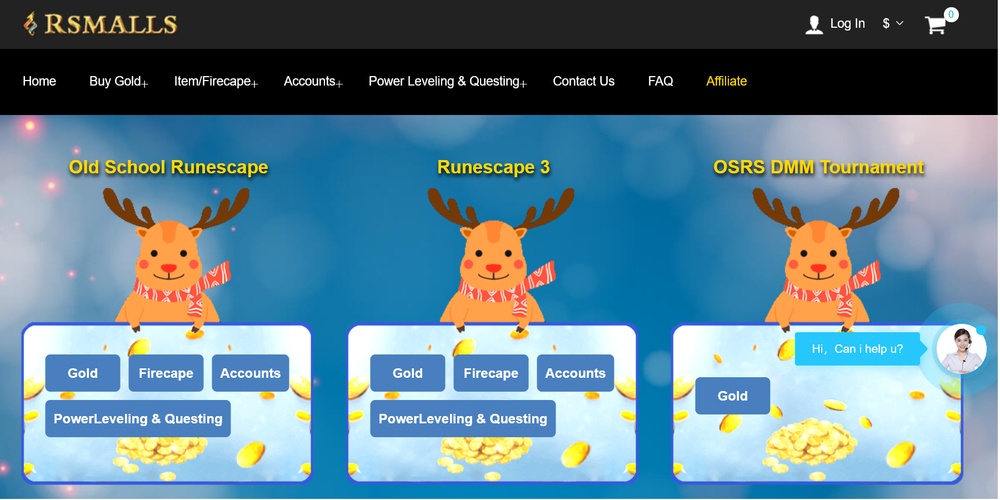 Our RSMalls Review
In writing this review, my first priority was to check the overall service of the site and OSRS gold rates. For the most part, RSMalls is offering competitive rates. I noticed that they do update rates consistently to give buyers the best prices available. They also dole out discount offers seasonally and do boast bulk discounts. The site does not rely on individual sellers, which means RSMalls are doing all the heavy lifting. Overall, service on the site was positive, and it was nice having the peace of mind that they have been selling RuneScape essentials for more than 10 years.
When it comes to buying gold or anything else from RSMall, the process is pretty hassle-free. You don't even need to register in order to buy or use other services. However, creating an account will speed up the process and will allow you to see details of your order. Keep in mind, this is a total RuneScape marketplace selling more than just gold. With that said, they still maintain a pretty high level of customer service and do offer 24/7 chat support. While there aren't as many reviews as there are of other sites and the Trust Pilot rating is a bit on the lower end, the reviews that do exist are mostly positive.
In our opinion, this could be a decent site to pick up a few different types of RuneScape Gold and marketplace essentials, but there may be better options if you're concerned by a lower number of reviews.
RSMalls Key Features
OSRS Gold for $0.398/M.
RS3 Gold for $0.0398/M.
Zero dollars cashback on transactions.
More than 100 positive site reviews.
Delivery in less than 10 minutes.
24/7 customer service via live chat.
14 payment options including MoneyGram, Web Money, BitCoin, Western Union, NcoSurf, Qiwi, Boletol and more.
Average rating on TrustPilot.
Claim RSMalls Free Bonus
Go to RSMalls using our link.
Make a purchase.
Enjoy your free bonus!
RSMalls Summary
| Our rating | 3.5 |
| --- | --- |
| Usability | Standard |
| Languages | 1 |
| OSRS price | $0.398/M |
| RS3 price | $0.0398/M |
| Official website | RSMalls.com |
RSMalls Alternatives
Frequently Asked Questions
✔️What is RSMalls?
RSMalls is a total RuneScape marketplace specializing in buying and selling OSRS and RS3 gold along with jewelry, fire capes, and most RuneScape essentials.
✔️Is RSMalls Legit?
RSMalls is a legitimate website that operates 24/7 with available customer service agents to help assist you at any time. Though some feel lukewarm towards the site, the site itself is legit.
✔️Is RSMalls Trustworthy?
Most people cite having a positive experience using RSMalls. With that said, there are a limited number of reviews. Overall, we did not experience anything shady during the process of buying from the site.
✔️Did Anyone at RSMalls Get Scammed?
Most users do not report being scammed by RSMalls, but a few did have a less than favorable experience in which they felt as if results were not as promised.